Tensions are rising as more and more people struggle to meet their monthly obligations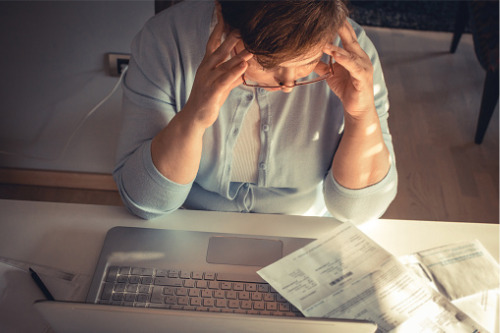 Released yesterday, a startling new survey commissioned by TransUnion illustrates the severe pressure being felt by consumers as the Canadian economy remains firmly in the grip of COVID-19. The survey of 1,035 adults, conducted for the week of April 6, shows a citizenry ridden with anxiety over its ability to stay solvent and keep on top of its debts at a time of incomprehensible fiscal disruption.
"Our latest research clearly indicates that the COVID-19 pandemic is negatively impacting consumer financial concerns," said Roman Mykhaylyshyn, TransUnion Canada's managing director of consumer solutions, in a statement accompanying the results of the survey. "But at the same time, the data infers that recent government measures to provide financial support are already positively impacting Canadians' anxiety about being able to pay their bill from just one week ago."
The survey found that 63% of Canadians have been impacted financially by COVID-19, up from 57% the week before. Of those affected, approximately 25% say they have lost their jobs, an increase of 2%. 10% of the impacted respondents were small business owners who had to close or have seen orders for their work dry up.
68% of respondents said they are concerned about their ability to pay their current bills and loans, with the average respondent saying they will fall behind on their monthly obligations in 6.4 weeks. Credit card debt is a top concern for 53% of impacted respondents, with auto and personal loans growing increasingly worrisome. The percentages of consumers worried about auto and personal debt increased by 26% and 38%, respectively, week-over-week.
When it comes to their strategies for paying their current bills, the overwhelming majority of respondents said they are opting to pay what they can afford – partial amounts, but not full balances. 25% of those impacted are choosing to use money in their RRSP or TFSAs, double the amount from a week before. Borrowing money from friends and family and using federal funds in the form of either relief checks or tax refunds were also popular options.
Respondents across every age demographic said they have reached out to companies they have accounts with to discuss alternate payment options, including 74% of baby boomers. Of the major purchases being put on hold until after the COVID-19 crisis subsides, the top three responses were vacations, automobiles and homes.
Despite its anecdotal nature, the information contained in the survey results provides a window into the minds of Canadians whose finances have been shaken up over the past four weeks. With no end to the coronavirus lockdown in sight, their anxieties – and debt loads – are likely to increase.