The CPI saw its first increase since last June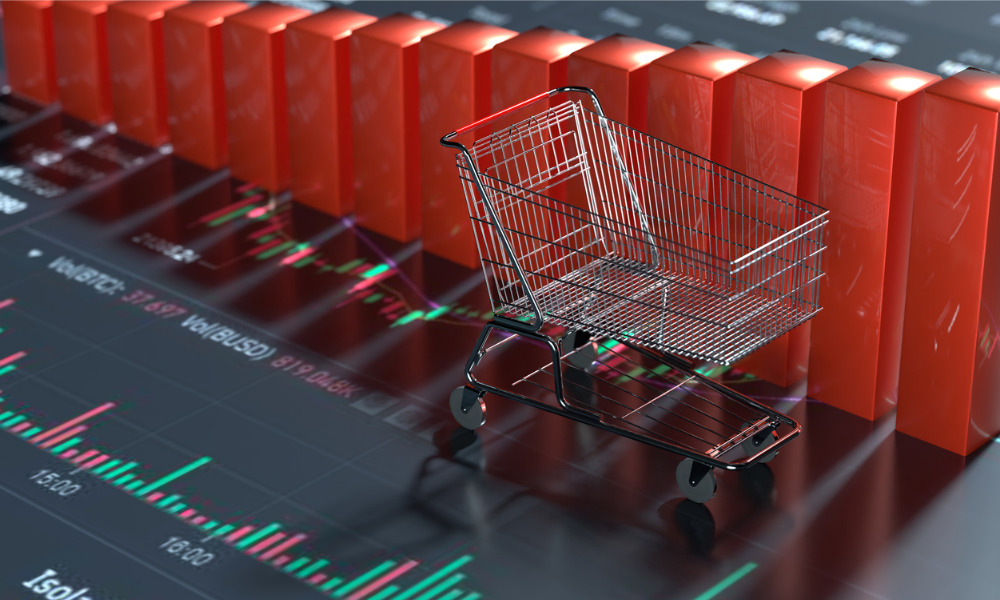 Canada's annual inflation rate ticked unexpectedly upwards in April – but while that was surprising, it does little to change the view that it's trending largely in the right direction, according to a prominent economist.
Statistics Canada revealed yesterday that the consumer price index (CPI) rose by 4.4% last month, a slight increase from March and the first time since June 2022 that it has jumped on a monthly basis.
Still, RBC economist Claire Fan told Canadian Mortgage Professional that the news should be taken in the wider context of the inflation rate's overall decline since hitting a 39-year high in the middle of last year.
"One month worth of data obviously does not make a trend, and what we're seeing on balance since the summer of 2022, after the inflation rate peaked as high as 8.1%, [is] it's still coming down, and that's true in so many senses," she said.
April's inflation upswing was driven by multiple factors, with each of the Bank of Canada's preferred core measures seeing an increase. While that's a departure from the figures of recent months, it doesn't unduly complicate the overall outlook, Fan said.
"What we're seeing in April is definitely something that draws a lot of attention, especially given the upside surprise is not really coming from just one or two items. From our own tracking, it's actually a bit more dispersed than we'd like to see," she said.
"But on balance, it really doesn't change the narrative that inflation still has been, as a whole, moderating and easing, and the pressure has been narrowing."
The Consumer Price Index (#CPI) rose 4.4% year over year in April 2023, following a 4.3% increase in March. To learn more: https://t.co/pXYzXUC8C0. pic.twitter.com/ZNaxr9tmM2

— Statistics Canada (@StatCan_eng) May 16, 2023
What accounted for April's rise in inflation?
Shelter contributed heavily to headline inflation increasing in April. Mortgage interest costs surged, rising by 28.5% on a yearly basis, while rent posted a 6.1% year-over-year spike. Still, Fan noted in RBC's inflation write-up that the Bank of Canada's recent pause on interest rate hikes should see those mortgage costs slow again.
Grocery prices increased by 9.1% compared with April 2022, although that growth was milder than the 9.7% figure seen in March, while gasoline prices fell 7.7% year over year but increased 6.3% from the previous month.
All eyes will now turn to the Bank of Canada, which will have been closely watching today's report as it weighs up whether to keep interest rates where they are (its next decision arrives on June 7) or introduce a further hike.
Strong recent data on the housing front, as well as a still-robust labour market, may complicate the central bank's forecast for CPI inflation to fall to 3% by the middle of this year, although Fan said RBC is not currently expecting any further action on rates next month.
"Our base case now is definitely still for the Bank to be on hold again," she said. "A lot of data on housing and the pricing side are looking a bit stronger than our liking, and presumably the Bank of Canada's liking as well."
Offsetting some of those concerns is the likelihood that GDP growth has slowed since the beginning of the year, Fan said, affording the Bank the option of waiting until the next CPI report to assess whether April's uptick was an anomaly or an indicator of more persistent inflation.
How are markets reacting to the latest inflation news?
Market expectations of a June hike jumped to 22% in the wake of the latest inflation figures, more than double their pre-report forecasts, according to Reuters.
BMO senior economist and director of economics, Robert Kavcic, said in a note that while the first steps in bringing inflation down had proven relatively straightforward, "this next stage is, not surprisingly, proving to be quite a bit tougher."
Kavcic said the figures showed underlying core inflation appeared to be settling around the 4% mark, still well above a level the Bank of Canada would be comfortable with.
"With policy rates on hold at 4.5%, that leaves us with slightly positive real overnight interest rates," he said. "But the 'core' question is, 'Is that tight enough?'
"Maybe, but we (and the Bank of Canada) will be watching how some of the more interest-sensitive sectors of the economy, and the job market, evolve in coming months."
Make sure to get all the latest news to your inbox on Canada's mortgage and housing markets by signing up for our free daily newsletter here.