The award-winning full-service brokerage is proud to announce Lisa Valade as Vice President, Ontario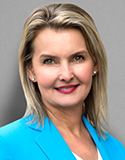 We are extremely delighted to announce that Lisa Valade will be joining Mortgage Architects today as Vice-President Ontario. Lisa adds even more bench strength to our terrific executive team of Scott Musselman, Michele Steko, Meini Ickert and Riadh Trigui.

Lisa brings over 30 years of experience in the mortgage industry. Most recently from the leadership team of Invis & Mortgage Intelligence she has been an integral part of growth strategies in mortgage origination, business planning, sales, recruitment and network development. Having spent 7 years as a broker herself, she understands the challenges that brokers face and is eager to add even more value to the entire Mortgage Architects Network.

Based in Mississauga, Lisa is excited to partner with MA to bring in a new era of unprecedented support, service, sales and swagger. Lisa's addition shows to reinforce that as an award-winning full-service brokerage we are committed to build on our successes by adding great new talent for broker support that is second to none.

Please join us in welcoming Lisa to MA Nation.