Co-founders on the company's growth over the last decade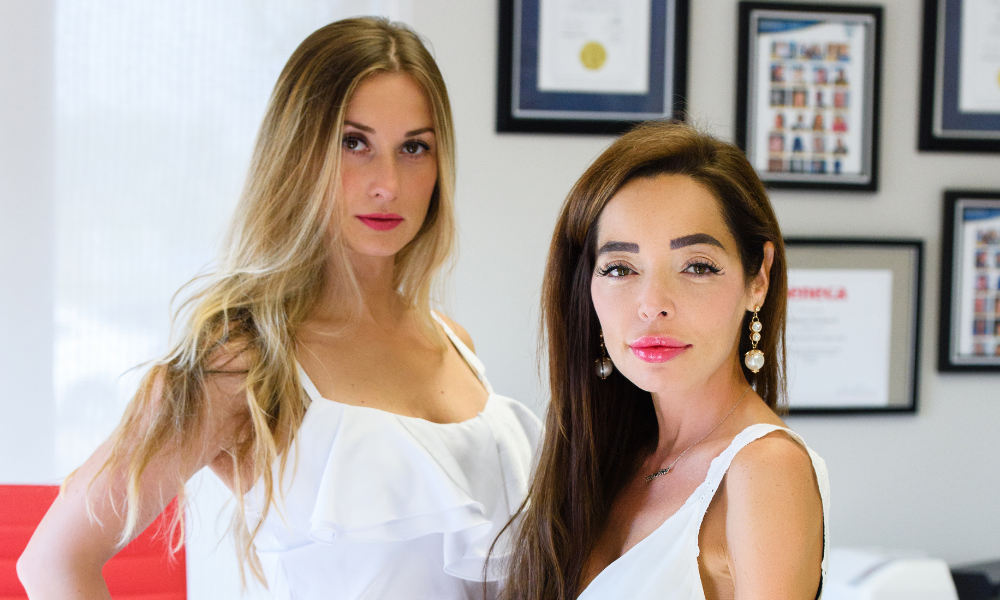 For IK Financial's co-founders, the secret to the Toronto-based brokerage's success is simple: a belief that every client deserves a mortgage, and a desire to find tailor-made solutions for each customer's specific needs.
Katerina Markevich (pictured top left) and Inna Bogdanov (pictured top right) told Canadian Mortgage Professional that the service-focused approach of the company had been an integral component of its growth over the past decade, with the duo's listing among this year's CMP Women of Influence highlighting the mark they've made on the industry.
That determination to offer a wider array of products to clients was one of the key reasons the pair decided to make the switch to the broker space from a major bank, with the intention of marketing themselves as a team (the "IK" in the company's name stands for their two first initials combined) also a prominent factor.
"We came to the conclusion that because we only had access to the product lineup of one major financial institution, it was very limiting to our clients," Bogdanov said. "We hated seeing that our clients were left without a good financial solution because of the limitations of one specific lender.
"We arrived at a point where we felt that we needed to grow – both for ourselves and our clients. At that point, we were ready to move on to the next big step in our careers, which was starting IK Financial."
The importance of putting the client first is something that Markevich said was built into the company's DNA, with ensuring a customized experience for customers its top priority.
Read next: Canadian Mortgage Professional reveals Women of Influence 2021
"We believe that every client deserves not just a mortgage but also an experience, knowledge and attention," she said. "We built IK Financial by putting the client first. We're a boutique experience.
"We learn everything about the client, and that always plays out for their advantage. That's what people want – and that's what we strive to provide."
Having access to a greater number of lenders tied in well with the pair's ambition to serve each client as fully as possible, with their prior experience working for institutional lenders also proving an invaluable asset as they started out in the broker space.
"What sets us apart is our experience and our knowledge, because we came to the broker world with lots of experience," Markevich said. "We worked at different financial institutions in various capacities, so we know how things work from the inside and know not only about the mortgage part, but also the bank and financial part too."
The duo describes their ethos as one that allows their company to be a "one-stop shop" for clients, helping them navigate through the complex mortgage process and map out a prosperous financial future.
That prior experience in the banking world, coupled with their near-decade at IK Financial, means that they've cultivated a vast network of contacts within the industry to refer their clients to and ensure as smooth a start-to-finish process as possible.
That comes back to what for Markevich and Bogdanov is the most fundamental aspect of a broker's role: the ability to work on the customer's side of the deal and provide an unsurpassed, long-term solution.
"We plan ahead. We create strategies that work for our clients – we do it all," said Bogdanov. "Our clients know that we keep everything under control, and that at any given time we have their back."
The value of teamwork
Of course, it also helps to have a cohesive and united team, with both women paying tribute to the small but effective group of five they've assembled at the company.
That "amazing" team, Bogdanov said, allowed the company to operate efficiently throughout the early challenges of COVID-19, when a hectic mortgage market coincided with an office shutdown and transition to a work-from-home environment.
The onset of the pandemic saw IK Financial invest significant time and resources into its technology, with education becoming a priority (for staff and clients alike) to ensure a comfortable and easy experience at all levels in the difficult new reality.
Women of Influence
Starting out as young female entrepreneurs in a male-dominated industry was no easy task for the pair, who were faced with the challenge of establishing a presence, building a brand and creating a client base from the get-go.
"The industry was mainly represented by men, and you can imagine the two of us – young girls in our 20s trying to build trust, confidence and promise future growth to our clients," Bogdanov said.
"It wasn't easy making those connections, having people believe in us and having people trust us and refer business to us."
The growth of the company into a multimillion-dollar business is one that's been driven by the dedication of its founders, with both steadfast in their conviction that constantly innovating – and maintaining that attention to the needs of the client – are essential to success in the industry.
"We're positive that age, gender or backgrounds do not matter," Bogdanov said. "What matters is the passion, the willingness to help, and the willingness to learn new things – especially in the mortgage market."
The company's success has also been achieved through its ability to quickly adapt to changes – not to mention constantly keeping an attentive eye on future trends coming down the line in the industry.
"We analyze and study the market 24/7," Markevich said. "We speak to industry specialists, we talk to our clients, we listen to our business partners, and we're aware of the changes and what's going to come next.
"The trick is to be that one step ahead of the game. That's one of the reasons we think clients choose us."