James De Vuyst, leader of Verico Paragon Mortgage Group, never intended to become a mortgage broker, but after a decade in the industry, he can't imagine being anything else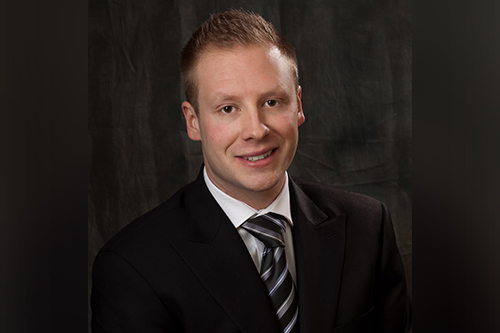 Ten years ago, James De Vuyst became a mortgage broker – albeit more by default than design. When De Vuyst graduated from the University of Northern British Columbia in 2009, the Great Recession made employment opportunities something of a rare commodity. But his father, who had been in the profession since the 1980s, recommended that he consider becoming a broker.
While the paternal suggestion didn't initially spark great enthusiasm, De Vuyst appreciated the opportunity to secure work during an economic downturn.
"Essentially, it happened fairly quickly," he recalls. "It was really a fluke. I would have to say that I love real estate, but I didn't want to be a real estate agent. And I had a double major in marketing and finance, so it actually worked out pretty well."
Indeed, De Vuyst's initial lack of enthusiasm began to change when he realized his talent for the job. By 2015, he had landed at Verico Xeva Mortgage and soon began to rack up industry honours, including being named a Young Gun by CMP in 2016, winning a 2016 Business Excellence Award from Verico and being a Top Performer (Volume) at Xeva Mortgage in 2016 and 2017. Today, as a high-profile broker in the Verico Paragon Mortgage Group, De Vuyst views his work through an appreciative spectrum.
"What I really enjoy is that every day is different," he says. "We're fairly lucky to be in an industry that is constantly evolving and constantly changing. There's not just the same day in, day out, so it keeps you on your toes."
It's the human element of the profession that De Vuyst says has provided him with the most valuable benefits. "I get to help people every day with their financial goals and the dream of owning a home," he says. "It's a pretty upbeat, positive business at times. Obviously, there's some low points. But every day changes, so it's actually quite enjoyable that way – nothing ever stays the same."
Viva Vancouver
De Vuyst's business is focused on the Greater Vancouver market, which he defines as a lively environment that is "expanding pretty much every day." He notes that the market is enjoying "a lot of refinances and a lot of purchases that we weren't seeing last year," but he warns that media coverage of Vancouver often doesn't get it right.
"The dangerous thing, I think, is that there's a lot of misconceptions about the Vancouver market," he says. "Some days it's up and some days it's down, depending on what articles you read and what your media sources are."
As for the popular perception of Vancouver as a destination for global investors seeking real estate vehicles for their money, De Vuyst notes that those deep-pocketed clients aren't his focus.
"In my business, we predominantly get permanent residents," he says, adding that he's witnessing more international interest in Vancouver housing from south of the border rather than from across the Pacific. "I'm just noticing more and more now that we're getting a lot of the US tax professionals coming up."
Before the COVID-19 crisis hit, the Vancouver market was on a roll. In February, the BC Real Estate Association reported a 44.5% year-over-year increase in residential unit sales in the Greater Vancouver. Additionally, the average residential price in Greater Vancouver hit $1,006,708 in February – a 6.9% increase from the same period in 2019.
What will happen to the market in the near-term future is unpredictable, De Vuyst says, pointing out that the recent increase in the popularity of fixed-rate mortgages is being challenged by the Bank of Canada's steep rate cuts to steady the economy in light of the COVID-19 pandemic. De Vuyst proactively communicated with current and potential clients via his blog to detail the pandemic-fuelled attention given to deferred mortgage payments, specifically highlighting that 'deferred' is not synonymous with 'free' and that not everyone can qualify for this emergency measure.
Connecting with clients
De Vuyst has become a rather prolific blogger in Canadian mortgage world, focusing on a wide range of topics, from straightforward industry-centric subjects like alternative lending and home loan documentation to more emotionally difficult topics, such as how divorce and maternal or paternal leave play into the mortgage process. And while blogging might seem a bit old-school compared to today's cutting-edge digital platforms, De Vuyst believes it's the best vehicle for communicating with his audience.
"The reason I went with that approach to do a blog is that you can control your content," he says. "I can just tell people, 'Listen, if you have a chance to read the blog, if there's something that interests you, let me know and I can answer your question.' So at least it keeps me connected with the client for information that we can provide to them. We can wrap it up with factual and provable information based on how the lenders are conducting their programs. And I find it an easier way to get the client rather than saying, 'Well, I read this article on National Post.'"
As for what the rest of 2020 will hold for the Vancouver market or Canadian housing as a whole, De Vuyst isn't willing to offer predictions.
"I think there's too much uncertainty to really pinpoint where it's going," he says. "Obviously, with the fears and the coronavirus pandemic, I would say we are heading for a global slowdown. People typically go out and buy, but it's a little too early in the year to really determine that. I have a pretty good spring market in our books, but after that I think it's anybody's guess."