Shubha Dasgupta has never lost sight of the importance of service throughout his distinguished career to date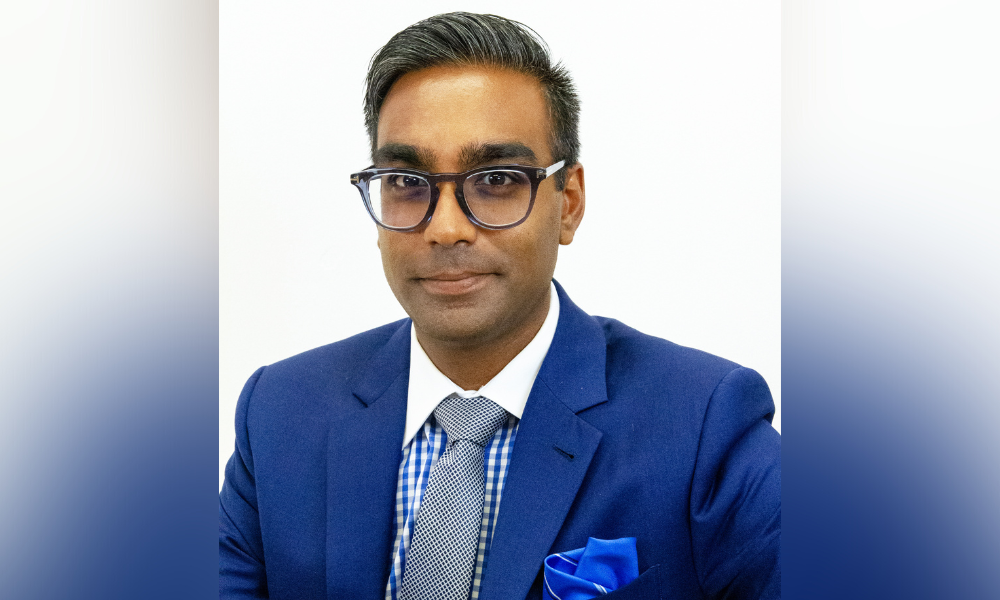 Few, if any, six-year-olds initially aspire to be mortgage brokers – and Shubha Dasgupta was no different. As a child, he harboured ambitions to become a doctor as a means of helping people, but fate works in mysterious ways and Dasgupta ultimately pursued another form of service: as a mortgage professional, assisting Canadians across the country in their efforts to realize their homebuying dreams.
Starting out in the Canadian mortgage industry over 13 years ago, Dasgupta has since become one of its most influential and recognizable members, renowned for his role as co-founder and CEO of the Pineapple network (formerly CLC Network) and as the 2021 president of the Canadian Mortgage Brokers Association for Ontario (CMBA-ON).
Throughout an eventful tenure as a mortgage professional and executive, he's never strayed from that ideal of providing exemplary service to clients – and technology has also been a prominent focus of his upward journey through the industry.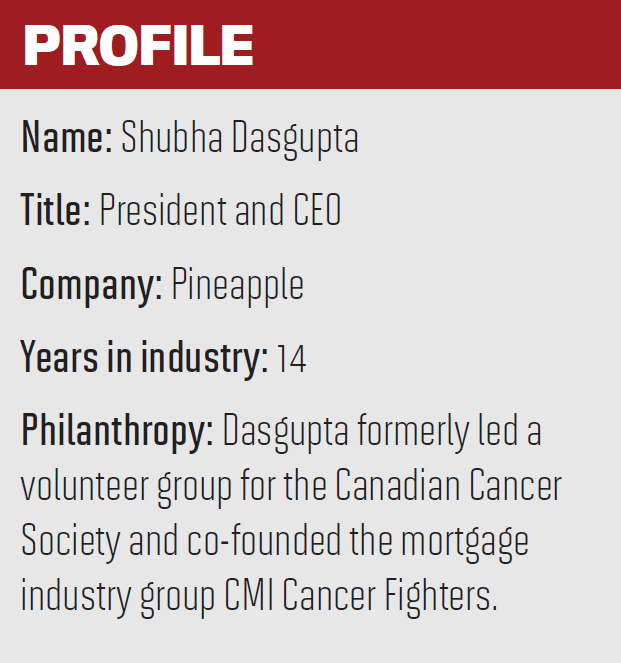 Starting out at Mortgage Centre and flipping the office brand to Dominion Lending Centres (DLC) a few years later, Dasgupta quickly established himself as an elite broker but, in his own words, "yearned for more."
"I wanted to make a larger impact on this industry and help drive positive change and a more digital experience," he tells CMP.
That led to the 2016 establishment of CLC Network, a company whose rebrand to Pineapple was announced last year. Its mission to help mortgage agents deliver peak performance through cutting-edge technology and innovation has proven a sure-fire hit among the agent community, with around 600 now represented across 17 brands under the Pineapple banner.
Prioritizing people
The company's tech focus dovetails neatly with Dasgupta's view that mortgage brokering is first and foremost about service and helping people – an ethos he summarizes as "people first, everything else second."
"When you think back in life, you realize that many of life's greatest moments started at home," he reflects. "I wanted to be a part of ensuring that dream was possible for all Canadians.
"My goal is to help other brokers, owners and Canadians have simplified experiences, while driving positive change for all involved … Putting people at the forefront of every thing we do enables stronger and more meaningful connections while fulfilling our goals in a deeper way."
The value of service is one that Dasgupta extends beyond the professional sphere as an avowed philanthropist whose charitable efforts have included time on the board of the Canadian Cancer Society and the corporate cabinet of Make-A-Wish Canada.
A culture of "trust, mutual respect and camaraderie" is one of the most significantimprints he's left on Pineapple – one that's remained, and strengthened, even as the company has continued to scale upwards in recent times.
Meanwhile, the network's forward strides in technology in the mortgage space and as a complement to the work of agents also remain a source of huge satisfaction for the executive.
"Our teams bring a positive outlook each and every day, taking very seriously the work we do," he explains. "I'm also very proud of the work our teams are doing to advance the digital landscape of our industry.
"Driving innovation is a key component to our goals, but ensuring we do so in a way that creates meaningful change has been special."
Managing growth
Dasgupta navigated the challenges of the COVID-19 pandemic with deftness, taking his company's expansion and rebrand in stride during some of the most unprecedented times the Canadian workplace and economy have ever seen.
The country's housing and mortgage markets boomed during that time, but while those wheels have slowed considerably throughout 2022, Dasgupta remains sanguine about their prospects moving forward.
He says it was simply unrealistic to expect that the pace of mortgage activity during the first two years of the pandemic would continue, with the current cooldown merely reflecting the return of a more normal market.
"The last couple of years, we've been going at 150km/h down a 100km/h highway, and right now we're slowly back down to around that 100–120km/h range," he says. "We're still above [the speed limit] – we're breaking in and around that, but it just feels like we're going a lot slower."
Indeed, Dasgupta has been around for enough time to know that in the housing and mortgage markets, things tend to balance out in the long run.
"The mortgage and real estate market always runs in cycles, and it's a normal part of any healthy cycle," he says. "The price growth that we've seen over the last few years was never going to be sustainable."
It's a calm, measured, and well-informed view of the future of the market that mirrors Dasgupta's own meticulous and methodical approach to business as a whole. Patience has proven a key contributor to his rise in the industry, according to the executive, blended with his strong resolve and work ethic.
"There's no such thing as an overnight success, and everything comes to those who wait," he says. "Remember that patience is not about waiting but the attitude and work you put in while waiting."
The rise of Pineapple – and Dasgupta – has also come about thanks to a clear understanding of what the company needed to continue its growth in terms of infrastructure and resources, as well as ensuring that its advancement didn't arrive at the expense of its all-important service levels.
The ability to clearly address those needs is something that will surely stand the company in good stead as its founder and leader looks to the future.
"We always ask ourselves about purpose and intent," Dasgupta says, "and having a clear insight into these areas for all aspects of our business. When you understand the goal, you can work back to create the roadmap."