Jason Lang, Joanna Lang and Jason Friesen tell CMP how measured growth and a strong foundation based on expertise and collaboration have set Outline Financial up for success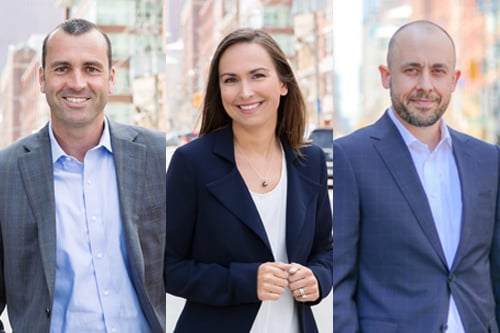 Growth with purpose has always been the main goal at Outline Financial. When Jason and Joanna Lang of the Lang Team joined forces with Jason Friesen of Friesen Mortgage in 2018, the two organizations fit together like pieces of a puzzle. The three partners understood that their diverse strengths and experiences would create the perfect platform to scale their business, attract high-level technical experts to their team and provide a level of consistency and value that would vault them ahead of their competition.
"Our vision was to stay a small business but grow in an organic way that would allow us to truly invest in our team," Joanna Lang says. "We don't want hundreds of agents. We are selective in attracting the right kind of people with the right kind of ethics who are going to serve our clients with expertise."
Some brokerages opt to hire support staff with little experience, exchanging lower wages for additional manpower, but Outline Financial's partners stress the importance of investing in each team member with training, healthy earnings and a solid support system for individual growth. As the regulatory environment becomes increasingly challenging, building a team of experienced professionals with similar work ethic and a strong moral compass was of utmost importance.
"Finding the right people takes time," Jason Lang says. "That was a big lesson for us. There's always urgency to get help, but rushing into hiring someone can result in duplicating efforts and wasted energy. Once you do find the right person, everything falls into place."
That's why Outline Financial puts so much value in the recruitment process. There's an initial interview to find out whether the candidate is a good cultural fit and what experience they bring, followed by a technical test, which not only helps assess underwriting skills, but also gives insight into the candidate's thought process and how they react in different situations.
That ties into Outline Financial's huge emphasis on underwriting. Each member of the team starts off as an underwriter first to gain a high level of understanding on lender options, deepening their ability to give the best advice to clients. Once hired, everyone goes through the same level of training, which includes shadowing senior agents.
Friesen says this brings everyone together, strengthening the team bond. "There's no hierarchy in our teams," he says. "No job is more important than the other, and that model really allows you to set your ego at the door. In today's environment, when all your teammates have a strong background in underwriting, there is a level of respect across the board."
The mortgage industry is known for being a tough and sometimes lonely road, so Outline Financial seeks to counter that by creating an environment that fosters collaboration, rewards teamwork and encourages reaching out for help. Jason Friesen and Joanna Lang run day-to-day operations at separate Toronto branches, while Jason Lang, who previously served in leadership positions at some of the country's largest insurance companies, is responsible for business development and company growth. However, all three managing partners play a role in mentoring the team across all branches. Having a leader who isn't a mortgage broker, but instead is dedicated to constantly improving the business, is a huge competitive edge, according to Friesen.
"When mortgage brokers get busy, other parts of the business fall to the wayside," he says. "With Jason focused solely on adding value to our partners, ensuring we run smoothly as a team and researching things like CRM platforms, that's worth its weight in gold."
Jason Lang also manages the brokerage's database so the team always has a good measure of where their business is coming from, as well as insights – including valuable information on local market conditions and trends – that can be used to help their referral sources score more business.
Having that data, rather than just going off intuition, has been a huge eye opener and has helped foster symbiotic relationships with real estate partners. "One agent might, for example, send you 30 leads, resulting in three closed loans, but another agent who sends you 15 converts to 12," Joanna Lang explains. "You might feel busier with one, but once you have the data, you're able to make better decisions with your time and money."
Jason Lang says both Friesen and Joanna bring to the brokerage a commitment, passion and a wealth of knowledge second to none – and he acknowledges that without each person bringing their best to the table, it just wouldn't work.
"Our borrowers aren't our only clients," he says. "Everyone on our team plays an important role in our business. Aside from our borrowers and referral partners, we also have to make sure our underwriters are equipped to build trusting relationships with our lenders and the loans we produce are always consistent. That's our reputation that we work hard to maintain every day."