Throughout his career, Grant Armstrong has excelled in helping companies take the next step in their development. As Community Trust's director of national sales, he's working to bring the company to national prominence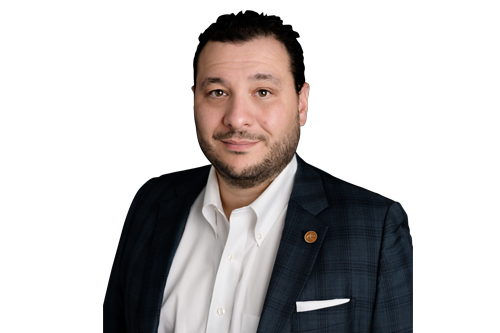 When Grant Armstrong graduated from Toronto's Humber College in 2000, the plan wasn't to head straight for a bank job. Armstrong toyed with the idea of becoming a cop, following his mother into television production or even staying on at Humber and running for student council president. But when one of his counsellors told him that Scotiabank was sniffing around the school in search of fresh talent, accepting a position as a small business banker with a respected financial institution seemed like the mature thing to do. "I was like, 'OK, why not?'" Armstrong recalls.
But that nonchalance quickly gave way to a sincere interest in the work. Armstrong's natural love of math meant the number-crunching was more pleasure than punishment, but it was seeing the effect his efforts could have on clients – like the manufacturing company that was able to hire 100 employees and triple its business revenue after working with Armstrong – that confirmed he was on the right track.
"I really enjoyed working with people and helping them meet their biggest needs," he says.
While at Scotia, Armstrong was faced with a choice common to young bankers: investments or mortgages. As someone who gravitated toward the tangibility of debt servicing and LTV ratios, the choice was an easy one.
The mortgage space, Armstrong says, "was something I could sink my teeth into. With investments, you're kind of guessing the future. With mortgages, you're dealing with what's right in front of you, and you can see the immediate impact of helping a client with mortgage financing."
Over the next five years, Armstrong took on a variety of positions at GE Mortgage Insurance (now Genworth), National Bank, Xceed Mortgage and MCAP. Young mortgage professionals might balk at chasing so many different opportunities, especially over such a short time period. Armstrong, however, saw each new job as an opportunity to learn something new.
His advice for young professionals approached with a potential new opportunity is to take stock, both of their current situation and what the new position could mean for their career.
"Listen to what people are offering you, have conversations, but don't be afraid to ask the people where you are today about learning more," he says. "If you've exhausted everything within your own organization and a new opportunity comes around that excites you and challenges you, take it and go."
It was just such an opportunity that brought him to his professional sweet spot: alternative lending.
Exceptional outcomes
In 2006, Armstrong joined RBC as an alternate mortgage solutions specialist. He had gotten his feet wet working the alternative space with Xceed and MCAP Subprime (now Eclipse), but because RBC's alternative mortgage department was still in its infancy at the time, Armstrong would be doing more than flexing his mortgage muscles. He would be responsible for helping the department grow.
And grow it did. When Armstrong first joined the team, annual sales were around $250 million. When he left the company in 2017, they had ballooned to nearly $1.5 billion.
It was a high-stakes, high-volume environment in which no two days were the same. One day, a mechanic lacking traditional income verification would need funds to open a garage. The next, the CEO of a tech company would come in, asking for assistance in buying a rental property. The day after that, Armstrong would be in meetings focused on increasing sales.
"You were brokering deals. You were fulfilling deals. You were out there drumming up business," he says. "You were a BDM trying to get the internal referral sources at Royal Bank to refer more business over."
By around 2009, Armstrong was closing more than 400 deals a year. But it was one of his first that still occupies a special place in his memory. A recently laid-off client terrified of losing his home was referred to Armstrong after breaking down in tears at an RBC branch. Losing the home, the man explained, wasn't the primary issue – it was that his two autistic sons had only recently walked themselves to school for the first time. Moving them to a new home or neighbourhood after years of establishing valuable patterns and familiarity with their surroundings threatened to set their development back by years.
By refinancing the house, Armstrong freed the family from the power of sale they were facing and accessed enough money for them to cover their mortgage payments for two years. There was even enough equity in the home for the father to start his own business.
"Fifteen years later, they're still in that house, and they're still succeeding," Armstrong says. "That's when it really sunk in for me. I loved being a commissioned employee, but I loved helping clients even more. And that's where I really measured my success: how many people were thankful for what I could do."
The next big thing
In January 2020, after a three-year stint at CIBC that saw him rise to the level of national director, Armstrong took on the role of director of national sales for Community Trust. He saw in the freshly created position another chance to build something special from the ground up.
"I saw an organization that was driven to succeed and driven to grow," he says of his early meetings with Community Trust, when the company was simply asking for his input on what the role should involve. "Everything they said they wanted to do has come to fruition."
Community Trust has, like many lenders, had an off-the-charts year in terms of sales. But Armstrong says there's much more to do. The company's immediate goals include increasing awareness of the company among brokers, improving service through innovations like automated valuations, and providing training seminars to brokers that will help them do their jobs more efficiently.
"We want to add value to the brokers," Armstrong says, "so when they think of why they're being successful, hopefully they'll remember that Community Trust was part of that pattern."