Michael Jones, president of Equity Financial Trust, has held numerous leadership positions for various lenders. And he's confident brokers and their lending partners will help lead the industry toward a better future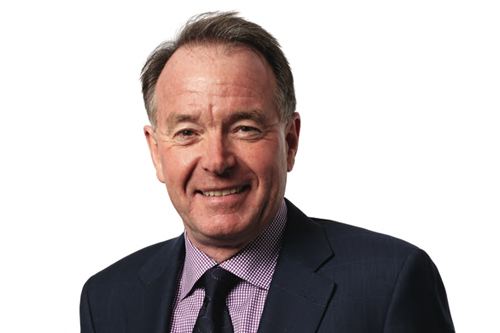 Michael Jones, president of
Equity Financial Trust
, has held numerous leadership positions for various lenders. And he's confident brokers and their lending partners will help lead the industry toward a better future
Michael Jones is no stranger to the lending side of the mortgage industry, having been involved in real estate financing since the early 1980s. His experience in residential mortgage funding dates back to 1996, when he ran CIBC's access program. From there, he moved to Xceed Mortgage Corporation, where he served as president and COO.
"[We] built an organization that relied 100% on mortgage brokers to generate near- and non-prime single-family mortgage applications," Jones says.
After Xceed was sold in 2013, Jones began doing consulting work with Equity Financial Trust; in less than a year, he had taken the reins as Equity's president and CEO. He's been there ever since, helping to position Equity as a go-to lender for brokers looking to place clients in the near- and non-prime mortgage sector.
"I think the biggest attraction for me to the mortgage industry is that there is a very well developed mortgage broker infrastructure that allows an institution such as Equity Financial to generate large, profitable volume of single-family mortgage applications, commitments and funding without having to have an existing brick-and-mortar bank branch network in place," Jones says. "It allows us to focus on the mortgage broker as a key partner for us – and I mean the word 'partner' in every sense. Not just somebody who is an agent on a particular transaction, but somebody who is going to help us achieve our goals, in return for which we will help them achieve their goals."
Jones takes pride in the fact that his company works so closely with and actively promotes the broker channel. "We think it has brought much-needed competition to the prime single family business," he says, "and it has proven to be a very effective and dependable source of near- and non-prime single-family mortgage applications – not just for us, of course, but also for our competitors."
Fostering relationships
Looking to the future of the mortgage industry, Jones foresees a much closer relationship between customers and mortgage brokers than there has been in the past.
"Where the mortgage broker may be selling a product on our behalf to the customer, at the same time, that customer is going to depend on advice from the mortgage broker," he says. "So the broker is in a bit of a tricky situation where they have to balance the interest of the lender and the interest of the customer. And the more sophisticated the mortgage broker is in doing that, the more successful they are going to be."
Jones admits it's going to become more difficult for brokers to balance those interests, but those who do it well will be even more successful in the years ahead.
"I think the days when this was just a transactional business where you just push a piece of paper, and CMHC and [the lender] give you back an approval in sometimes less than a minute – those days are gone," he says. "I think the day when you create value for the customer by giving them an honest appraisal of what their options are, what limits they can expect, what they can hope to gain – not just at closing, but also 12 or 24 months from now when they've perhaps been able to improve their credit rating, for example – that's what that path might look like. Those customers will come back to mortgage brokers for that advice because it will have made a big difference in the way they manage their financial affairs."
Storms ahead
The biggest challenges the industry currently faces – and will continue to face – are the ones posed by escalating prices in certain markets, according to Jones.
"In cities such as Vancouver and Toronto, house prices are rising more quickly than incomes are rising, so it's creating affordability issues," he says. "That's a big challenge for us. Our hope is that that will self-correct at some point, because there just won't be sufficient income to drive those prices up any further, and we'll get back to some balance as far as affordability is concerned."
While many lament the impact of technology as another challenge, Jones believes it will help enhance the client experience while also making it easier for brokers and lenders to do their jobs. As for fears of automation eventually replacing brokers altogether? Jones isn't worried.
"I know there has been a lot of talk about the threat posed by fintech, but in our space, every deal is different," he says. "Every deal has a story. I do think the process by which we close a deal will become more efficient, and technology will play a role there. But I don't think you're ever going to replace the role of the mortgage broker in giving advice to the customer, and it's going to be very difficult to replace the human underwriter in assessing all the risks in a file.
"The underwriter and the broker may use more technology than they have in the past," he adds, "and they may use more technology to make intelligent decisions about how best to serve the customer and protect the lender than they have in the past, but I don't think it's going to replace either of them anytime soon."
In Jones' opinion, tackling the challenges ahead will require all parts of the industry to come together for the good of the customer.
"I think they need to work with lenders such as Equity and our competitors to create an environment that is one where customers will get valuable advice and one where lenders can depend on the information that is presented to them – either indirectly through the customer or directly from the broker," he says. "[If we] can depend on that information as being valid and supportable, [it will] bring to the industry a cloak of respectability that it hasn't always had in the past."