John Vo and Craig Spicer partnered up less than a year ago, but they've already forged a powerful synergy that has transformed both of their careers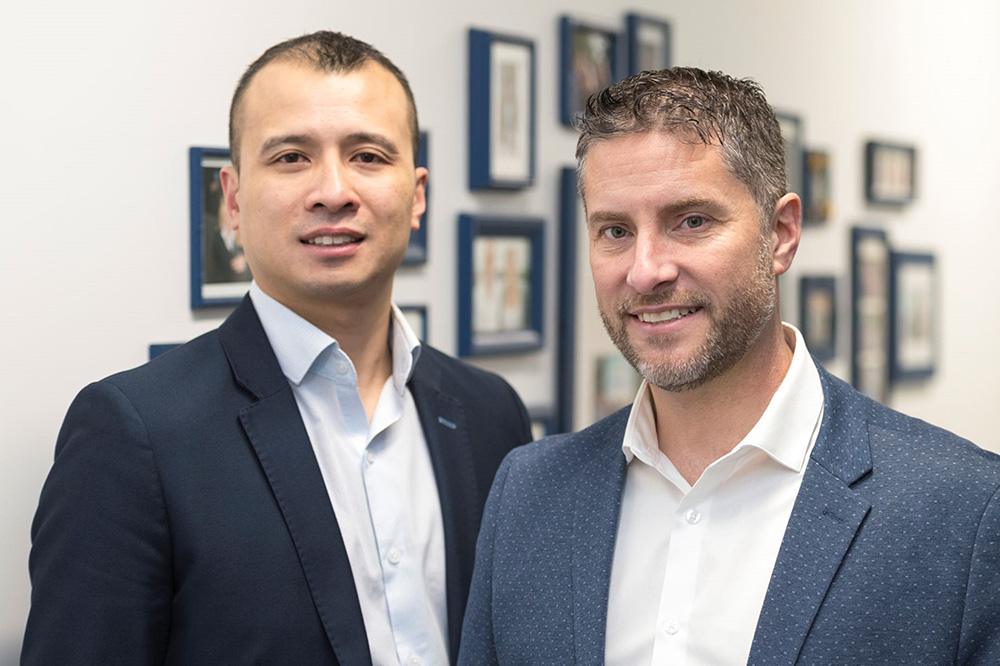 Last Valentine's Day, a new part-nership was coming together in Dartmouth, Nova Scotia. There might not have been roses, wine or Victoria's Secret at the launch of Spicer Vo Mortgage (which is probably for the best), but even the most enraptured of lovers would have viewed the excitement and sense of commitment percolating through Craig Spicer and John Vo's new endeavour with a mixture of longing and envy.
Spicer, a mortgage mainstay in Halifax who had been running solo for 18 years, knew from more than five years of encoun-tering Vo in various capacities that bringing him on as a partner would solidify his busi-ness in a number of ways. Vo's experience as a mortgage expert with RBC and TD, and as a business development manager for FCT, had exposed him to structured, highly profes-sional work environments that provided constant training opportunities.
"I've found out that everything good that was said about him was actually true," Spicer says. "He's a dynamic worker – just fantastic. I knew I wanted to partner with him from the first time I met him."
In Spicer, Vo found an ideal partner to introduce him to the world of mortgage brok-ering. "The broker side was the scary part for me, but having Craig there every day was awesome," Vo says. "Craig is just unbelievable at knowing policies, knowing where to place clients, where to get things done the quickest and most efficient."
The partnership has brought out the best in both brokers. Vo hit the ground running, generating the kind of volume in his first seven months that most Atlantic brokers would struggle to hit in a year. Spicer's 2020 numbers have eclipsed his performance in any of the previous years. It's precisely the result brokers hope for when they bring a new partner into the mix.
Vo's fit into Spicer's operation has been nothing short of seamless. Most of the effort required to make it work – website design, fresh business cards and other promo materials, new email addresses – was completed before it was time for the pair to start finessing deals together. While Spicer remains the familiar and personable face of the franchise, Vo continues to put his stamp on the guts of the company, bringing a new sense of focus to the brokerage's internal processes – and, as a fringe benefit, upping Spicer's technological literacy.
"I always tease that he's my tech support," Spicer says. "When I actually get something right, he'll say, 'I'm proud of you, gramps!'"

The two came together at an interesting time – weeks before COVID-19 slammed headlong into the Canadian economy. But rather than managing a catastrophic down-turn, Spicer and Vo found themselves relying on each other's expertise to stay on top of a historically hot Halifax housing market in which intensely competitive bidding is short-ening the timeline of every deal that lands on their desks. Having at least one savvy broker (or the duo's invaluable assistant, Janet Chase) available at all times guarantees that no matter how hectic business becomes, clients will always get the answers they're looking for.
Spicer and Vo say the wild real estate activity still being seen in Halifax has required them to be increasingly assertive with their clients so they have the informa-tion needed to ensure their deals get a fair shake from lenders.
"We have to be more firm than ever," Vo says. "If a client pushes back and says, 'I'll get those docs to you later,' we have to be very clear about how important those documents are. If you want to win in this market, you have to be prepared."
As the two men approach their broker-age's first anniversary, one wonders how many other partnerships celebrated last Valentine's Day survived 2020. Those that did, like Spicer Vo Mortgage, can probably make it through anything.