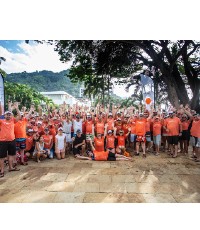 Headquarters: Vancouver, BC
Leadership: Grant and Debbie Thomas, cofounders; Mark Kerzner, president; Dan Pultr, regional vice-president, BC; Darren Quilley and Khider Elkadri, regional vice-presidents, Alberta; Bud Jorgenson, regional vicepresident, Prairies; Gerald Krahn and Steve Clarke, regional vice-presidents, Ontario; Claude Girard, regional vice-president, Quebec; Steve Whitehead and Andrew Matheson, regional vice-presidents, Atlantic Canada; Veronica Love, vice-president, corporate development
CMP: What's the biggest advantage of being an independent brokerage? Gina Monaco, director of marketing and communications: TMG was founded on the ideals of creating the best possible experience for our agents, brokers and staff. Our brokers have the freedom and flexibility to operate their own personal business, while we take care of the time-consuming tasks of all support functions. This allows our agents to do what they do best: helping clients with the most important financial decisions of their lives.
Compliance and payroll are centralized using a state-of-the-art reporting and payroll system. TMG agents and brokers have the tools and support to position themselves and deliver as knowledgeable and effective partners for their clients.
CMP: What do you do to cultivate your brand and make it memorable for clients or differentiate yourself from other brokerages?
GM: Our systems and tools include BrokerNET, a robust intranet that includes training modules, videos, marketing tools, content and more, and is a one-stop shop for everything our brokers need to increase their success; a fully-integrated CRM; a fully integrated document and process management system that's cloudbased and mobile-friendly; personalized websites; a fully integrated mobile app that includes Realtor.ca listings; and an in-house marketing and design team.
Our corporate culture is inclusive and completely aligned with our brokers' success. They get strong support from regional management, who actively manage their territories and will work with brokers to help meet their needs. By making it easier for our brokers and agents to become successful, they can offer a high-level client experience and seamless mortgage financing.
CMP: What are you most proud of from 2019?
GM: First and foremost, we are proud that our agents have helped tens of thousands of clients across the country finance their homes and/or helped them meet their financial goals. As the industry becomes increasingly more complex, it's important for clients to get the up-to-date information they need to make informed decisions.
We are proud that TMG agents and the regional team leads have taken leadership roles in the industry to better educate the public and to help promote the value of a mortgage broker.
We are also a company that cares and gives back to the community. We work closely with Breakfast Club of Canada and are proud of raising $400,000 to date to help feed children in schools – that equals 400,000 meals.
CMP: What are you looking forward to in 2020?
GM: This is our 30th year in the mortgage industry. Co-founders Grant and Debbie Thomas started the company with the idea of creating an environment that embraced family values. It is this focus on brokers and their success that has helped TMG maintain its status in the industry as the largest independently owned brokerage in Canada.
We look forward to the continued alignment of our business model with our brokers' success by introducing new technology and state-of-the-art systems to give them a competitive edge and to align ourselves with the 21st-century way of doing business.