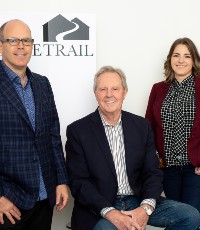 Headquarters: Toronto, ON
Leadership: Jerome Trail, broker of record (left)
CMP: What's the biggest advantage of being an independent brokerage?
Jerome Trail, broker of record: Without any 'paid' affiliations, we are able to provide 100% independent advice. Our advice to clients is unbiased and unencumbered.
CMP: What do you do to cultivate your brand and make it memorable for clients or differentiate yourself from other brokerages?
JT: Over the years, we have developed a methodology of taking clients from the mortgage application phase through to funding. The process is very hands-on and, when executed well, is a great customer experience. The client demands a positive experience, and we do our best to deliver.
CMP: What are you most proud of from 2019?
JT: In 2019, we invested in technology. We focused our digital marketing with Instagram, YouTube and Facebook campaigns. We also started to develop a proprietary software system that automates our methodology and will help differentiate our brand from any other independent mortgage brokerage in the marketplace.
CMP: What are you looking forward to in 2020?
JT: In 2020, we will be rolling out our automated methodology. Our clients will be able to track their file on a digital version of The Mortgage Trail. The year has already started off strong, and we are planning on strong double-digit growth.