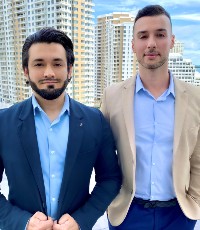 Headquarters: Toronto, ON
Leadership: Marcus Arkan, CEO and mortgage broker (left); Max Afzalimehr, principal broker (right)
CMP: What do you think is the biggest advantage of being an independent brokerage?
Max Afzalimehr, principal broker: As an independent mortgage brokerage, we have set ourselves up to be innovators in our market. We have been able to adopt a scalable business model that maximizes efficiency to focus more on building new and existing relationships with our clients and referral partners.
CMP: What do you do to cultivate your brand and make it memorable for clients or differentiate yourself from other brokerages?
MA: We approach every prospect with their best interests in mind. When you legitimately care about your clients' needs and well-being, you naturally create memorable experiences for clients. We also stay in touch with each client after funding.
CMP: What are you most proud of from 2019?
MA: We have been able to achieve remarkable growth in our business in the US market, expanding our operations into four new states.
CMP: What are you looking forward to in 2020?
MA: This year will be an exciting year for the broker industry, as the market has rebounded since the 2017 market downturn. We look forward to a greater broker market share for the industry as a whole.