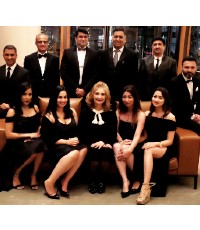 Headquarters: Vancouver, BC
Leadership: Inam Qureshi, founder
CMP: What's the biggest advantage of being an independent brokerage?
Inam Qureshi, founder: As a brokerage, we specialize in commercial lending, and our independence has led us to pursue excellence in what we do. When we opened our Kingsway office in 2016, I sensed a need for commercial lending, as most mainstream brokerages were focusing on residential. Fast-forward to 2020: Our hard work has paid off, and we are en route to opening a second office in the summer of 2020.
CMP: What do you do to cultivate your brand and make it memorable for clients or differentiate yourself from other brokerages?
IQ: As a customer-centric brand, we focus on providing legendary client experience. We make sure that we go out of our way to assist our clients. Our office has been set up to live up to this promise.
We believe that our brand is an extension of customer service, and if we continue to deliver on that front and do things differently to make a significant difference in the lives of our clients, it will always leave a lasting memory. This has been our vision and will continue to be the same.
CMP: What are you most proud of from 2019?
IQ: Last year was our most successful year so far. We doubled our funding volumes and grew to a 10-broker team. This definitely meant a lot to us and has given us the confidence to continue to excel.
CMP: What are you looking forward to in 2020?
IQ: As we ring in the next decade, our focus is to expand our footprint with the opening of our new outpost in White Rock, BC, where we plan to service our clients from the Fraser Valley and Surrey region. Our vision is to double our funding volumes and grow our team exponentially – not to mention, we intend to be leaders in the commercial lending arena.