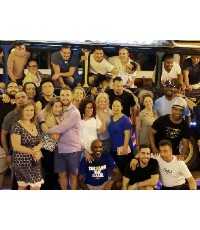 Headquarters: Richmond Hill, ON
Leadership: Tina Bargis, president; John Bargis, executive vice-president
CMP: What's the biggest advantage of being an independent brokerage?
John Bargis, executive vice-president: Independence has always been about allowing for the autonomy to run a business without interference, control or restrictions from a franchise or network. In addition to the ever-important privilege of being autonomous, a brokerage has the ability to truly build its own brand and maintain the privacy of its client data and agents and the confidentiality of its business as a whole. As a member of the Coalition of Independent Mortgage Brokers (CIMBC), all independents operate with not only full autonomy, but also the strong support of the collective under a cooperative-type structure with access to all lender partners with top compensation.
The biggest advantage we have is the way in which we run our shop, by actually identifying a very real value-add to our agents. When asked what a broker's value-add is by those seeking to join a firm, the standard response is, 'We're there to support our agents.' This, for the most part, doesn't translate to a whole lot. The real value comes down to whether or not a broker actually executes on how to help agents develop strong relationships and build their business with direct access to a unique product offering and a large array of lenders. The reality is that most brokers are either too busy with their own book, don't have the access or just don't know how to be there for their agents.
CMP: What do you do to cultivate your brand and differentiate yourself from other brokerages?
JB: Mortgage Edge is more of a brand within a brand. With the size of our experienced agent base, we believe in concentrating on promoting the identity of our agents, who we feel are the actual brand representing the borrower directly. That's not to say that we don't adhere to the regulatory requirements of properly displaying Mortgage Edge where required, but it does mean that our emphasis is on the critical part of our success: our agents. This has proven to be a highly effective way of promoting both the Mortgage Edge brand, as well as those who make the difference – the feet on the street who slug it out, day in and day out.
CMP: What are you most proud of from 2019?
JB: The Mortgage Edge team as a whole and our solid lender partnerships. We are truly blessed with a great group of people who understand that our corporate agenda is one that serves the best interest of their clients, our lender partnerships and the agents themselves. They are truly a fantastic group that understands the need to work under a united front effectively and efficiently with our lender partners.
CMP: What are you looking forward to in 2020?
JB: The growth of our model and how we're using technology to take our business to a whole other level. Our lender relationships will also very much differentiate us going forward as a result of our affiliation with CIMBC.