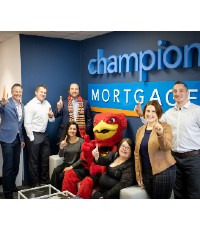 Headquarters: Guelph, ON
Leadership: Doug Adlam, partner; Alec Bowes, partner; Dylan Fulong, partner
CMP: What's the biggest advantage of being an independent brokerage?
Doug Adlam, partner: Having the freedom to choose the tools, lenders and technology that are the best fit for our business.
CMP: What do you do to cultivate your brand and make it memorable for clients or differentiate yourself from other brokerages?
DA: As a tightly knit team of professionals, our brand experience is consistently delivered across all aspects of our business: marketing, community engagement, partnerships, process and service. Implementing an integrated marketing communications strategy ensures all our prospects and clients experience a tech-forward, professional and trustworthy brand experience.
CMP: What are you most proud of from 2019?
DA: In 2019, we solidified a long-term partnership with the University of Guelph Gryphons to work together to help keep youth and student athletes in sports. Sports have played a major role in who we are, so we are helping build the champions of tomorrow through empowering youth sports today.
CMP: What are you looking forward to in 2020?
DA: With the increased focus on technology-assisted process efficiencies and delivering superior advice and education through some groundbreaking tools, we are truly excited to help even more families in 2020 than we did in 2019.