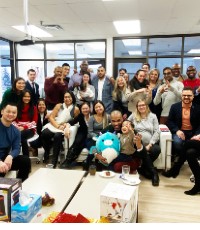 Headquarters: Toronto, ON
Leadership: Shubha Dasgupta, managing partner and CEO; Kendall Marin, managing partner, COO and principal broker
CMP: What do you do to differentiate yourself from other brokerages?
Taylor Lewis, business development manager: At Capital Lending Centre, we differentiate ourselves in the industry by focusing on providing value and service to our agents through three main pillars: support, training and culture. Through our three pillars, we have the ability to develop agents and propel their careers, regardless of their tenure in the industry or their background.
CMP: What are you most proud of from 2019?
TL: We are most proud of how we hit our milestones. We reached milestones by not only focusing on top producers, but also giving impartial attention and departmentalized guidance and support to all of our agents. With that, we have seen exponential growth in our agents' volumes.
CMP: What are you looking forward to in 2020?
TL: Continuing to drive positive change in the industry. Since inception, we have been focused on creating positive progression in our industry as a whole. We look forward to continuing this commitment into 2020 and making the mortgage industry a large part of the success stories of Canadian homeowners.