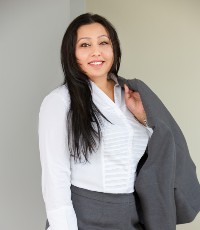 Headquarters: Mississauga, ON
Leadership: Ameera Ameerullah, CEO, broker, lender
CMP: What's the biggest advantage of being an independent brokerage?
Ameera Ameerullah, CEO: Being paid on time and having total control of my business and branding without having to be accountable to any network above. Also, being able to create products or programs as I see fit without any limitations or restrictions from a third party.
CMP: What do you do to cultivate your brand and make it memorable for clients or differentiate yourself from other brokerages?
AA: CMFG cultivates the brand by accessing all marketing opportunities that are in line with our core vision. We believe in being transparent and educating our clients on the best option that's in their best interest, even if that's to advise them against proceeding on a transaction. Everyone is treated with respect, and no one is just a number or transaction.
We have the opportunity to network and be in collaboration with many professionals, but we only undertake those that are in line with our philosophy.
CMP: What are you most proud of from 2019?
AA: I haven't given up and am still standing tall, even though it has been an uphill battle. I am proud of my team, who uphold the ethical practices and standards of the industry. I am also proud of the recognition we've received from the public for the work that we have done. This is not only from a professional position, but from a humanitarian standpoint as well. It isn't always about financial gain; at the end of the day, the money doesn't go with you, so it's important to think about the footprint you want to leave on the world.
CMP: What are you looking forward to in 2020?
AA: This may sound surprising, but I have never taken a vacation! I'm so looking forward to officially taking my first vacation after almost two decades of hard work in this industry.
Apart from that, I'm looking forward to building our investment portfolio and launching our new office as of April 2020, along with new products and opportunities. We recently launched another mortgage fund to service the broker community and public. The risk is diversified, so it's a great opportunity for investors with flexible options.
On a personal note, I will be volunteering my time to work with youth and adults in the education sector with the Ontario College for Development. I'm also looking into developing affordable housing.