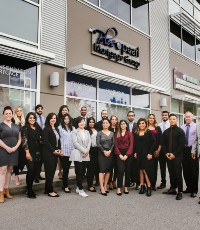 Headquarters: Surrey, BC
Leadership: Nitesh Prakash, president
CMP: What's the biggest advantage of being an independent brokerage?
Donna-Belen Dabb, corporate development/investor relations director: Since our inception, Blue Pearl's driving belief has always been to create an environment that embraces change, encourages innovation and fosters communication. We knew we wanted to build a unique team with a high-performance culture and a deep commitment to our clients and community, and we wanted to keep our independence so we could continue to build our community and a brand that stands.
CMP: What do you do to cultivate your brand and make it memorable for clients or differentiate yourself from other brokerages?
DD: We provide a community of a full team and full support that is always accessible to our clients by any means, whether it's an online chat, phone call, email, social media or in-person meeting – we are always accessible, any time.
We also make it a priority to follow up and initiate conversations to confirm that our clients have the best experience possible. We go above and beyond to make our clients feel like they are our only client and that the service they receive is tailored specifically to their needs.
Our responsibility as mortgage professionals is to determine what a customer's financial goals are, not just to quote them a rate. We purposely market to non-traditional markets and demographic groups that aren't normally the focus of most brokerages and aren't normally approved by most traditional lenders or banks: self-employed, line of credit, private, investment, construction and the "hardto- do" deals we offer.
CMP: What are you most proud of from 2019?
DD: We are most proud of expanding our business to Ontario, Alberta and Saskatchewan, and moving into a new office space 10 times the size of our previous one. We now have the room to keep expanding our mortgage business, mortgage investment corporation and insurance business.
CMP: What are you looking forward to in 2020?
DD: We are looking forward to our new associates growing into the next generation of mortgage brokers.