Jason Friesen of Outline Financial is part of this year's Canadian Mortgage Professional's Hot List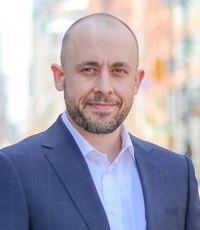 In March 2018, Jason Friesen and his team joined Joanna Lang and her crew at Outline Financial, a move that has proved to be a big part of Friesen's success in 2018. Not only did Friesen change teams, but he also doubled efforts on new business prospecting. With a group of Realtor partners across the GTA who deal with different demographics, Friesen and his team always have a fresh stream of new business flowing in. "It's helped in our combined effort to position ourselves as industry leaders with our Realtor, financial planner and referral partners," he says. "The economies of scale around marketing, technology and administration were evident from the start and made it a win.
In light of the changing regulatory landscape, Friesen also pays close attention to detail to ensure every deal is done right. "In a changing market where everyone has a horror story about an interaction with their bank/mortgage provider," he says, "we have fine-tuned our process to ensure we go overboard on the due diligence we do with every client. We continue to ensure we are always under-promising and over-delivering in our service offering.
Looking forward to the next 12 months, Friesen plans to continue developing relationships with like-minded referral partners and making sure he spends time each week working on his business instead of in it. "The market is changing rapidly and adapting our business to stay ahead of the curve will continue to be a big focus," Friesen says.