Jump to winners | Jump to methodology | View PDF
LEAVING A LASTING LEGACY
What does it take to build a mortgage career that truly leaves a mark? While a record of business success is obviously key, that's just one of the components that goes into putting together an abiding legacy.
Despite being a major sector spread from coast to coast, the Canadian mortgage industry is at its heart a close-knit community, and an individual's ability to leave a positive imprint depends on how well they can impact that community in a number of different ways – from innovation to philanthropy to advocacy.
CMP's prestigious annual Hall of Fame list recognizes those members of the industry who have achieved success in their own distinguished careers while also making the broker channel a better place through their significant contributions.
This year's 13 Hall of Fame inductees each boast more than two decades of transformative experience in the Canadian mortgage industry – and they've all been at the forefront of the profound change the industry has experienced.
These bona fide legends join the other esteemed members who have been inducted into the CMP Hall of Fame since 2017 – an ever-growing list that pays tribute to the veterans who have led the way and set a shining example for other mortgage professionals to aspire to.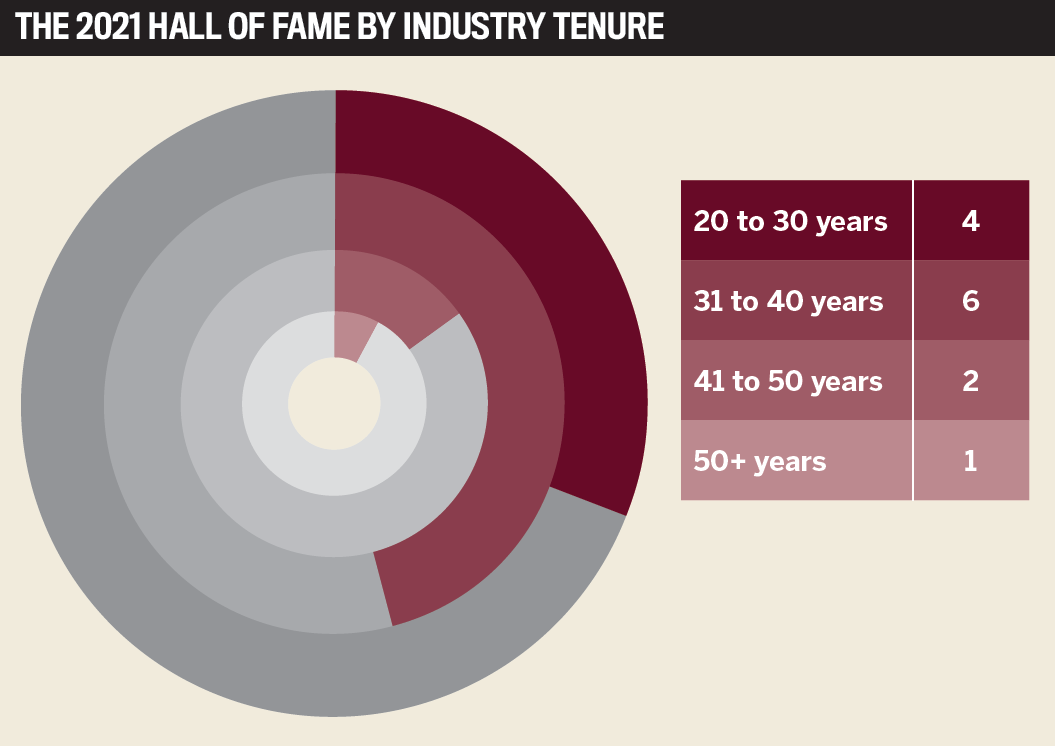 What makes a Hall of Famer?
For the members of the judging panel for this year's Hall of Fame, it's clear that while a track record of success was one of the factors that determined their selections, each nominee's achievements beyond the bottom line were even more important.
"The common theme of a Hall of Famer in general is their overall contribution to the mortgage broker industry as a whole throughout their tenure," says John Bargis, founder and CEO of the Coalition of Independent Mortgage Brokers of Canada (CIMBC) and a judge of this year's Hall of Fame. "It's one thing to be successful in business, and entirely another to be a meaningful contributor to the growth and genuine progress of an industry."
After all, Bargis points out, leadership comes in many forms and is defined by much more than funded volume and financial success. It also comes down to how an individual has driven lasting change in the mortgage industry, for the benefit of both its current and future members.
"If mortgage professionals take the time to dig deep into the accomplishments of a Hall of Famer, they'll quickly realize that their involvement in the evolution of the mortgage broker industry has contributed to the success of the collective," Bargis says. "That's what defines leadership."
Fellow judge Tracy Valko, principal mortgage broker at Valko Financial, confirms that the judging panel was focused on each nominee's values and overall impact on the mortgage sector.
"Some of the key initiatives that I looked at were industry initiatives, changes for the betterment and the overall integrity of what their beliefs are – not only acknowledgments of what they've done, but the ways that they've been able to impact people," she says.
Those qualities are exemplified in inductees such as Ron Swift, CEO of Radius Financial, who started his career in 1983 as a mortgage broker and enacted change in the industry through a range of advocacy and committee positions.
The same applies to Dawn Stephanishin, a mortgage broker with Invis who was hailed as an "exceptional role model" within the industry. Not only has Stephanishin's career spanned 40-plus years, but she has donated more than $100,000 of her own money to local homeless shelters and helmed a local chapter of the Angels in the Night homeless shelter project.
"Generosity is a common factor – either giving through training others entering the industry or giving time, money, or ingenuity towards the community at large," says 2021 Hall of Fame judge Phil McDowell, principal broker and co-owner of DLC Mortgages Are Marvellous.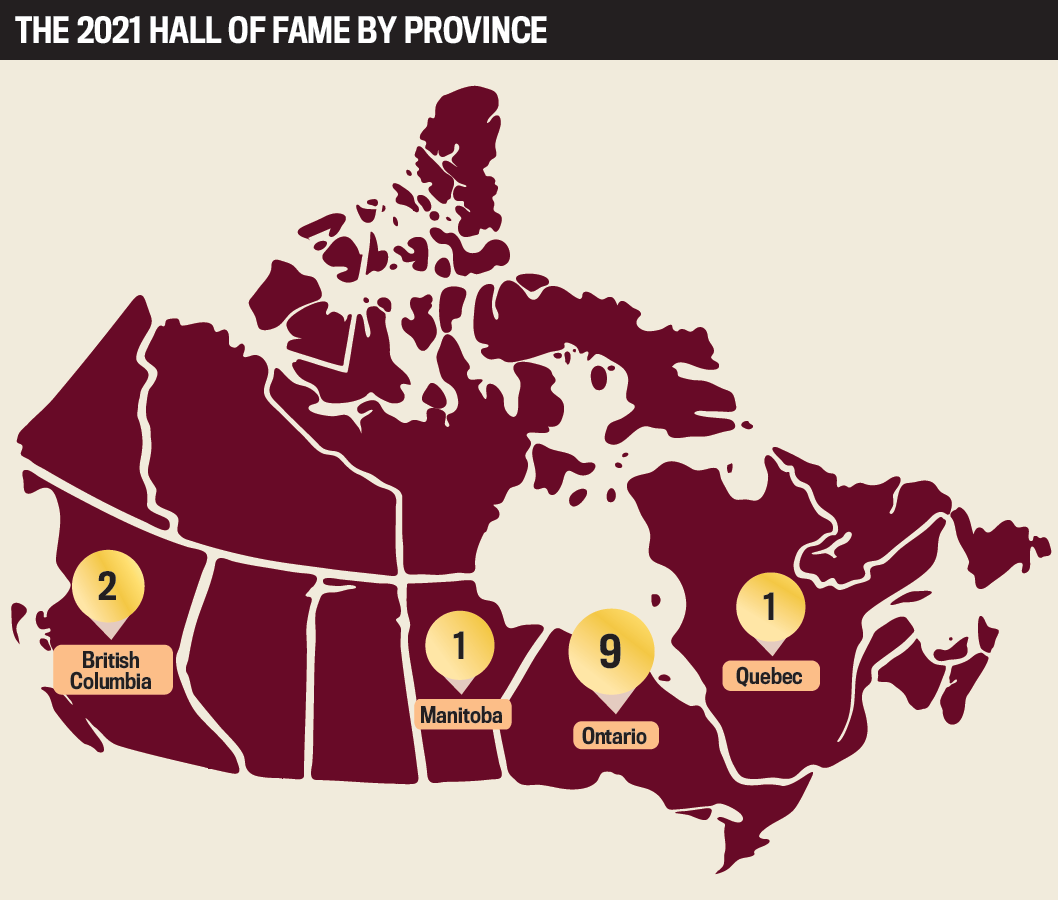 The importance of innovation
Being able to improve processes and spur innovation in the mortgage industry also emerged as a prominent quality among this year's Hall of Fame inductees. Gary Mooney, president and CEO of law firm Anderson Sinclair, was described as a pioneer of title insurance and legal processing outsourcing for financial institutions, having established a reputation as a "creative visionary" among lawyers, notaries, bank executives and mortgage origination professionals.
RMG Mortgages' Bruno Valko, mean-while, was lauded for his "inventiveness and expertise" in introducing a number of products that are now considered staples of the industry.
McDowell says the entrepreneurial spirit of many Hall of Famers spoke for itself, and their ability enact positive change through innovation is something mortgage professionals of all stripes can learn from.
"Persistence and focus on the objective seems a common theme," he says. "Although the strategies may change as the goal is sought, it's the determination to achieve the objective that wins. An entrepreneur is more than one who organizes, manages and assumes the risks of a business or enterprise. He or she also innovates to get the most from limited resources – in the case of the mortgage industry, training people and applying or creating new technology."
Tracy Valko also points to the lengthy careers of each Hall of Famer as a shining example of their contributions to mortgage industry, given the fact that a job in the broker channel can be notoriously gruelling and challenging.
"The longevity of people being in this industry – because it is very fast-paced, high-changing, ever-fluid – tells you they're resilient," she says. "Making that impact, and continuously striving to improve, is really paramount."
Leading through education Ultimately, one of the most powerful qualities that the 2021 Hall of Fame inductees have in common is their ability to leave a lasting impact on colleagues and counterparts through mentorship and training.
Marty Coubrough, the recently retired broker/owner at VERICO One Link Mortgage & Financial, was described as an inspirational figure who built his mortgage brokerage through the pillars of education, service and professionalism, while also contributing to the creation of the Accredited Mortgage Professional designation.
Meanwhile, Mortgage Alliance regional vice-president David Gyurits was praised as a leading light in the education of new agents, with a firm focus on ensuring they're equipped with the knowledge and professionalism to assist Canadians with their financial needs.
For Valko, those qualities reflect the integrity of each of the names on the list – a key factor in a long and rewarding career in the mortgage industry.
"The integrity of the individual and how everybody else in the industry perceives them is very important," she says. "It's important that we continue to strive for that excellence."
Anna Gomes
MCAP
Bruno Valko


RMG Mortgages

David Gyurits


Mortgage Alliance

Dawn Stephanishin


Invis

Gary Meger
Neighbourhood Dominion Lending Centres/Bedrock MIC
Gary Mooney


Anderson Sinclair

Lyne Deslippe


Multi-Prêts

Mark Kerzner
TMG The Mortgage Group
Marty Coubrough


VERICO One Link Mortgage & Financial

Michael Jones


Haventree Bank

Ron Swift


Radius Financial

Scott McKenzie


First National Financial
Nominees had to have been in the industry for at least 20 years. The panel considered each nominee's history of service to the profession, the leadership and inspiration they've provided to others, their role in guiding future generations, their contributions to the leadership and direction of industry associations, and any visionary strategies and innovations that have made an outstanding contribution to the industry as a whole.
To avoid any conflicts of interest, votes for family members or a judge's own organization were voided.