SMEs needing access to cash flow are being encouraged to consider invoice finance, especially as supply chain shortages and labour costs continue to bite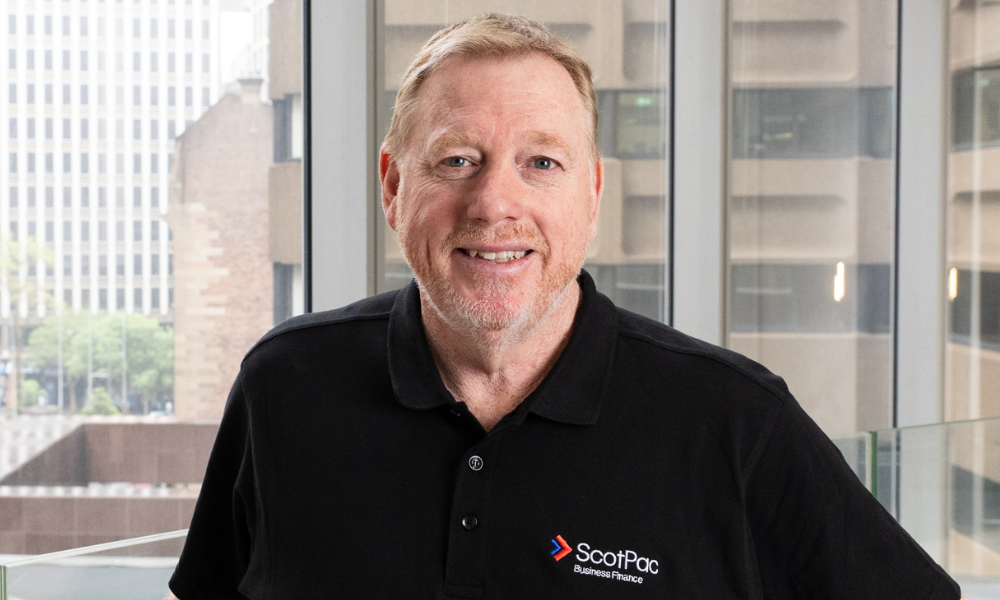 One of the difficulties of running a small business is waiting for invoices to be paid. Cash flow is king for SMEs, and there's nothing worse than having to wait 30 to 60 days to receive payment.
And that's even if the creditors pay you on time. A survey of more than 1,000 small businesses and sole traders by accounting platform Xero in October 2021 revealed that 63% of SMEs' customers were often behind on their payments. A quarter of small business owners delayed paying themselves as a result.
But there is a solution available. Invoice finance means SMEs can access the cash needed while waiting for an invoice to be paid. Once the creditor pays the invoice, the debt to the lender is cleared.
Customer benefits
ScotPac is Australia's largest SME non-bank lender, and its focus is on servicing the immediate working capital needs of SMEs to give them the best chance of success.
Craig Michie (pictured above), group executive, client acquisition and asset finance at ScotPac, says invoice finance is a tool that unlocks the value of outstanding invoices for its clients.
"It can turn outstanding invoices into a readily available cash injection for new opportunities or recurring costs like wages and suppliers," says Michie.
"After 30 years as an invoice finance market leader, we know from the feedback we get from customers and brokers alike that small businesses have a need for fast working capital and flexibility on solutions. The great advantage of invoice finance is the ability for businesses to access funding much sooner than they would otherwise receive it."
Read more: Opening new doors to finance SME growth
Michie says invoice finance is simple: when a ScotPac customer raises an invoice, they upload it to the lender's system. "We pay up to 95% of the outstanding amount into a line-of-credit facility, usually within 24 hours. Once the debtor pays, our customer receives the balance of the invoice amount, less our fees.
"ScotPac offers invoice finance facilities from $10,000 up to $150m, so we really do cater for a huge range of businesses."
Jean-Pierre Gortan is managing director of Simplicity Loans & Advisory, a brokerage specialising in commercial finance. He says invoice finance is a way for business owners to access the cash they require and use it in their business without the need for the client to have paid them.
"Once the client pays, the debt is extinguished and the balance of the invoice is released back to the business [normally less a small fee/interest component]," Gortan says.
"Any commercial broker worth his salt should be able to identify this as a suitable product for a client who is looking to access working capital and in turn has a relatively strong book of receivables."
Gortan says the advantages include that "you don't need property security, and you don't need to have been in business for long periods".
"The facility limit will grow as the book of debtors increases, and so there's no real ceiling to the amount of capital they can access."
Gortan says invoice finance is suitable for most manufacturing, service industries or distribution businesses.
ScotPac is seeing growing demand for SME finance to be available quickly through online, digital-only applications, says Michie.
Read more: Scotpac launches home loan product
"This is an exciting trend for ScotPac as we recently acquired Business Fuel, an online-only lender that provides business loans up to $250,000 using data-driven, automated credit assessments. It was the perfect fit for our ongoing digital transformation program and our ambition to be the market leader in data-driven lending for SMEs."
The new ScotPac offering, sitting alongside invoice finance, trade finance, asset finance and a property-secured finance product suite, provides clients with fast access to working capital.
"For our large network of brokers, ScotPac's digitalisation allows them to upload information quickly to an online portal that can process large, complex transactions quickly and efficiently," says Michie. "So it's a win-win for brokers and their clients."
Michie says there are great benefits for brokers and their clients in having a strong and consistent relationship with a finance partner that offers a large, flexible suite of finance options and a technology platform that saves them time and makes life easier.
ScotPac recently launched an exciting new Partner Portal that gives brokers fast and easy access to its expanding range of business finance, as well as support to grow their own businesses. Michie says it will be a true one-stop shop for brokers looking to service all of their clients' finance needs.
Growing demand
Rising input costs and supply chain disruptions are affecting SMEs directly or indirectly across the country.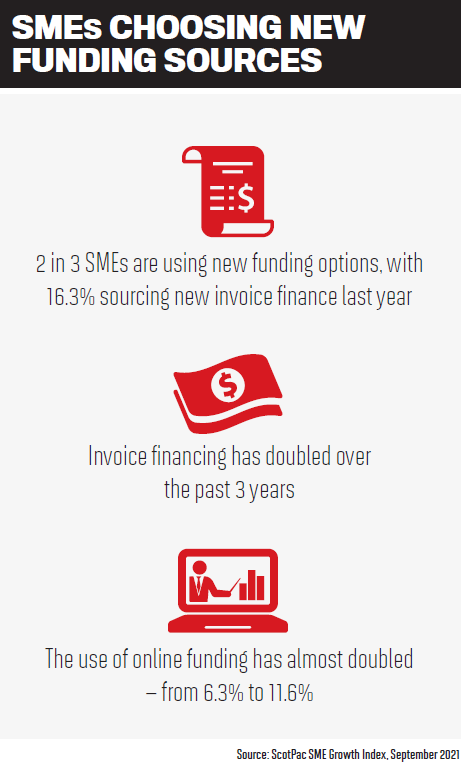 "We're seeing this manifest on the one hand in an increase in late payments or extended payments terms, and on the other hand in an increase in the cost of doing business," says Michie. He says this "double-whammy effect" is likely to increase demand for invoice financing to help SMEs become even more resilient.
Gortan says there is strong demand for working capital in the SME space.
"For those businesses suited to debtor finance, it's a logical pathway for them to continue to fund their growth without the need to continue to use property," he says.
He adds that labour shortages, rising wage and materials costs and supply chain problems are placing further pressure on SME cash flow and profitability.
"The ability to access working capital, especially debtor finance, is likely to be the difference between some businesses surviving in the short to medium term."
Diversification opportunities
"ScotPac is building a community where brokers can easily access best practice and share feedback, while growing their business and helping their clients find finance," Michie says. He adds that ScotPac provides brokers as much or as little support as they need. The non-bank lender can do "all the heavy lifting", so instead of spending time on complex financial products, brokers can focus on their relationships with clients.
"Our new Partner Portal gives brokers a simple toolbox to generate more leads and gain free access to the marketing and customer relationship tools needed to thrive in this new marketplace," says Michie.
Gortan says businesses that use debtor finance tend to become long-term users of this type of finance and are able grow their revenues accordingly.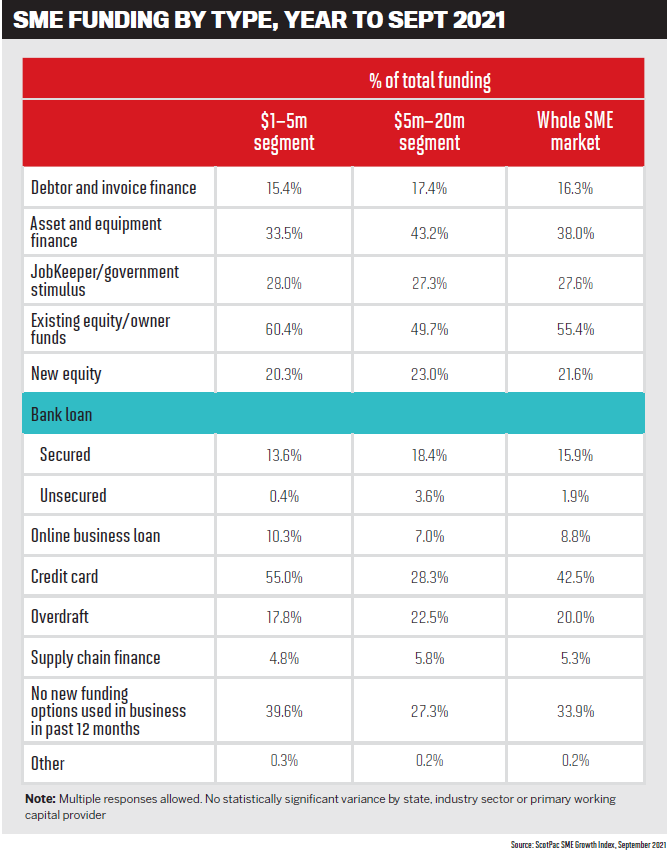 "Aside from traditional commission structures, generally there are also ongoing commissions associated for this product range, unlike some other working capital products like trade finance," he says.
While brokers need to have a fairly strong knowledge of the product to adequately explain it, Gortan says it's relatively easy to spot a business that might be a suitable candidate for the product.
Michie says ScotPac has over 30 years' experience of lending exclusively to SMEs in partnership with a strong broker network, and invoice finance is a core offering. "It provides an opportunity to assist thousands of businesses across a broad range of sectors, including recruitment, wholesale trade, manufacturing and transport, and storage."
Brokers who partner with ScotPac can offer very broad and distinct funding options for their clients, along with the comfort of knowing that "we will be there to support them", Michie says. ScotPac recently expanded its range of finance options for SMEs and its support program for brokers. For business owners, it introduced a loan product that allows home equity to be reinvested in a business.
Michie says the non-bank also extended its Bounce Back Fund for SMEs that need additional support in the form of interest relief to recover from the challenges of COVID and natural disasters.
Now that government support payments have ceased, ScotPac expects invoice finance to play a larger role in smoothing cash flow for SMEs.
"Most businesses have become very nimble in adapting to major changes, but cash flow certainly is always near the top of the list of things SMEs need. We will work with our broker network to increase awareness of the benefits of invoice finance," says Michie.