As the MFAA continues its push towards addressing and overcoming the barriers to women and other diverse groups working in finance, one female broker shares her experiences and why she loves the industry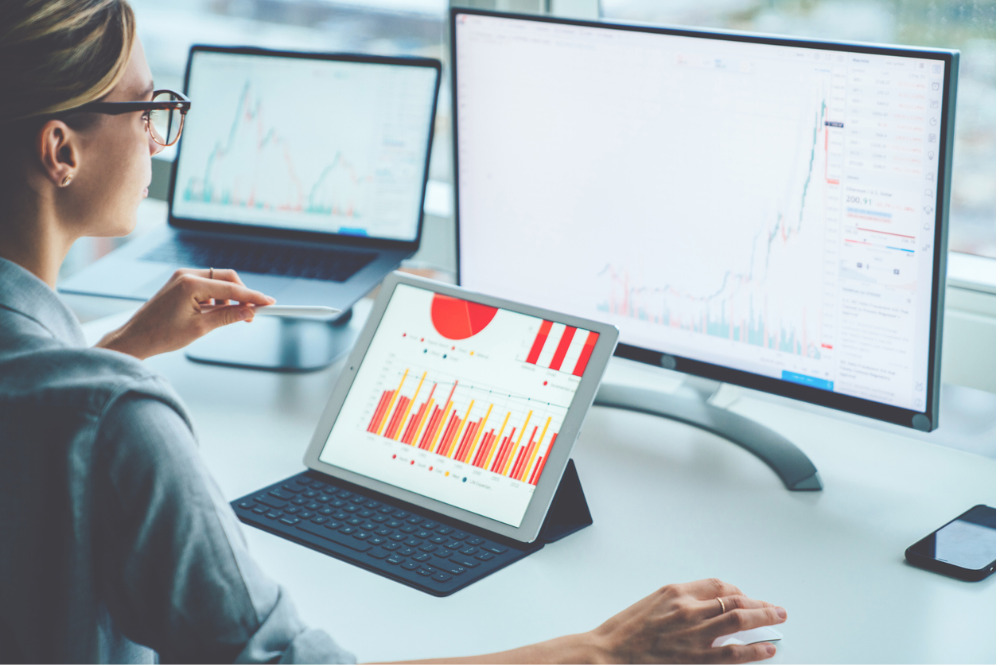 New research from the 2020 MFAA Opportunities for Women survey indicates that the biggest perceived barriers to women in mortgage broking are unconscious beliefs about gender roles in the workplace, as well as an industry culture that is not inclusive of women.
For women who have entered the industry, this checks out. They have told their stories about what it is like entering an industry that is predominantly male, in which women do not feel they are taken seriously.
Wealth coach and finance adviser at Assurance Finance and Business Solutions Helia Singh started out as a trainee broker back in 1999 after moving from Iran a few years earlier.
At the time, almost every bank BDM was male, she says, recalling that at the first workshop she attended she was the only woman in the group and people kept referring to her as "Raymond's assistant".
While her manager did correct them, saying she was there as a broker, it still raised some eyebrows.
These challenges were not just experienced at broker events. At the office, male clients would come in, and Singh would talk to their wives and partners who knew nothing about finance but were there to sign a document. They, too, often assumed she was an assistant.
"The sense of achievement and empowerment that we can make a difference even if we are operating as a sole broker in our business is priceless" Helia Singh, Assurance Finance and Business Solutions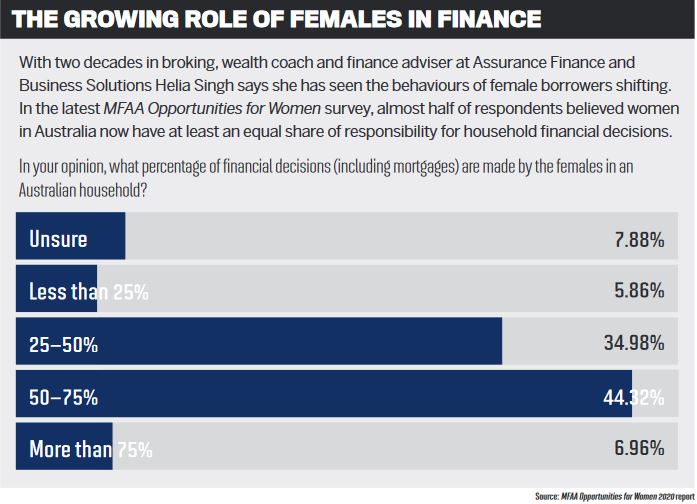 Since then, Singh has become an advocate for financial education for women to eliminate financial and domestic abuse, and says she has seen a real shift among Australian borrowers.
"I can see amongst my clients that gender diversity has broken the myth that 'women don't know much about money or business compared to men'," she says.
"That by itself has given a different level of confidence to female applicants to speak up and voice their opinions. This way, women won't be intimidated in the sessions if male advisers run them."
Two decades into her career as a broker, Singh explains that, for her, the rewards lie in this type of success, not just the financial business. Not only has she been actively participating in seminars, conferences and workshops in order to contribute and pass on her knowledge to encourage other women in the industry, but she has twice won the MFAA's Community Champion awards in Western Australia.
"The sense of achievement and empowerment that we can make a difference even if we are operating as a sole broker in our business is priceless," she says.
The MFAA has been working over the last few years to raise women's voices and address the challenges that new-to-industry female brokers often face. The association launched its Opportunities for Women program in 2017, and the first survey went out in 2018.
The initiative has shone a light on the barriers women face when working in the industry. More respondents in the 2020 survey recognised the industry culture as being one of the biggest problems.
But the research continues to show huge perception gaps between men and women in the industry, as well as a growing proportion of respondents admitting they are unsure about the support out there for females and diverse groups.
"I would love to see more women, especially from a diverse background, join this industry, become successful and break the myths" Helia Singh, Assurance Finance and Business Solutions
Jane Counsel, executive coach and diversity and inclusion consultant at Executive Central, who has been advising and working with the MFAA on the Opportunities for Women initiative since it began, explains what else the survey shows.
For instance, while industry leaders are pushing to increase representation of women in broking, they would benefit from guidance on where to invest their time and effort.
The need for peer support and mentoring has been emphasised both in the survey report and by women in the industry.
"Peer support is seen as critical to retaining women in the industry, particularly when they are new to the industry or experiencing challenging times, such as trying to run a business while starting or growing their families or looking to change pace," Counsel says.
The MFAA's research over the last three years has also demonstrated the reasons why the industry might be attractive to women. In the 2019 survey results, respondents said flexible working conditions was the most appealing attribute of broking, followed by the ability to run your own business.
Singh genuinely loves her job and takes the time to encourage and mentor women who ask whether the industry is right for them.
"I've had other new female brokers contacting me to ask my opinion about the industry and whether it is the right career choice for women, and I am always happy to give them advice and mentor them through my coaching program," she says.
"I would love to see more women, especially from a diverse background, join this industry, become successful and break the myths, as together we can become a strong force and role model for all the women and girls in Australia."