Most of the locations identified are outside of capital cities, new research found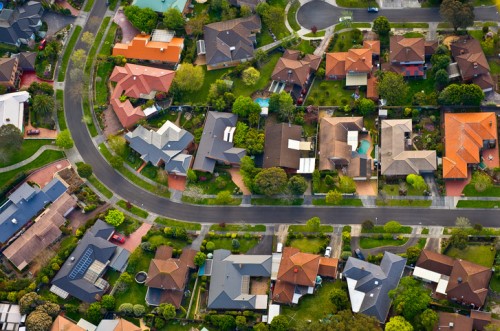 One out of eight locations across Australia saw median house prices increase by 10% to 12% over the last 12 months ending in April 2018, according to research conducted by property market analyst and buyer's agency Propertyology.
"The property markets of 550 city councils spread across our eight states and territories is akin to the stock exchange for Australia's property markets. Sixty-seven out of 550 had double-digit growth," Propertyology head of research Simon Pressley said in a statement. Of the 67 locations that produced double-digit growth, 45 are located outside of Australia's capital cities.
Out of greater Melbourne's 31 city councils, 16 property markets experienced double-digit price growth. These were predominantly in the city's outer parts where housing is more affordable.
Pressley said that "the outlook for many parts of regional Australia is increasingly better than most capital city markets". He also pointed out that employment in some Australian regions is also showing strength, particularly in tourism, health, agriculture, specialised manufacturing, and mining.
Most locations don't experience double-digit growth very often, he said. Several cities haven't shown it since before the GFC, according to Pressley.
For him, the Asian century is real, and it's having a positive impact on key industries, directly affecting certain property markets, including regional Australia.
"The opportunities are significant, and we are only nineteen years into it," Pressley said. "Local confidence and job growth increases demand for housing. Our buyer's agents have already seen the positivity within regional communities flow through to property prices."
Apart from significantly improved economic conditions, data shows that people moving away from capital cities contribute to the housing price growth in regional locations.
Double-Digit Price Growth [YE April 2018]

Hume VIC *

$ 566,000

25.0%

Newcastle NSW

$ 640,000

12.6%

Uralla NSW

$ 367,000

24.1%

Glenelg VIC

$ 195,000

12.5%

Whittlesea VIC *

$ 625,000

23.0%

Wentworth NSW

$ 272,500

12.5%

Cardinia VIC *

$ 535,000

20.9%

Berri & Barmera SA

$ 191,500

12.3%

Dorset TAS

$ 220,000

20.0%

Eurobodalla NSW

$ 510,000

12.2%

Nillumbik VIC *

$ 780,000

19.3%

Launceston TAS

$ 307,000

12.0%

Casey VIC *

$ 620,000

19.0%

Kyogle NSW

$ 300,000

11.8%

Snowy River NSW

$ 495,000

18.9%

Bega Valley NSW

$ 470,000

11.8%

Melton VIC *

$ 505,000

18.4%

Burnside SA *

$ 960,000

11.7%

Cooma-Monaro NSW

$ 320,500

18.4%

Lithgow NSW

$ 342,000

11.7%

Grant SA

$ 275,000

18.0%

Glamorgan TAS

$ 411,000

11.6%

Berrigan NSW

$ 238,750

17.7%

Port Augusta SA

$ 195,000

11.4%

Glenorchy TAS *

$ 376,000

17.3%

Bass Coast VIC

$ 418,000

11.3%

Wyndham VIC *

$ 560,000

17.2%

Macedon Ranges VIC

$ 550,000

11.2%

Mitchell VIC

$ 430,000

15.9%

Mornington Peninsula VIC *

$ 781,000

11.2%

Kingborough TAS *

$ 576,600

15.7%

Golden Plains VIC

$ 445,000

11.2%

Palerang NSW

$ 727,500

15.6%

Queanbeyan NSW

$ 665,000

11.2%

Gloucester NSW

$ 286,000

15.5%

Knox VIC *

$ 801,000

11.1%

Dungog NSW

$ 420,000

15.5%

Tweed NSW

$ 650,000

11.1%

Wellington NSW

$ 193,750

15.4%

Dandenong VIC *

$ 700,000

11.1%

Auburn NSW *

$ 985,000

15.0%

Murrindindi VIC

$ 980,000

11.0%

Forbes NSW

$ 260,000

14.8%

Coffs Harbour NSW

$ 342,500

11.1%

Sorrell TAS *

$ 357,500

14.8%

Inverell NSW

$ 270,000

11.0%

Moreland VIC *

$ 887,500

14.7%

Colac-Otway VIC

$ 325,000

10.9%

Baw Baw VIC

$ 405,500

14.7%

Darebin VIC *

$ 997,500

10.9%

Melbourne VIC *

$1,180,000

14.6%

Muswellbrook NSW

$ 300,000

10.7%

Yarra Ranges VIC *

$ 685,227

14.2%

Indigo NSW

$ 307,000

10.5%

Brimbank VIC *

$ 654,000

14.1%

Moorabool VIC

$ 432,250

10.5%

Frankston VIC *

$ 625,000

13.9%

Taree NSW

$ 396,000

10.5%

Roebourne WA

$ 353,000

13.5%

Wyong NSW *

$ 590,000

10.2%

Hobart TAS *

$ 690,000

13.3%

Strathbogie VIC

$ 307,500

10.1%

Shoalhaven NSW

$ 575,000

13.2%

Corangamite VIC

$ 191,250

10.1%

Kiama NSW

$ 991,000

13.1%

Gosford NSW *

$ 800,000

10.0%

Geelong VIC

$ 522,000

13.0%

SOURCE: CoreLogic. Analysis of Australia's 550 city councils as at end of April 2018 (more than 100 dwellings sold over 12 months)