Plus: How mortgage brokers view it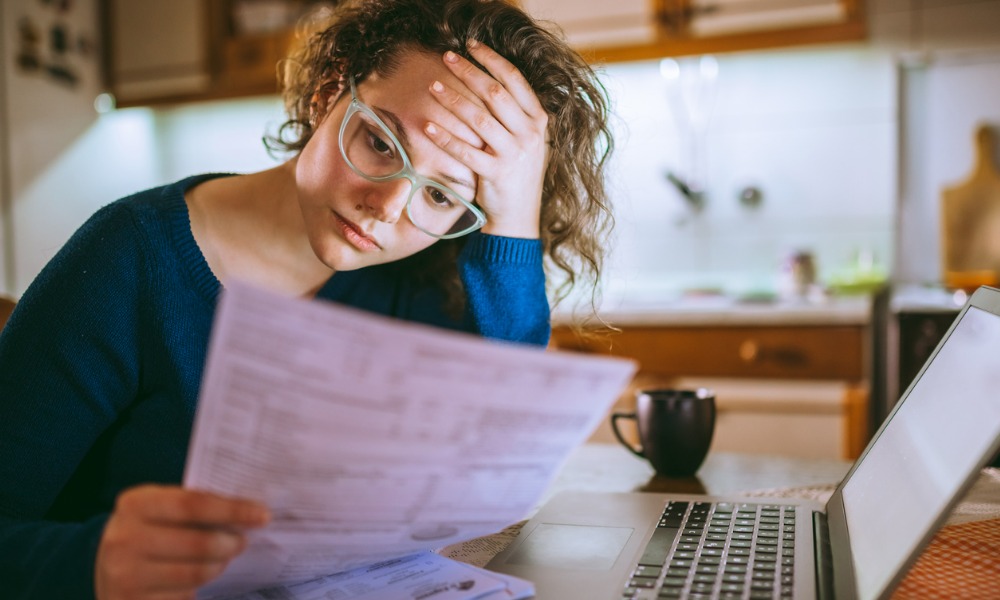 Nearly 1 million Australians have mortgage stress—and that number is growing. While there is no universal definition of mortgage stress, it essentially means that a household is paying too much of its income on repayments. Here are the signs of mortgage stress and who it impacts.
What is mortgage stress?
Mortgage stress, a term commonly used by property experts and economists, occurs when homeowners struggle to make their mortgage repayments. There are two different kinds of mortgage stress: one psychosomatic and the other conventional.
Conventionally, mortgage stress occurs when obligations for interest repayment take up too much of a household's budget. That threshold is typically between 30% and 35% of gross income. Beyond that, concerns grow due to other household financial obligations. Therefore, while there is no fixed definition of mortgage stress, it usually refers to homeowners who pay more than 35% of their gross household income on their mortgage.
One reason why the definition for mortgage stress is not set in stone is that the mortgage holder may be able to increase his or her income and therefore alleviate the stress. Likewise, if the owner is ahead on mortgage repayments there is a little bit more room to offset any increase in interest obligations.
On the other hand, there is a psychosomatic mortgage stress that occurs when the mortgage holder is afraid of the effect that unknown interest rate rises may have on the household budget. This type of mortgage stress may cause the household to spend less in other areas in anticipation of mortgage interest payment increases.
How many people in Australia are in mortgage stress?
There are currently 942,000 Australians in mortgage stress, according to Roy Morgan Research. Last week's interest rate hike could push that number up by 158,000. That would mean 1.1 million Australians would find themselves in mortgage stress, the highest number since 2013.
Who is affected by mortgage stress?
More than one-fifth of mortgage holders in Australia are considered at risk of missing repayments or struggling to make payments as interest rates increase. And it may not stop there. Experts are warning that borrowers on fixed-interest home loans that are set to expire in the next couple months could be affected by mortgage stress before the end of 2022.
According to Australian Bureau of Statistics data, $158 billion of fixed-rate mortgages due to expire by the end of 2023 could force repayments to spike by nearly $11,000 on average per year. While interest rates are a major factor that can impact a homeowner's mortgage stress, the variable that has the biggest impact is household income, which is connected to employment. This means that if levels of employment remain high, the number of mortgage holders that are at risk of mortgage stress will still be nowhere near the peak of the 2008 financial crisis, when nearly 36% were at risk.
What are the signs of mortgage stress?
Beyond the numerical definition of mortgage stress, there are other signs of the phenomenon. One of these is if you no longer have the money to afford luxuries, i.e., non-essentials, such as eating at restaurants, going to the movies, or ordering food for delivery. Another sign of mortgage stress would be avoiding social activities that cost money, either for yourself or for your kids.
Living paycheque to paycheque is yet another sign. In other words, if you are unable to come up with the money to pay for unexpected expenses like car service or medical bills. This issue becomes obvious when you have to rely on asking family or friends for financial assistance, you use credit cards, or take out personal loans from the bank.
How do brokers view mortgage stress?
Some mortgage brokers see it less as mortgage stress than "cost-of-living stress," or combined pressure. Banks stress test their customers to 3% above the interest rate at the time of the loan application, meaning mortgage holders have their income assessed as being able to handle rate increases.
Difficulty in budgeting disposable income as well as increases in costs for necessities like electricity, groceries, and fuel are combining to add pressure to mortgage holders. These challenges have led brokers to encourage their clients to buy below their means or hold off on their dream of homeownership, or look for other options, such as rentvesting or finding a home in an area that is more affordable for their financial situation.