As we reveal a section of the list each week, take a look to see who made it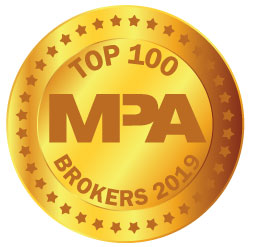 Each year, MPA magazine provides the ultimate list of the top 100 brokers in the country – and this year is no different.
We will be revealing a section of the Top 100 list each week; last week we revealed those brokers who made it to numbers 100 - 75.
Proudly sponsored by Suncorp, you can see the entire Top 100 list on Wednesday, December 6 online or in print.
Make sure you get your hands on the magazine to read interviews with the top 10 and snippets from other incredible brokers who made it into the 100. With almost 17,000 brokers across Australia, making it into the top 100 is no mean feat.
Congratulations to all who made it! Here are your brokers in at 74-50.
| | | | | | |
| --- | --- | --- | --- | --- | --- |
| RANK | NAME | COMPANY | STATE | Total value residential loans FY2018/19 | Total number of residential loans FY2018/19 |
| 74 | Charlie Loveridge | Shore Financial | NSW | $72,319,854 | 83 |
| 73 | Serge Scekic | Aussie Balgowlah | NSW | $68,162,545 | 90 |
| 72 | Sandeep Boob | RateOne Home Loans and Financial Planning | VIC | $67,957,016 | 142 |
| 71 | Robert Callander | Aussie Morayfield | QLD | $70,211,452 | 188 |
| 70 | Daniel Gold | Long Property | VIC | $69,910,650 | 136 |
| 69 | Mitesh Dedhia | Think & Grow Finance | VIC | $71,491,000 | 164 |
| 68 | Hoa W Hong | Mortgage Pros | NSW | $68,000,000 | 150 |
| 67 | Mathew Crossley | Coronis Finance | QLD | $71,000,000 | 124 |
| 66 | Mark De Martino | | VIC | $70,988,487 | 172 |
| 65 | Jacob Decru | Loan Market | VIC | $73,200,215 | 145 |
| 64 | Andrew Algie | Addisons Advisory Group | NSW | $72,960,671 | 159 |
| 63 | Fane Levy | Shore Financial | NSW | $76,249,309 | 86 |
| 62 | Daniel Zarkovic | Loan Market | NSW | $84,484,598 | 158 |
| 61 | David Thurmond | | VIC | $76,788,181 | 248 |
| 60 | Luke Camilleri | | NSW | $73,885,000 | 167 |
| 59 | Balpreet Bal | Loan Market | WA | $76,521,647 | 184 |
| 58 | Phil Gallagher | Aussie Belmont | NSW | $74,217,387 | 156 |
| 57 | Toby Edmunds | Loan Market | VIC | $77,667,234 | 157 |
| 56 | Scott Durrant | Successful Ways | NSW | $85,912,241 | 125 |
| 55 | Jason Cuerel | Loan Market | QLD | $77,431,016 | 201 |
| 54 | Leon Spadavecchia | Financia | SA | $75,183,262 | 126 |
| 53 | George Tzilantonis | Aussie Berwick | VIC | $77,797,637 | 162 |
| 52 | Karen Bashford | South Coast Business & Financial Solutions | NSW | $79,016,868 | 600 |
| 51 | | Bundy Financial Services | VIC | $79,038,629 | 224 |
| 50 | Matt Cunliffe | Mortgage Choice Brisbane City | QLD | $86,491,176 | 83 |