Average Australian household debt levels have reached their highest point ever... Auction market continues run of subdued results...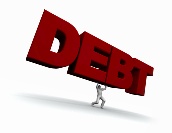 Aussie household debt hits record highs
Average Australian household debt levels have reached their highest point ever according to recently released research.

Figures in the Buy now, pay later: Household debt in Australia report, prepared by AMP Bank and the University of Canberra's National Centre for Social and Economic Modelling (NATSEM), average Australian household debt levels have more than quadrupled since 1988, from $60,000 to $245,000.

Among the chief reasons for the high household debt levels are property purchases, with the report claiming that 56% of the country's household debt is made of owner occupier mortgages.

Thirty-six per cent of household debt is a result of wealth building activities, which includes loans used for the purchase of investment properties.

For owner occupiers, first home buyers have been hit especially hard, with their debt levels at 3.6 times their annual disposable income, up from 3.1 since 2004.

For investors, mortgage debt is at its highest for households headed by a person aged 65 or older, where it counts for 60% of their debt.

According to report, current low interest rates have encouraged people to take on higher levels of debt, but AMP chief customer officer Paul Sainsbury said it's important people know rates won't stay low forever.

"We need to better manage our finances, including our everyday cash-flow, as part of a clear long-term plan to pay down debt," Sainsbury said.

"When thinking about household finances it's essential to factor in the impact if interest rates start creeping back up from their current historic lows," he said.

According to the report, for households with mortgages and typical levels of debt, a 2.5% interest rate increase would mean debt repayments would rise from 16% to 23% of income, taking annual interest payments from $15,464 to $21,687


Auction market continues run of subdued results
Australia's auction market again looks like it is set for another week with a national clearance rate of below 60%.

According to figures from CoreLogic RP Data, the national clearance currently sits at a preliminary mark of 59.3% from 2,948 auctions.

The previous week saw the national rate finalise at 57.3% from 3,252 auctions, which was the lowest weekly rate since early 2013.

At the same time last year, both auction volumes and the auction clearance rate were stronger, with a clearance rate of 65.5% across 3,511 residential auctions.

The nation's busiest market last week, Melbourne saw a decline in volumes, which has so far coincided with an increase in its clearance rate.

The Victorian capital held 1,561 auctions last week, compared to the 1,622 it held the week before.

From last week's auctions, the preliminary clearance rate sits at 65.7%, which if there is no downward revision would represent an increase on the previous weeks 63.3%.

Tasking - multi or mono?
Forget multitasking; a brain expert says we need to narrow our focus to become more efficient and stay mentally fit