A range of market conditions have converged to put the property plans of clients at risk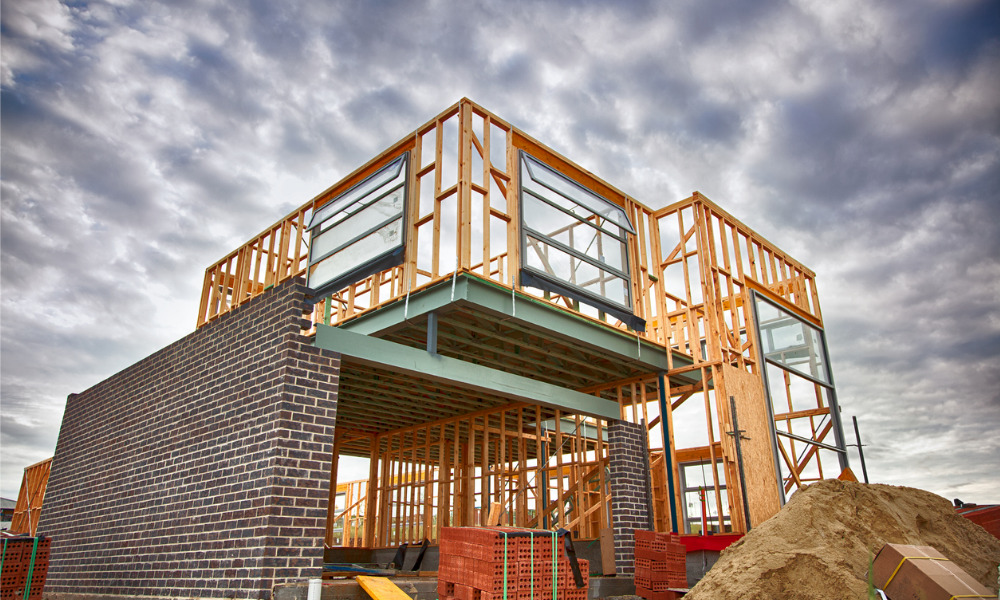 Auction clearances in the nation's capitals have remained strong over the past two weekends after steady demand from homebuyers met an increase in the number of homes listed for sale. While the property market has stayed highly competitive both during and after periods of extended lockdown in NSW and Victoria, the new homes market has offered no relief for those looking to build.
According to mortgage broker and co-founder of Builder Finders, John Manciameli, clients planning to build or renovate have been hit hard with an increase in the costs of building materials and labour.
"With everyone's aspiration to renovate and knock down and rebuild, they're all getting caught out substantially with, not just price increases, but significant price increases which are making people shelve plans," he said. "Every single client we're talking to now is being blown out of the water with material costs and how much it is costing to do things."
He said this was impacting brokers, who were getting calls from their clients "saying, 'I know I got the preapproval for $400,000, but could you get me another $350,000?'"
"It wouldn't surprise me if a lot of people just shelved their plans, or they really scaled it back," he said. "They might go from a knock down rebuild job to let's just renovate the house now."
Manciameli's wife and director of builder broker business Builder Finders, Lynette Manciameli, said a "perfect storm" of factors had led to the increased cost in building. The Black Summer bushfires of 2019-2020 significantly impacted the local supply of timber, leading to a shortage of home-grown stock. In addition to this, said Ms Manciameli, other materials such as bricks and copper had become hard to find after lockdowns across the world interrupted the supply chain.
"Getting products into Australia has taken time," she said. "There have also been production delays in Australia as a result of our own local shutdowns."
In order to get past the timber shortage, many people building a new home have opted for a steel frame construction, she said. But the subsequent increase in demand for steel has also created problems, leading others to opt for the traditionally more expensive option of double brick construction.
According to CreditorWatch chief economist Harley Dale, the issue is posing major problems for the construction industry.
"I think we need to bear in mind this is all happening against the backdrop of both NSW and Victoria having at various times imposed pretty hefty lockdown requirements on the construction industry," he said. "Even more so than postal and warehousing, probably the construction industry is the most prominent example of any industry in Australia where you can't just flick a switch and get it moving again. As many businesses put pressure on suppliers to reequip their inventories and get them going again, you've also got these shortages, which are also shortages of skilled labour as well as shortages of building materials. Then you've got the flow through to the actual cost of supplies.
"It's all just come together at the worst possible time for the construction industry and it's hampering the industry's ability to fully get back on its feet again. It's unfortunately been a bit of a perfect storm where the industry is trying to gear up again at the same time as the labour and material shortages and related pressure on the cost of building supplies."
Read next: COVID support takes a toll on the finance industry
This shortage in materials has been exacerbated by the increased demand for new homes – something driven in large part by government stimulus and record low interest rates. Builders and construction companies have been forced to pass on the extra costs to the consumer after a difficult period of restrictions and site closures through lockdown.
"At those rates they can't wear that increase in materials," said Ms Manciameli. "A reasonable estimate from what I'm seeing in the industry with the quotes coming through in comparison to the expectation from the client, there's probably at least a good 20% if not higher increase on costs that are driving up construction costs."
As a builder broker, Ms Manciameli matches up a selection of builders for clients much in the same way that mortgage brokers line up a selection of lenders. Recently, the quotes provided by the builders selected have all come in higher than what the clients had anticipated. This has meant clients have needed to adjust their budgets and act quickly to decide which builder they were going with, she said, explaining that the quotes provided in recent months have been done so with a shorter time frame of validity.
"As it has become with the housing boom where purchasing existing properties has certainly increased, the same thing is happening with those that are wanting to build," she said. "The only way to get around it is to basically borrow more and spend more.
"Until we get to a point where material supply has come back to some sort of equilibrium in a standard market, in the near future, I don't foresee costs going down. This is the information I am hearing off the ground, this is the kind of feedback I'm getting from builders."
Read next: Why developers are moving north
According to Dale, the material supply issues had come at a time when low housing stock was already putting upwards pressure on property prices.
"There's a lot of interesting things going on in property and construction at the moment because we've got these pressure points on the construction industry and what you need more than anything in, residential property at least, is you need more supply," he said. "The indications are that there's a lot of supply coming but you don't want to see any constraints on that because increased supply does put downwards pressure on the rate of growth that you receive in terms of residential property prices.
"We've also got at the same time, the recent announcement that lending restrictions have been tightened for residential property lending. That's interesting timing with some difficulty in the construction industry gearing up.
"That, I think, we're probably likely to see emerge over time. It might emerge over time that we see some easing in the rate of growth in residential property prices, bearing in mind that in an aggregate sense they have been very strong, within which there are pockets of the market that have been heavily hit by COVID such as CBD units in Sydney and Melbourne, for example. It's not a universal story but basically, I think you're probably going to see over the rest of 2021-2022, an environment where the rate of growth in residential property prices does ease."