Mortgage broker Toni Stevens overcame a challenging past experience to set up and build a thriving brokerage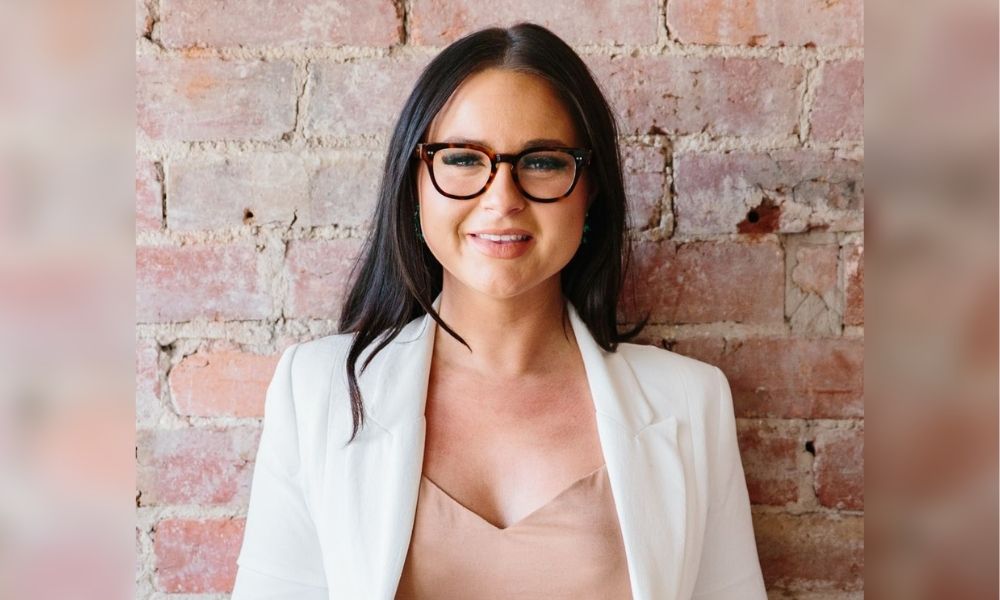 Despite being unsuccessful in an earlier attempt to become a mortgage broker, Toni Stevens did not let that stop her. Now, she is the director of MediCredi, a boutique brokerage that provides solutions to the healthcare industry.
Stevens joined the industry at just 19 years old, when she started her broking career completing home loans over the phone at iSelect. She went on to contract to a broking firm in Melbourne, but although she had allowed herself six months' worth of income to survive the commission-based role, she didn't. But she went on to join Bankwest as a BDM looking after a portfolio of around 400 brokers, a move she says propelled her career forward.
"It was the best decision I made for my career at the time," Stevens says. "I learnt so much about the industry and about great brokers, what they do well and how they run their businesses. It taught me so much more about lending and back-end processes."
Then, after spending some time working at a fintech in the peer-to-peer lending space, she met her now senior BDM through a chance encounter, and it pushed her to "make that leap" and branch out on her own.
Armed with the knowledge and experience she had gained, a solid business plan, and enough money to back her business, Stevens founded MediCredi in March 2019.
When she entered the industry as a young woman, Stevens says she noticed that her male counterparts did not have to work as hard as she did to earn recognition and respect; she says their abilities were never doubted as much as she felt hers were.
"There were times throughout my career when I did have to prove myself, my ability to deliver, my knowledge and experience," she says, although she used that as motivation.
"I found that pushed me to be better and rise above the stigma. I was fortunate that I had strong women around me in leadership roles who I could look up to for guidance."
MediCredi's core customer base is medical professionals who have access to its holistic offering, from home loans to equipment loans, or funding to help with fitouts. The majority of business comes through word of mouth, and Stevens' own networking.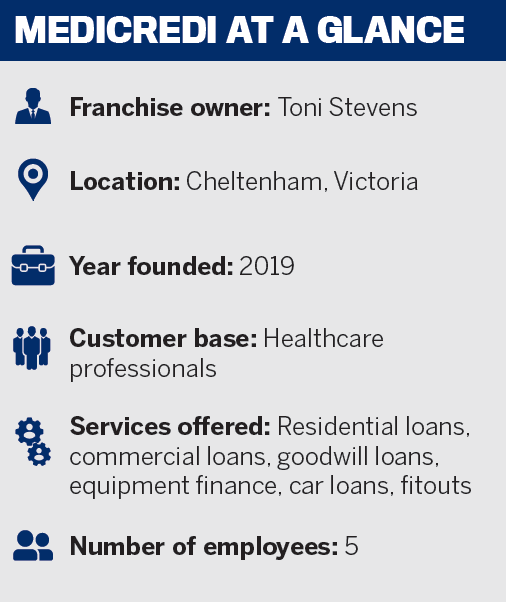 She says you never know who your existing clients know or what they might be looking at doing, so it's important to be open to conversations and building relationships.
"Get out of your comfort zone a little," Stevens says.
"Opportunities are everywhere. I can't tell you the amount of business I have written from a simple conversation with someone about what I do and how I can help."
Although last year made things more challenging, the business has continued to grow. Stevens needed to hire new staff, which meant hiring staff without meeting face-to-face, and then onboarding them via Zoom.
The business focused on communication with clients and setting realistic time frames and expectations throughout the year, and Stevens wants to remain committed to this moving forward as the brokerage continues along its upwards trajectory.
She also plans to adopt more technology to make its processes as easy as possible for herself and the customer.
Over her 10 years in the industry, Stevens has noticed that processes have become increasingly difficult, with the amount of work going into writing a deal becoming more time-consuming than ever.
"Streamlining processes in your business and finding ways to be more productive is more important than ever to make it in this industry," she says.
She has also seen the industry improving in the way it is supporting and encouraging women. With professional development days for women, networking events and Facebook community groups, she says there is a lot of support out there – and at the moment, that is really needed.
"I think it's important for women to connect with others and share knowledge and support. Especially if you are a solo broker, it can be quite a lonely gig," she says.
"Reach out to others and build relationships. We need to support one another. This is the toughest I have seen the industry, and I think we all need to support each other as much as we can."