Jump to winners | Jump to methodology | View PDF
Brokers Prove Their Worth
After an incredible year of brokers helping borrowers through one of the most challenging environments in a generation, MPA has expanded its Top 10 Brokerages list to celebrate even more brokers. This year, there are 25 brokerages in this prestigious list boasting astonishing figures.
These results are an indication of just how busy the mortgage broker industry has been over the past 12 months. The number one brokerage in 2021 increased its value of loans by 27% this year.
The rise in loan settlement values reflects the remarkably strong housing market of the past 12 months. While brokers started the year concerned that demand for home loans would fall, sentiment changed as the market instead saw an influx of new borrowers and customers wanting to refinance.
In May 2020, the value of total loans for new housing was $16bn. Since then, this value has only continued to grow, reaching more than $30bn in March 2021.
While the number of new loans for housing dropped to their lowest point last May, refinancing was already strong as the national lockdown and restrictions made borrowers cautious. In 2020, external refinancing grew from $6.2bn in February to $9.4bn in May. It grew again in June, to $9.8bn, before dropping to $7.3bn in July – which was still much higher than pre-COVID values.
Refinancing levels are still strong: March 2021 saw another month of $9bn-plus worth of external refinancing. The highest value to date of internal refinances, which surpassed $5.8bn, was also recorded in March.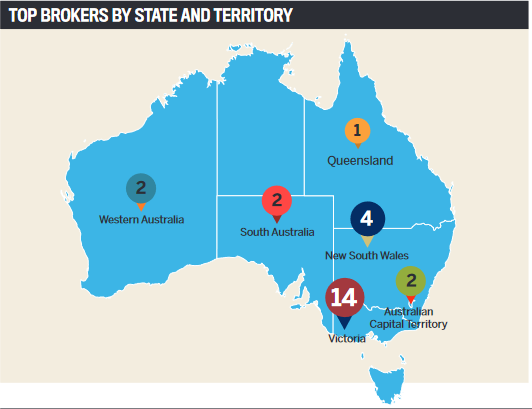 Cash rate, incentives boost demand
A combination of factors have contributed to the increase in both new home loans and refinances – most notably record-low interest rates. At the start of 2020, the RBA's cash rate was at 0.75%; this dropped to 0.25% in March and fell again to 0.10% in November.
From 2016 to 2019 the RBA had held the cash rate at 1.50%, but banks at the time were announcing out-of-cycle rate hikes due to global funding pressures and regulatory requirements. Now, banks have been passing on rate cuts, and borrowers are keen to take advantage.
The government's various incentive schemes have also helped boost the number of homebuyers on the market. The First Home Loan Deposit Scheme was particularly successful; it allowed first home buyers to purchase a property with a deposit of as little as 5%. This led to a huge influx of first home buyers, with the segment making up 36% of the total number of home loans by December 2020, an increase of 5% on the previous year. The figures from March 2020 to March 2021 show a 67% rise in the number of owner-occupier first home buyer loans.
The scheme was so successful that the government announced that it would be extended as part of the 2021 budget. It also introduced a new Family Home Guarantee that gives eligible single parents the opportunity to buy a home with a 2% deposit.
The HomeBuilder Scheme also attracted more than 121,000 applications. It provided eligible owner-occupiers, including first home buyers, with a grant to build a new home, substantially renovate an existing home or buy an off-the-plan home.
As an incentive for refinancers, banks have also been offering cashback deals. While these have been partially blamed for blowing out lender turnaround times and are not always as worthwhile as they may seem, many borrowers have been enticed by them.
The number of property investors coming onto the market has also increased. From March 2020 to March 2021, there was a 54% rise in the number of loans to investors. Even in the three months to March 2021 there was a significant increase in investors; during the same period, the number of first home buyers dropped, leading experts to believe that investors are muscling their way in at auctions.
Property prices have been another factor contributing to the growth in home loans. Prices are continuing to rise, and as they do, it is thought that many buyers are experiencing a fear of missing out and are rushing to buy properties. The same trend is being seen with refinances as longer-term fixed rates begin to rise and borrowers rush to fix their loan before rates increase further.
According to expert property investor Michael Yardney, secondary properties are selling way above vendor expectations.
"Normally at the beginning of the property cycle there is a flight to quality – people remember the types of properties that held their values well during the downturn, and avoid secondary properties," he said in recent commentary. "But currently, I'm seeing some buyers so worried the market is going to pass them by that they are compromising their selection criteria just to get into this market."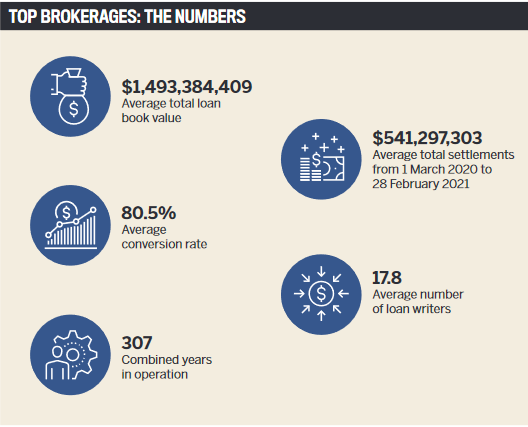 Top Brokerage figures improve
The highest value of total settlements in the year from 1 March 2020 to 28 February 2021 reported by MPA's Top Brokerages was Shore Financial's $1,532,219,723. This was up by just under $500m from 2020's highest value of loans settled in a 12-month period, by the same brokerage. Shore Financial has added 11 additional loan writers since last year, and its average loan settled per broker has dropped.
Unlike last year, more than one brokerage wrote over a billion dollars in loans in the 12 months to March 2021. My Local Broker wrote $1.4bn, up from $950m in 2020's list. It did this with 60 fewer loan writers than the previous year.
Two brokerages had total loan books of more than $3bn but were pushed down the list by lower conversion rates and high numbers of staff, making their average value of settlements per broker much lower.
Conversion rates were much better this year. The average conversion rate of last year's top 10 brokerages was 76%. For the top 10 in this year's list, the average is 82%. The lowest conversion rate in the entire list this year was 61%, whereas the lowest rate in 2020 was 42%.
The improvement in conversion rates could be down to mortgage brokers getting used to the extra scrutiny from the banks, as well as their greater use of technology over the past year, which enabled more specific detail around borrowers' living expenses and tools, ensuring brokers had uploaded all the right documents.
It is also interesting to note that the majority of this year's winning brokerages came from Victoria. There were 14 Victorian brokerages, compared to just four from NSW.
The total value of owner-occupier loans written by winning brokerages in Victoria was slightly behind NSW's over the last year. However, there were more first home buyers in Victoria than in NSW over the 12 months from 1 March 2020 to 28 February 2021. This segment of the market is much more likely than experienced property buyers to use a broker, and were particularly driven to do so in the last year by the government incentives for first home buyers.
1. Australian Lending & Investment Centre
2. Tiffen & Co
3. Catalyst Advisers
4. Shore Financial
6. Smartmove Professional Mortgage Advisors
7. UFinancial
8. My Mortgage Freedom
9. Green Finance Group
10. Acceptance Finance
11. Loan Gallery Finance
12. iChoice
13. Keylend
14. Astute Melbourne City South and Gippsland
15. Entourage
16. AUSUN FINANCE
17. The Loan Company
18. Inovayt
19. My Local Broker Pty Ltd
20. Aussie Prospect
21. Empower Wealth Advisory
22. Nu-Age Finance
23. Aqua Financial Services Pty Ltd
24. The Financiers Group
To find the Top Brokerages of 2021, MPA invited Australian brokerages to submit their figures for the period 1 March 2020 to 28 February 2021. The online form also asked for details such as the number of active brokers working at each brokerage, as well as its total loan book value and conversion rate.
To be eligible, brokerages needed to have four or more loan writers in a single office headquartered in Australia. Aggregator information was also provided by applicants, and their aggregators were then required to verify the details submitted.
The final ranking is weighted across four areas: total loan book size, average settlements per loan writer, total settlements in the specified 12-month period, and conversion rate. Each brokerage was ranked in each of these areas and the ranks were then combined to produce a final tally.
Commonwealth Bank is honoured to sponsor MPA's 2021 Top Brokerages report. We know that customers value the service that brokers provide, which is why we are committed to supporting the industry. I want to take this opportunity to thank all of our broker partners for their ongoing support and commitment to providing exceptional service to customers during what has been an incredibly challenging year.
We are focused on continually improving the experience to make our partnership stronger, because we believe we're better together.
We will continue to invest in simplification, technology, partnerships and education to support your success and ensure the sustainability of the industry.
Congratulations to the brokerages that have achieved Top 25 status – your hard work, dedication and customer focus have brought you to the pinnacle of your industry. Enjoy the accolades and all that this achievement brings to your business.