The bank announced that hundreds of its leaders and employees are expected to march in Pride parades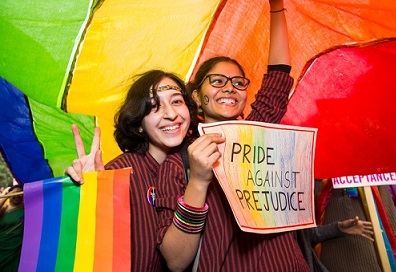 Westpac
NZ is celebrating diversity through an art installation that links it's two buildings together in central Auckland.
Artist Shannon Novak, who works at Westpac, used transparent vinyl to transform three glass air bridges above Galway Street, Britomart, into a kaleidoscope of colour.
Novak says the installation celebrates diversity and has been unveiled to coincide with the Auckland Pride Festival, which begins today.
"The artwork is called
Symphony
. The name refers to a piece of music for an orchestra or a harmony of sounds. Each bridge is like a different sound, the three together creating harmony.
"This links to the idea of diversity and how despite coming from different walks of life - like different sounds, we can harmoniously stand as one and support each other." The materials used to create
Symphony
are designed to last for several years.
Westpac's general manager for consumer bank and wealth Simon Power: "I think it's fantastic. It's a bright, colourful, abstract way of reflecting the values we place on inclusiveness in the workplace. And, it certainly makes the walk from one building to the next more interesting.
Power said large organisations such as Westpac, have a role to play in making people in the LGBTI+ community feel welcome.
"Organisations have a responsibility to make sure their workplaces are a safe and inclusive environment for everyone, regardless of their gender or sexual identity.
"A survey by Westpac in 2015 showed 37% of the LGBTI+ community in New Zealand had hidden their sexual orientation at work. We want everyone to feel comfortable being themselves," Power added.
Related stories:
Which regions are paying off the mortgages fastest
Advisers working against customers interests, ASIC