The winners of the PAA Excellence awards were announced at the National Advisers Conference last week.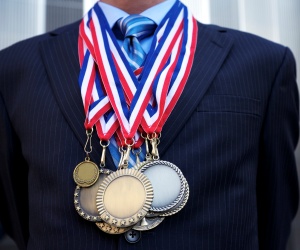 The winners of the PAA Excellence awards were announced at the recent National Advisers Conference.
The advisers who took home an award are listed below and the PAA congratulates all of the nominees, finalists and winners of the Adviser categories.
The PAA Industry Awards for 2016 were also announced, recognising the winners for their effective communication and processes, relevant products and continued innovation, adviser support and professionalism.
PAA CEO
Rod Severn
told
NZ Adviser
the conference was fantastic and had a great vibe.
"I think there was a lot of energy throughout the two days," said Severn and that the range of speakers covered a message for everyone.
"Presentations like Julia Hartley-Moore had nothing to do with the financial services sector but all to do with perseverance and not taking no for an answer," said Severn.
"
ASB
winning the Lender of the Year was great and good to see Generate Kiwisaver win it twice in a row - I thought that was really good from an investment point of view."
"It was great to see some of the BDMs get recognised – Karl Moran from Fidelity and Justin Cross from
ANZ
– because the BDMs at the end of the day, they are the ones that really are the face of their brand – they're the ones that are at the coalface.
"It was great to see some of these people working at the top of their field being chosen by their own peers."
New Insurance Adviser of the Year
Leecia Bursford, Financial Services Ltd
Judges comments:
Leecia has created a customer experience around her insurance services that would be the envy of most businesses. Leecia demonstrated that helping clients make informed decisions about insurance products was only step one in the customer relationship.
New Mortgage Adviser of the Year
Jeff Elias, Online Mortgage Brokers
Judges comments:
Jeff has set up his own practice and the judges were impressed how much he has developed his processes, technology and advice material to assist clients to better understand Mortgages, structures and the ongoing support to help clients meet their goal of paying off their mortgage.
Investment Adviser of the Year
John Milner, Collaborative Consulting
Judges comments:
John realised early on in his career that to be a professional you need to act professionally. John has completed the highest education standards in our industry and continues to make time to learn. He has recently started his own Investment Advice Practice and has had to start from scratch. He has developed a best practice advice approach to his processes and documentation that set a bench mark for all.
Insurance Adviser of the Year
Katrina Church, Insurance People
Judges comments:
Since winning the award a year ago Katrina has continued to develop her services in a constant effort to ensure clients claims get paid. She is also actively supporting the industry in helping others and getting involved in the community.
Mortgage Adviser of the Year
Ajay Kumar, Global Finance Service Ltd
Judges comments:
Ajay realised many years ago that the value he could add over and above getting a client a mortgage was helping them pay it off faster. He designed his own Interest Saver Plan 18 years ago and started using it with great success. Since then he has built his own IT platform to run it and all his processes and still today is using it himself to help clients achieve their dreams.
2016 Judges Excellence Award
Anand Srinivasan, Brisk Insurance
Judges comments:
This year's Judges Excellence Award goes to a new insurance adviser. Anand has designed a unique approach to Insurance Advice. He starts by educating clients on their current situation and identifying any gaps. Then he looks to see if what they have in place can be repaired or altered to meet their needs, and then if there are still gaps looks to the market for a new solution.
Investment BDM of the Year
Sid Singh from NZ Funds
Sid Singh has been at the forefront of our industry, working alongside financial advisers, for the last two decades. He has spent the last 13 years at NZ Funds, where he is a partner and co-leader of the adviser team.
Sid has carved a career specialising in managing and developing financial adviser relationships. Sid is respected and valued by his adviser clients for his willingness to go the extra mile, to do whatever is necessary to help them with their business challenges, no matter the magnitude of the job, the time of day or day of the week. He is highly deserving of this award, voted on by those who matter most to him, his adviser clients.
Investment Provider of the Year
Generate KiwiSaver
Generate are NZ owned and operated KiwiSaver specialists whose goal is to simply to help its clients' grow their savings and achieve the lifestyle they want when they retire. Generate were named the number one performing KiwiSaver Fund in the growth sector for 2014 and 2015, and awarded gold rating for 2016 by Super Ratings. And importantly, were named the Investment Provider of the year 2015 as voted by PAA Members.
Insurance BDM of the Year
Karl Moran from Fidelity Life
Karl joined Fidelity Life in 2012 having had extensive financial services experience prior. He is a qualified chartered accountant and Authorised Financial Adviser.
Karl spent more than six years as group financial controller for Fortress Investment Group in the UK; On returning to NZ he successfully ran his own business providing risk management advice on a wide range of life and health insurance products before re-entering the corporate world as a BDM with Fidelity Life.
He has used his experience to become a trusted partner to many advisers in his region as well as a key member of the Fidelity Life BDM team, providing specialist assistance in the business insurance space.
Insurance Provider of the Year
Partners Life
Partners Life are an Award winning life insurance business that has achieved unprecedented growth over the last four years. With a strong management team, unique claims philosophy, client and loyalty discounts, all underpinned by best practice systems and processes.
Specialist Lender of the Year
Avanti Finance
Avanti Finance are a privately owned leading, diversified NZ finance company specialising in "non-bank" Lending, with a broad product offering ranging from unsecured personal loans to 30 year 1st mortgages. Their focus is about finding a tailored solution that meets their client's needs, while ensuring a quick and easy process. Avanti's mantra is to be the "first second choice" for advisers and borrowers across a broad range of lending products.
Lender BDM of the Year
Justin Cross from ANZ Bank
Justin has been a high-performing BDM with ANZ for more than 15 years. Justin prides himself on the excellent level of service he provides advisers across the South Island. Justin's success is proven through frequent adviser comments and consistently high adviser survey results. Justin exemplifies the qualities of an effective BDM through his knowledge, professionalism, and dedication to getting the best outcome for his advisers and customers. This prestigious award is recognition for years of excellence and dedication to the BDM role.
Lender of the Year
ASB Bank Limited
ASB Bank is a leading provider of integrated financial services in New Zealand including retail, corporate, business and rural banking, wealth management and insurance. As one of New Zealand's most trusted brands, ASB is built on the foundations of world-class customer service, technology and innovation, leadership and community involvement. ASB has worked alongside mortgage brokers throughout New Zealand since 1992.