Lenders and developers need to back affordable housing in Auckland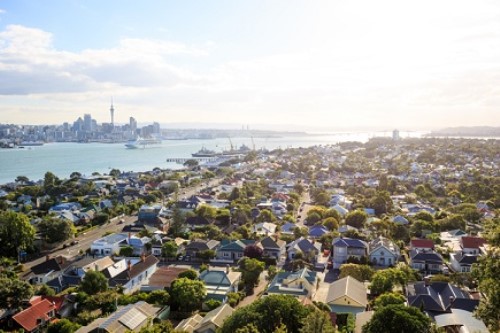 A big part of our future will be backing affordable housing developments in Auckland that due to the Unitary Plan makes it a lot more doable, New Zealand Mortgages & Securities (NZMS) says.
"Traditionally the tight supply and cost of land in Auckland has been the barrier for developers delivering affordable homes in good areas and making a margin along the way," NZMS Director James Kellow said.
"Now that the Unitary Plan allows for greater intensification in many market attractive suburbs, the economics have suddenly got a whole lot better. We're now starting to see the construction of quality smaller homes on smaller sections. This is a real paradigm shift for Auckland and it's exciting to be part of it.
"A few years ago, I would never have imagined we'd be involved in affordable housing projects all around Auckland - Panmure, Mangere, Glen Eden, Henderson, Manurewa, Mangere, Takapuna and Northcote - but we are."
Kellow says Solution Street is selling solid weatherboard homes with a 10-year guarantee and a 6 Homestar rating, completely freehold and on their own sections from $519,000.
"In recent years the biggest component of our lending portfolio comprised of first mortgages on land development and apartments. We've supported some massive subdivisions in areas like Glenbrook, Flat Bush, Pukekohe, and Warkworth, and some major apartment developments in both Auckland City and North Shore.
"With a lot of those projects complete and repayments now coming in, by mid-year we'll be set to reinvest nearly $150m of capital from our current loan book of about $233m. However, our focus in narrowing. For us affordable housing and super high-end residential developments appeal the most, particularly in this cooling real estate market," Kellow added.
He said given so many developments in Auckland are coming to fruition, NZMS is not alone in now wanting to recycle capital.
"Banks are now actively looking for business and want to do some big deals again. We haven't seen that for a while, but when you think about it a lot of apartments complexes and subdivisions are complete or close to it.
"The banks have now got hundreds of millions coming in to recycle and so there's now a fight on for market share particularly in the space of medium-quality suburban residential developments which always have the greatest appeal to retail banks."
Mr Kellow says NZMS and other non-bank lenders remain attractive to developers as unlike retail banks they don't require 100% pre-sales and can offer greater flexibility. Finance companies will potentially back those who may fall outside usual bank lending criteria and that often includes those wanting to deliver affordable housing.
"The reality is affordable housing projects don't appeal to every lender and developer, as the margins are normally very low. For non-bank lenders you have to be well capitalised to make it work and everyone has to cut their cloth. NZMS of course is privately owned, has the advantage of assessing its own risk and investing its own capital, and so if a development has enough scale it can be well worth us being involved."
"The city centre is where the high-end residential product needs to be and that's where we will see more of it, particularly when you consider the CBD's current transformation with the likes of the City Rail Link, the Commercial Bay development, SkyCity Convention Centre, the next America's Cup village, North Wharf and the likes."
Auckland's CBD prospects remain bright despite some correction in the overall property market. He says it's positive the unsustainable heat has come off the region's real estate and he attributes this to the previous government opening up land by legislating Special Housing Areas as well as measures taken by the Reserve Bank namely its tougher loan-to-value ratios (LVRs), Kellow noted.
Related stories: