Home loans increase 0.50% after RBNZ decision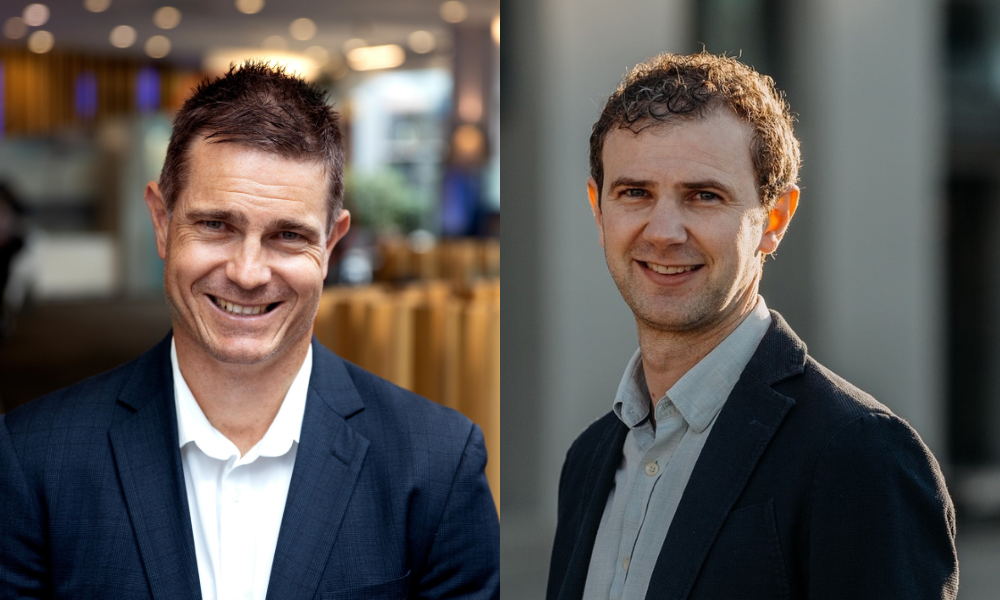 Banks are moving quickly to pass on interest rate rises to their home loan customers, following the Reserve Bank of New Zealand's decision on August 10 to lift the official cash rate 0.5% to 3%.
On Wednesday, the same day the RBNZ lifted the OCR, Kiwibank announced it would increase interest rates on variable home loans and certain savings accounts by 50 basis points. ANZ followed suit on Friday, saying it would increase interest rates by 50 basis points.
ANZ is lifting interest rates by 0.5% on ANZ Floating, ANZ Flexible and ANZ Blueprint to Build (discounted floating rate for people building their own home) home loans, increasing them to 6.84%, 6.95% and 4.08% respectively.
ANZ managing director for personal banking Ben Kelleher (pictured above left) said currently about 90% of its home loan balances were on fixed rates and there was no change to ANZ fixed home loan rates at this time.
"Business floating and business overdraft base rates would also go up 0.50%," Kelleher said. "We will continue to provide targeted support for businesses that need it. For Serious Saver, ANZ's largest savings product, the total interest rate will increase 0.50% to 2.30% pa."
Read next: Reserve Bank of New Zealand raises interest rates for the seventh time
Kelleher said with local and international inflation rates remaining high, the RBNZ was signalling further OCR increases in a bid to cool the economy.
"Mainstream banks assess affordability at a higher interest rate to take into account possible rate rises over the term of the loan," he said. "Our customer data shows people are continuing to pay down debt where they can and keeping up their savings habits. More than a third are ahead on their home loans by six months or more."
Kelleher said interest rates had moved significantly over the past year and high inflation had caused the cost of living to rise.
"We're here to support our customers and encourage anyone who has concerns or wants to take the opportunity to talk about their finances, to contact us," he said. "Interest rates will continue to be reviewed in response to international and local market conditions."
The new rates on the below products will be effective from the following dates:
ANZ Floating home loan interest rate – new loans (August 22), existing loans (September 5)
ANZ Flexible home loan interest rate – new loans and existing loans (September 5)
Blueprint to build – new loans (August 22), existing loans (September 5)
Business floating – new loans (August 22), existing loans (September 5)
Business overdraft base rates – September 5
Serious Saver – September 1
Kiwibank announced on Wednesday afternoon that it would be making changes to both its variable savings and borrowing interest rates by passing on a 50bp hike to its Online Call saving accounts and simplifying its offering from a bonus rate account to a flat rate account.
Kiwibank senior product manager Richard McLay (pictured above right) said these changes would provide customers with flexibility to deposit or withdraw funds as required without it impacting their rate of return.
"This change means all customers will receive the benefit of the rate on offer making more of our savers better off," McLay said. "Our 90 Day Notice Saver has one of the highest rates in the market for a savings account and will be receiving a 40bp passthrough. The last time variable deposit rates were this high was three years ago in 2019."
Read next: Kiwibank enjoys strongest results ever
McLay said Kiwibank's variable lending rates would increase by 50 basis points.
"These rates have consistently been the lowest amongst the major banks over the past two years," he said. "At this time, Kiwibank is making no changes to fixed rate home loans or term deposits."
The new dates for interest rate rises to take effect for Kiwibank home loans are August 22 (new lending) and September 5 for existing lending. The new rates on Kiwibank products are as below:
Kiwibank home lending variable rate was 6.00% will increase to 6.50%
Kiwibank offset variable rate was 6.05% will increase to 6.55%
Kiwibank revolving loan rate was 6.05% will increase to 6.55%
Kiwibank 90-day notice saver rate was 2.85% will increase to 3.25%
Kiwibank 32-day notice saver rate was 2.00% will increase to 2.40%