Plus: What to consider before buying a waterfront property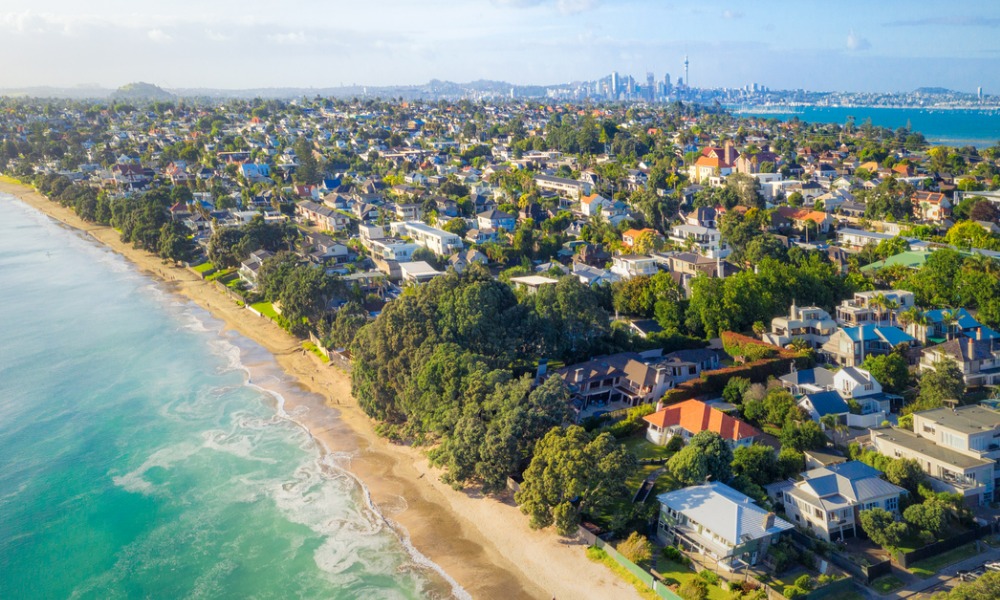 Some 65% of New Zealanders live within five kilometres of the ocean. While prices for beach homes are well above $1 million, coastal living remains a part of the Kiwi dream. There are, however, certain things that you should consider before buying a beach house. Here is what you need to know.
Why are beach houses so expensive?
Beach houses in New Zealand are so expensive because there is a high demand for them. This is partly due to water sports and recreation such as swimming and boating being ingrained in Kiwi culture. Because of this high demand, you are likely to pay a high premium for a beachside property in most areas of New Zealand, according to data released by homes.co.nz in 2021.
The beach town of Mount Maunganui was at the top of the list, with a median value of properties within 50 metres of the sea coming in at $2.3 million—150% more expensive than the community's median home price of $923,462. The second highest premium on the list was the community of Russell, in the Bay of Islands, with a median value of $1.3 million for its waterfront properties, which was more than 89% higher than the median home value in the town of $737,107.
Rounding out the top four were Picton, in Marlborough Sounds, and Whangaparaoa, north of Auckland, with the median values of beach houses coming in at 88.3% and 83.7% higher than the town's medians respectively.
Somewhat surprising, however, was that beach houses in Wellington's Roseneath and Seatoun offered a waterfront discount, likely due to the exorbitant premiums placed on the view or the added upkeep that is needed for beach houses.
Is beach property a good investment?
Whether purchasing a beach property in New Zealand is a good investment is up for debate. During the first year of the COVID-19 pandemic, the real estate industry saw a boom, especially in interest for beach properties. Since travel was restricted, many Kiwis flocked to coastal areas to work remotely.
Attraction to coastal areas made sense due to interest rates remaining at record low levels. There were also low debt servicing costs, which made migrating to the coasts more realistic, since there were companies such as Airbnb that would allow homeowners to cover expenses by letting out holiday homes and thereby satisfying the demand for domestic tourism.
Demand for coastal properties boomed despite recent evidence that rising sea levels may have an impact on some coastal properties. According to a report from Deep South National Science Challenge, New Zealand's sea level is expected to rise by 10 centimetres over the next 20 years, which would leave 10,000 properties in the country's largest centres essentially uninsurable by 2050.
This of course sounds alarming, but it basically just means that if you want to invest in a beach property, you should, before you buy, do the necessary research to be certain you can insure the property in the future.
Things to consider when buying a beach house
As mentioned, sea levels can have a significant impact on seaside suburbs. Make sure that you consider the effect rising sea levels could have on the future of your home. Global warming has a part to play, but old landfills, volcanic activity, and sediment can also cause serious problems. Erosion is another natural process that can have a devastating impact on you as a homeowner. In certain parts of New Zealand, erosion washes away two to five metres of land each year, in some cases forcing owners to demolish their houses. Erosion could also impact the resale value of your home. Regarding both sea levels and erosion, it is important to do your research on the area before you buy.
Another factor to consider is the level of maintenance you will have to do on your beach house. Salt water, sea air, and strong winds can all cause costly damage to your home over time. For instance, sea water and air can cause rusting. It is important to purchase materials for your home, furniture, and vehicles that can withstand the effects of living near the ocean over the long term.
What was the most popular property type among Kiwis during lockdown?
In New Zealand, the COVID-19 lockdown spurred demand for coastal properties, according to data from 2021. Property website realestate.co.nz reported "waterfront" and "beach" as keywords that saw the highest number of searches when the lockdown was at its peak. ("Pool", "view", "villa", and "garage" were the keywords that followed the two most searched.)