Industry stalwarts explain why now is the time to share their decades of knowledge, give away $1,000 experience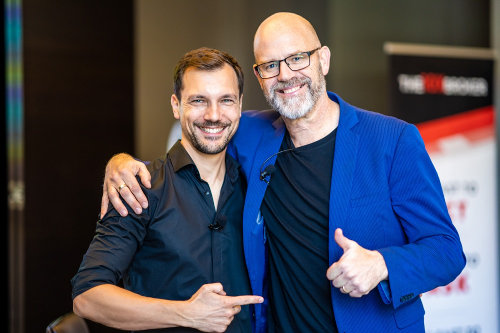 Two well-known figures in the broking industry have banded together to create a podcast which went live on November 16, in a bid to share the insight gleaned over their nearly 30 years of experience via "open, candid fireside chats."
James Veigli and Ash Playsted (both pictured) have both worn many hats within the industry, starting off as advisers before launching and running their own businesses and eventually moving into the coaching space.
Having now joined forces, the Mortgage Broker Acceleration podcast was built to cut through the clamour of the competing voices within the industry, many of which are spouting quick-fix tricks and vague promises of success, to present brokers with a "solid business strategy", Veigli explained.
"Ash and I feel there isn't anything out there that presents a cohesive blueprint or plan to help advisers simplify, focus and do what it takes to actually build a business," Veigli said.
"We've been working with advisers across Australia, New Zealand, Canada, the United States –everywhere – over the last 12 years. We've built something that is working incredibly well, and we feel now is the time to take that to a larger pool of advisers around the world."
Playsted added that the most common sentiment he's heard from advisers over the years is that if there was a proven path they knew they could follow to success, they'd "do it in a heartbeat," making it clear that many advisers aren't being held back by an unwillingness to work hard, but rather a lack of knowing where to invest their efforts.
"That's what's driving us. We want to show the pathway from where you are to where you want to be in a way that is based on experience, based on proof, and based around storytelling," Playsted said.
"Advisers aren't looking for some sort of robotic template promising everything will magically work; that's why we'll provide clear guidance and clear actions that lead to clear outcomes. People want a form of transformation that works, and James and I believe that's what we've got here."
Because Veigli and Playsted know firsthand just how busy advisers are, the weekly episodes will range between 20 and 30 minutes each, crafted to fit into the time it takes to drive to a client or occupy the gap between two meetings.
The first four episodes are now available, with provocative titles such as Build Your Sausage Factory, Attracting Million Dollar Deals, Turn Away Leads and Double Your Business and Stop Doing $1 Tasks.
Future topics will be lifted directly from the men's real-time experience and interaction with members of the industry.
"We have dozens of conversations with adviser businesses in our advisory every week, so we're drawing ideas from what we do on the inside – what people are working on, what they're asking about, what their challenges and frustrations are – and we're looking to solve many of those in this podcast," Veigli explained.
Playsted added, "Once we identify the key areas of interest for mortgage advisers, we apply a combination of what we coach and teach in our business, and infuse that with the lived experience we have from having walked the walk for many, many years."
The men believe a podcast is the best format to capture "the energy and success" of what they've been building, and will present it in a way listeners enjoy consuming.
"The discussions we've had over a coffee in the past, people have remarked, 'Oh, I wish you'd recorded that.' It's those nuggets of knowledge and experience that come to the surface when you're just chatting like no-one's watching. That's what we're recreating here," Playsted said.
"While we've both put content out on LinkedIn and Facebook and a variety of different platforms, podcasts have really emerged as the most organised and efficient way to get our thoughts out into the mortgage adviser domain, rather than bits and pieces here, there and everywhere."
The launch of the podcast also comes with the chance for one adviser to win full access to the Finance Business Accelerator: Attract Implementation Program, valued at $997, as well as a new set of Apple Airpods; to enter, visit www.mortgagebrokeracceleration.com/launch.
The Mortgage Broker Acceleration podcast has been a "long time coming," Veigli feels.
"We've both had our heads down for years, dedicating our time to building our world-class training and advisory for mortgage advisers," he explained.
"Now that we've built such a well-performing team and we're getting such great results for our members, we have the bandwidth to launch this project and share what we've learned."
Listen to Mortgage Broker Acceleration today, now available on all major podcast streaming sources.