Jump to winners | Jump to methodology | View PDF
DRIVING CHANGE IN THE INDUSTRY
New Zealand's mortgage industry was thrust into an atmosphere of uncertainty when COVID-19 struck in 2020, resulting in closed borders, heavy restrictions, and financial difficulty for many customers and businesses. The property market, which was widely expected to tank, showed remarkable resilience.

However, the mortgage sector had to work overtime to ensure that struggling customers were being supported, mortgage payment deferrals were being set up, and those wanting to enter the property market were receiving the right advice.
As New Zealand continues to manage virus outbreaks, the role that employers play in the lives of their employees has never been more important. Employers have recognised their duty to safeguard not only their employees' financial stability but also their health and overall wellbeing.

Remote working has been widely accepted as a practice rather than a perk, and companies have recognised the need to maintain strong links among their teams. Many firms have decided to invest in new technology, wellbeing initiatives and mental health programs.

Employers across the country have stepped up to meet the challenge of supporting employees through a difficult period, and many have taken the opportunity to assess how they can improve the benefits they offer.

The inaugural Top Mortgage Employers list recognises the companies that have excelled throughout the last year, and highlights what these companies do best. It also gives their employees an opportunity to share their thoughts on the workplace conditions that are satisfactory, and those that need improvement.

The value of consistent support
Nominations for the Top Mortgage Employers 2021 came from a mix of lenders, brokerages and technology companies.

Nominees were asked about benefits such as medical, dental and visual coverage; paid time off; bonuses and incentive schemes; equity programs; and career progression and training.

The survey also collected diversity data, asking employers what proportions of employees were male, female and non-binary, both at the staff and executive levels. Employers were also given the chance to showcase their tailored initiatives to meet the challenges of COVID-19.

On average, employers offered 20 days of annual leave with 5-10 days of paid sick leave. Just over half of respondents provided some type of wellbeing benefit, usually in the form of a gym membership or access to an employee assistance program (EAP), and every employer had some form of bonus or incentive scheme.
Diversity statistics for employers varied widely, though interestingly, the majority reported a higher ratio of women in the organisation compared to men. At the executive level, however, an average of 72% of men occupy higher leadership roles.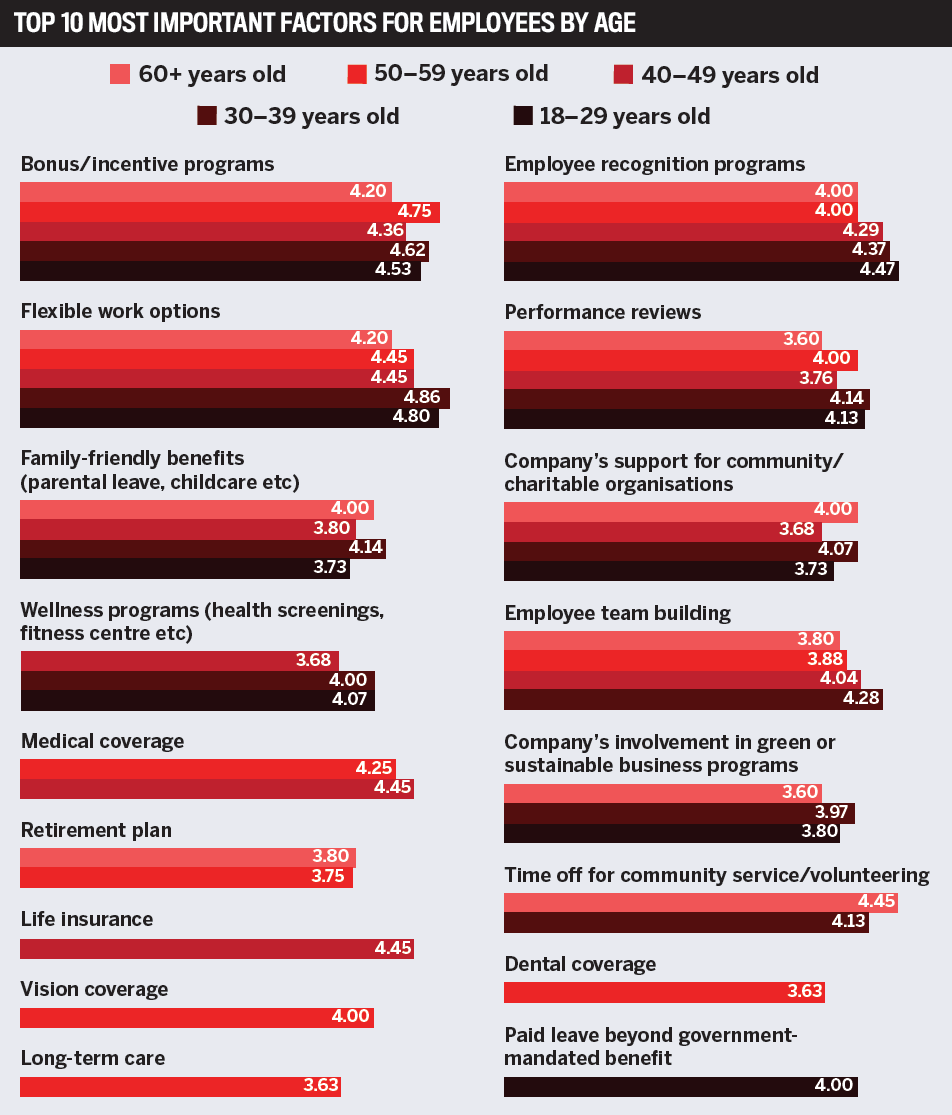 All employers offered comprehensive training at the onboarding stage, often with a focus on compliance and regulation. Many conducted regular check-ins with new employees at various stages of the process. The vast majority also offered opportunities for further study, as well as funding for employees who wanted to undertake approved courses and qualifications.

Finally, the topic of flexible working was prevalent. Many employers have introduced a flexibility policy post-COVID while also putting in efforts to enable all employees to work from home when needed.

"We provided all staff with laptops for ease of remote working, and we now have 'grab and go' packs for all staff, which include a laptop, keyboard, and mouse so that staff can work from home comfortably," a spokesperson from FirstMortgage Trust says.

"We have also transferred everything to the cloud, so we are now fully cloud based. We regularly test our Business Continuity Response Plan to ensure that staff are familiar with working in a remote environment, and we are focused on ensuring that our technology and communication works for everyone."

Employers also emphasised the importance of checking in on employee's mental health throughout the lockdown periods, and on ensuring that everyone feels comfortable and well assisted.

"When COVID-19 hit, all staff were given laptops, so they were able to work from home easily, and we also had Zoom meetings twice a day to ensure everyone was doing okay and felt supported," says a spokesperson from Nest Home Loans.

"Working from home one day a week was implemented on the back of lockdown, and that policy continues today."

"We developed a work-from-home program where we supported staff to have a safe and healthy workspace, which fulfilled health and safety requirements and helped to deliver a better work-life balance," says a representative from Squirrel Mortgages.

"Arranging weekly Teams meetings also means that employees can now be based anywhere, but can still be involved and engaged with the organisation."

Avanti Finance introduced "a work-from-home flexibility policy that allows staff and managers to tailor individual plans that meet the needs of everyone. We offer care packages, and wellbeing checks are conducted regularly by managers and HR. We also have check-in systems, enhanced business continuity plans, and access to trained mental health first aiders".

Factors that make a difference
The survey results highlighted the importance of company culture, including the effectiveness of communication within the organisation, work environment safety, and good working relationships among colleagues.

Many respondents expressed appreciation for their organisations' support during the pandemic. According to several employees, their companies strongly focused on wellbeing and work-life balance, and did not implement pay cuts throughout the lockdown period.

Culture and team environment, training, and career progression opportunities were also widely praised.

On the flip side, the employees' most common concerns were around benefits, reward and incentive structures.

Several respondents expressed the need for improved medical coverage and insurance benefits, and many of them noted the importance of better incentives to

reward high-performing employees.

Flexibility was also emphasised with regard to working life outside of COVID-19 restrictions, particularly for employees with young families.

Satisfaction with healthcare benefits, retirement plans, and bonus and incentive schemes garnered the highest number of neutral to negative responses. According to many respondents, their employers did not offer healthcare and retirement benefits.

For the five companies that obtained a satisfaction score of over 80%, being named Top Mortgage Employers is a fitting acknowledgment of the beneficial policies and programs they had offered to their staff during a critical period.
101 – 500 employees
10-25 employees
The process of finding the best employers in the New Zealand mortgage industry took place over two phases. In June 2021, NZ Adviser invited companies with 10 or more employees to submit their details through a survey, which was open to businesses in the mortgage industry, including lenders, aggregators, brokerages, tech firms and others. The submission form asked for information on the company's size, nature of business, and employee benefits such as medical and dental coverage, leave allowance, retirement plans, training schemes and wellness programs.