How to make the most of a supercharged — and limited time — commission rate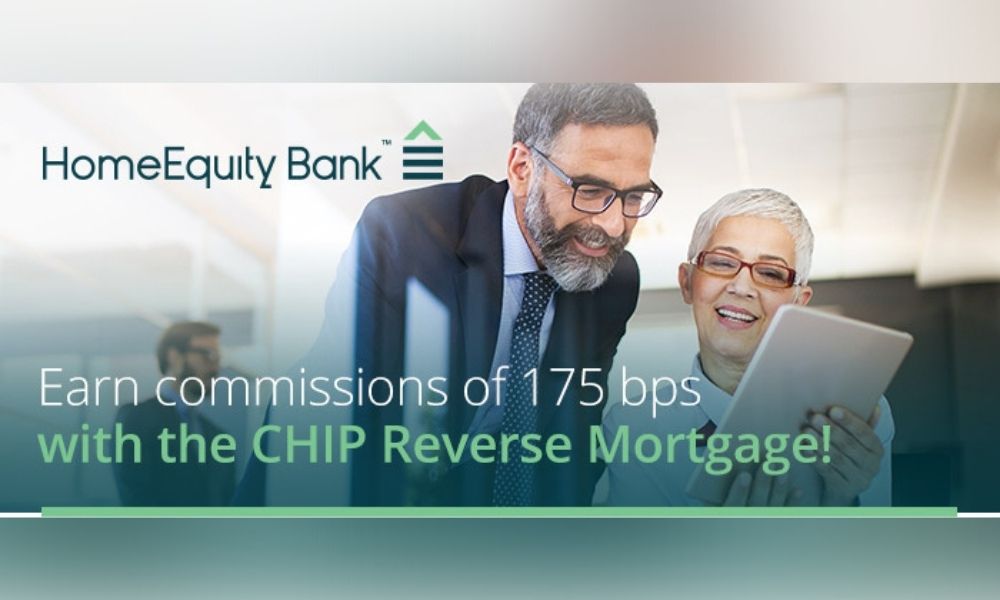 HomeEquity Bank is kicking off the New Year with an exciting - and lucrative - opportunity for brokers: an extension on its supercharged commission rate, boosted to 175bps.
The opportunity
HomeEquity Bank's extended broker commission promo means that from January 01 to March 31, brokers will earn 175bps on new deals with initial draws over $250,000 that fund by April 15, 2022. There are already many reasons why a broker might look to a CHIP Reverse Mortgage to meet the needs of their more mature client demographic — perhaps the client wants to do some renovations, help their children or grandchildren, finance travel experiences, pay off existing debt or simply stay in the home they love — but if you're looking for extra incentive to leverage reverse mortgage products with your clients, this is it.
Boost your business
Whether you've dabbled in selling reverse mortgages in the past or you've yet to include them in your product offerings, now's the perfect time to boost your business. Offering reverse mortgages is one more way you can make your business a one-stop-shop by providing a complete circle of care for clients across age groups, financial circumstances and property purchase types.
Heading into 2022, seize the opportunity to grow your mortgage business through diversification of your offerings — and offer clients the ability to live their retirement on their own terms. Don't think you have the client type? You'd be surprised. Speak to your BDM or if you don't have one – use our BDM Finder and someone will be happy to speak with you.
Reverse mortgage 101
The CHIP Reverse Mortgage allows clients over 55 years of age to tap into their home equity and receive up to 55% of the value of their home. Unlike a regular loan or mortgage, your clients aren't required to make regular mortgage payments and are only required to repay the mortgage when the homeowners no longer live in the home. The money received is tax-free and can be used however the homeowner wishes.
On top of the CHIP Reverse Mortgage, HomeEquity Bank offers a full spectrum of reverse mortgage products to help your clients depending on their individual wants, needs and circumstances. Those options include Income Advantage, CHIPMax and CHIP Open.
Other broker benefits – Every deal counts & no caps on commissions
In addition to extending the supercharged commission promotion, brokers can also take advantage of other great benefits from HomeEquity Bank. For every CHIP and CHIPMax Mortgage - regardless of the amount - brokers earn a minimum of $1,500 in commission, and Income Advantage mortgages will net you at least $750. Finally, as has always been the case, if you send HomeEquity Bank mortgages of larger amounts, there are no caps on the amount of commission brokers can earn.
Don't miss out!
Interested in making the most of this limited time opportunity? The boosted rate of 175bps on new deals is available now until March 31 - don't miss it! Click here for more information on how to take advantage of this exciting offer before it's gone.
HomeEquity Bank has been dedicated to providing Canadian homeowners 55+ with smart and simple solutions for enjoying the retirement they deserve - in the home they love, for over 35 years. It understands helping your clients is your top priority, and HomeEquity Bank is here to help make that happen with a range of products including CHIP Reverse Mortgage, CHIP Max, CHIP Open and Income Advantage.