Robust analysis of market data can move brokerages into the industry's upper echelons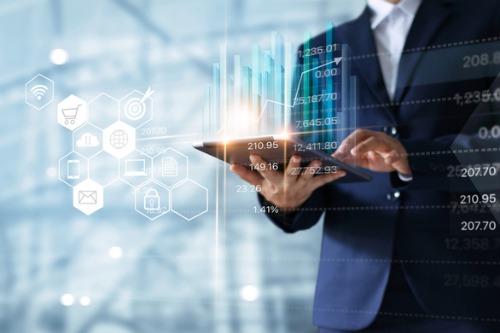 Jason Lang had a lot of learning to do when he gave up a career as CFO at an insurance firm to partner with his wife at her booming mortgage practice. An inherent curiosity, patience, and work ethic, along with a career-long exposure to actuaries had Lang quickly digging into the statistics and data behind Toronto's real estate market.
Since launching Outline Financial as co-managing partner with his wife Joanna, Jason Lang has turned his curiosity around data into one of Outline's key differentiators. Partnering with real estate agencies, he's been able to turn the endless sheets of monthly data offered by the Toronto Real Estate Board and other key record keepers into quick, digestible summaries for his realtor partners, offering free insights that only a data analyst can provide. The value-add of these analytics, Lang says, has helped drive Outline's growth and fostered essential partnerships with top realtors.
"We've positioned ourselves in the market as almost the private banking of mortgage brokering," Lang says. "Sure, you've got to have great rates to compete, but we're more of an advice-driven company. Data analytics creates instant credibility with the real estate office because we're speaking their language. It builds our professionalism and it helps our brand. It creates instant credibility with the real estate office, because you're speaking their language.
"It's an entry to that first deal with a real estate agent. Once you get the first deal it's your relationship to win or lose from that point."
In the wake of the COVID-19 crisis, Lang is seeing an even greater demand from agents for the data analytics he provides through Outline. In a deeply uncertain market where the predictions everyone is making are bucked by the next week's sales numbers, he says any and all data breakdowns are making a realtor's work that much easier.
Lang prides himself on parsing the data from behind the headlines. When headlines read that the average house price in Toronto is up 11.9 per cent, people understandably get excited. Headlines, he says, might say the overall price is ballooning, but analytics show that average prices haven't risen accordingly. In fact, overall growth is driven by a more significant growth in luxury homes and condos, while lower priced homes and condo units are stagnating or even a little bit down.
In April, he says, the big numbers pointed to doom and gloom for almost the opposite reason: nobody was moving in the luxury space while the more affordable end of the market kept ticking along. An overall market drop of 10 per cent, he says, didn't reflect the market's various subsectors. It's that kind of analysis that wins a realtor over to Outline.
Lang says that providing this sort of analysis takes serious work. He'll get a monthly dataset from TREB through a pro-bono partnership with a real estate agency. Then he'll spend days poring over the excel sheets, organizing them into pivot tables, copying and pasting patiently until the numbers represent the market subsectors into which realtors desperately need insight. He's currently working with a group of new partners to build a similar means for other brokers to offer the same level of data-driven value-add.
Lang says that the data analytics Outline offers puts them in a powerful category among brokerages, where their value add hinges less on the delivery of the absolute lowest rates. While he says they still offer competitive rates, they would rather compete with the banking world's big dogs rather than discount brokerages. Lang says his wife is able to put together huge deals on the private market, averaging $2.5 million-plus a pop.
Key to those successes, Lang says, is cutting through the complexity of the modern mortgage market. Through this data analytics offering, Outline is able to manage increasing complexity and deepen their relationship with realtor partners. The analytics, he says, connect Outline to their realtors seamlessly, ensuring a constant flow of deals.
"I'm working in partnership with the realtor where they're almost outsourcing analytics to me," Lang says. "I'm not a real estate agent. I don't know what's happening on the street. We're just good at analyzing numbers.