However, a slowdown might be inevitable, analysts warn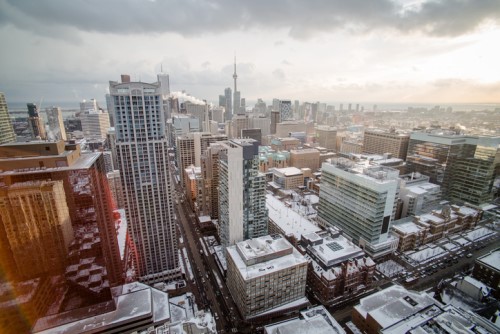 Released late last week, Avison Young's
2018 North America and Europe Commercial Real Estate Forecast
pointed at a dynamic future for the Canadian commercial real estate segment, albeit with some potential speed bumps along the way.
Canada is projected to enjoy varying, but largely healthy, property market fundamentals across the country's regions and asset classes – a robustness supported by a stable economy, which stands out among the G7 countries.
"Office leasing fundamentals are reasonably sound, and even the challenged markets in Calgary and Edmonton are showing promise. Across the board, demand from traditional sectors is now augmented by growth in the tech sector and the increasingly prominent co-working movement, which is taking a larger share of the leasing pie," according to Bill Argeropoulos, Principal, Practice Leader, Research (Canada) for Avison Young.
"Co-working's rapid growth is attributed to the needs of start-ups and entrepreneurs, and rising demand for affordable workplaces on flexible lease terms. This growth has the potential to disrupt the office market with new pricing models for office leases and asset valuations. Clearly, building owners will weigh whether this disruption is a benefit or a detriment to their assets."
Read more:
Romspen ready for larger presence in 2018
However, Argeropoulos warned that "despite the favourable market conditions, there is a sense that we are late in the cycle and a slowdown is inevitable… The commercial real estate sector is having to re-evaluate challenges and opportunities in a technologically transforming world – a world that Canada appears to be making a concerted effort to lead, rather than follow."
Canada's overall office vacancy rate increased by 20 basis points (bps) from year-end 2016 to 11.8% near the end of 2017, an increase that could be attributed to ongoing imbalances in supply and demand. Also, uneven demand and a healthy development pipeline will see vacancy rise by varying degrees in five of 11 markets and lift Canada's overall office vacancy rate 40 bps to 12.2% by year-end 2018.
"Weighed down by Calgary and Edmonton's struggles, a notable West-East divide remains. Western markets will finish 2018 with a collective vacancy rate of 16.1% versus 10.1% in Eastern markets. Four Canadian markets are projected to be among the 10 lowest overall office vacancy rates in North America by year-end 2018: Winnipeg, Toronto, Regina, and Vancouver," Avison Young said.
Related stories:
Commercial activity in major markets mostly positive
Commercial and residential permits saw greater-than-expected growth in October