Sherwood Mortgage Group's co-founders on the company's seismic growth since its founding in 2008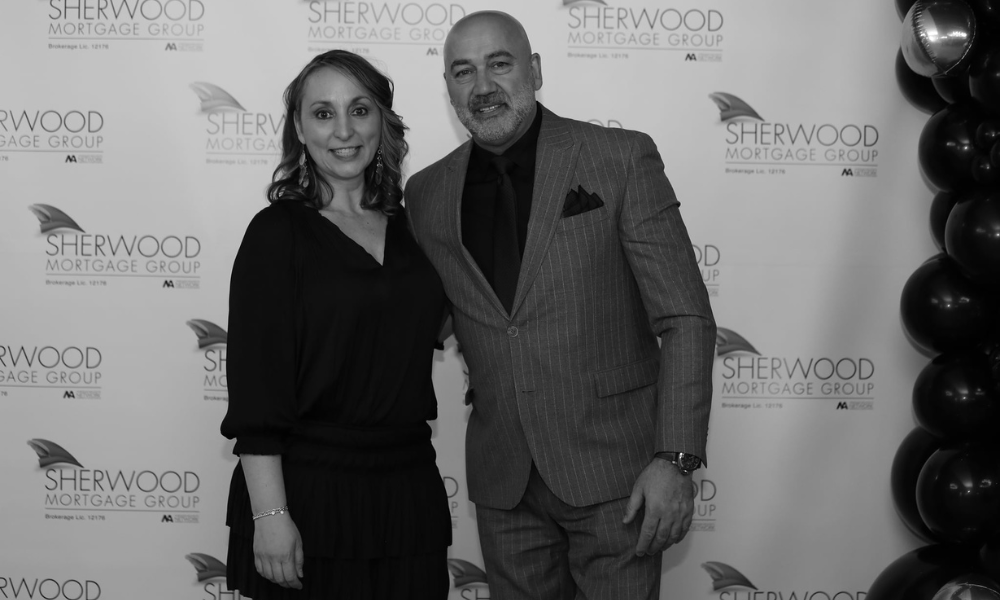 Fergal McAlinden, of Canadian Mortgage Professional, sat down with Anthony Contento and Athena Constantinou of Sherwood Mortgage Group to discuss the company's rapid rise
What does it take to grow a multibillion-dollar brokerage? For Anthony Contento and Athena Constantinou, that journey began in 2008 with the foundation of Sherwood Mortgage Group, starting out with eight agents from a Toronto office.
Since then, the company's rise has been a rapid one. Now numbering over 100 agents across five different provinces – Ontario, Alberta, Saskatchewan, New Brunswick, and British Columbia – it's shattered the billion-dollar mark in mortgage originations funded in two consecutive years, with its founders already setting their sights on the next steps along the growth path.
Both Contento and Constantinou got their starts in the financial industry in banking, gaining invaluable experience and knowledge of that side of the mortgage sector. Still, they found themselves drawn toward the broker profession as a means of providing a greater variety of options to their clients, rather than the one-size-fits-all approach that can sometimes dominate at the bank.
"We saw the opportunity in the broker channel to provide different solutions to customers on a whole range of products, compared to banks where it's just a single product," Contento explained.
"Now there's a deep dive in different options, whether on the commercial or residential side. Our ability to offer more is certainly a lot more gratifying not only to myself, but to the consumer too."
An approach that's based around exploring a host of different options for clients and finding one that fits has paid off for the company, helping it generate strong referrals and repeat business from customers who are impressed by its thoroughness.
"We've seen a huge influx and growth in that segment of our customer base – repeat clients," said Constantinou. "We're getting a lot of referrals from them, and we're getting them coming back.
"We're helping them with their investment properties after they've been first-time buyers; we're helping them with their secondary properties or vacation homes. There's a comfort level of knowing that when they come to our brokerage, we do have solutions for any of their financing needs."
It also helps that the company has worked to foster a family-type culture from the top down, meaning its cadre of agents and brokers is part of a welcoming environment that increases loyalty and productivity.
Constantinou said that had been a focus of Sherwood since its first days in existence. "We've got a very low turnover rate – our agents are as loyal to us as we are to them," she explained. "We've been told numerous times by our agents, but also by lender and industry partners, that there's a different feel about our brokerage.
"It's very much a support system and a very tight-knit, well-entrenched atmosphere where we know we're there for each other and fully vested in each other's success."
The company's executive team has proven indispensable in cultivating that culture. Aleka Constantinou serves as VP of National branding and compliance, with Julie Malo as the National Director of Training, and Sydney Dookwah in the role of vice president, operations and Sherwood Mortgage Investment Corporation.
Read more: Mortgage investment corporation (MIC): Definition and its purposes
Saravong Kim is national director of licensing and regulatory affairs, with Harcharan Upal serving as vice president, national sales and business development and Michele Steko recently joining the team as the VP of National broker relations.
Having agents and brokers spread out across five provinces, and executive team members in different locations, has necessitated an effective and smooth communication model in the company. Contento said that it's been able to meet that challenge well through regular group meetings and video calls between employees.
"There's a different feel about our folks when we get together," he said. "Even though we're so far apart in different provinces, we're constantly connected – whether via Zoom or on telephone calls, agents exchange stories and stay in touch.
"When we do get together in person, as happened recently, we get people saying, 'It's been two years, but it's felt like we've known each other for so long.' That's because as a company, I think we've done a good job of staying connected."
Of course, no company can grow into a multibillion-dollar entity without setting high standards and demonstrating the utmost levels of professionalism and expertise. That's why Sherwood is clear from the outset about the type of brokers and agents it usually attracts: experienced pros who have already developed a track record and understanding of the profession prior to joining.
"We set expectations from the get-go," Constantinou said. "The agents that gravitate to us are already in the industry – whether through banks, finance or real estate, in a way where they've got a contact base and they're already very independent."
Both Contento and Constantinou are producing owners, meaning that Mortgage Architects – the company's network – handles the majority of its training and onboarding as part of a partnership that Contento says has proven a hugely fruitful one.
"We're very grateful and proud to be part of the Mortgage Architects network," he said. "We started with them in 2008, and we're still here today. So there's definitely a good marriage there."
As for the company's future ambitions? It's set its sights on continuing to hit new heights in mortgage originations funded, with its close-knit, family-oriented approach central to that growth strategy.
"The culture that we've established since day one is of a home away from home," Contento said. "We're just all in it to support each other and to ensure that everybody has their own success."
Dominion Lending Centres (DLC) is one of the largest mortgage broker networks in Canada with over 400 offices across the country.