In the latest setback for the proposed waterfront city project, a common building material could cause a big challenge—all in the name of sustainability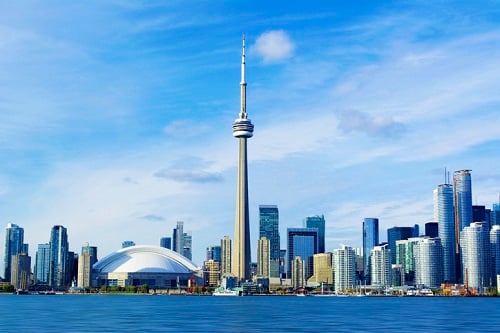 Toronto's smart city project launched by Alphabet's Sidewalk Labs has had its fair share of criticism, mostly around data collection and privacy concerns.
There's one part of the proposal that hasn't gotten much notice, and that's the issue with using a common building material: wood. The material was chosen as part of the project for its sustainability aspects and Andrew Tumilty, spokesman for Waterfront Toronto, the government-mandated agency in charge of the Quayside development, told Reuters that sustainability was a "key factor" in evaluating the proposal. The proposal, however, includes developing buildings that are made of timber that rise more than 30 storeys—five times the current limit.
David Hine, a building code consultant with 30 years of experience in Ontario who has worked on timber buildings in the past, told Reuters that without "huge political influence," he doubted a 30-storey building would be permitted in code in the next 20 years.
Toronto has "become significantly more bureaucratic and (shown) reluctance to being the leaders in Ontario to reviewing uniquely configured buildings," Hine said.
Sidewalk has defended the choice of timber for the structures, arguing that the Quayside land is permitted to be high-density, and the tall timber buildings are meeting those needs. Even while defending their choice, they acknowledge that this doesn't mean it will be permitted.
"We're trying to push as far as we can with the mass timber," Karim Khalifa, Sidewalk's director of buildings innovation, told Reuters. Khalifa also said that hybrid buildings would also be discussed if necessary to satisfy the code.
This isn't the first time that changes to building code have arisen, particularly when it comes to using timber as a building material. Jamie Lim, chief executive of the Ontario Forest Industries Association, believes that the timing of the conversation as it pertains to the Sidewalk Labs smart city is good, and she is optimistic about future changes to the code.
"Tall wood buildings have been taking place, we're just saying let's make sure (Canada is) keeping up," Lim said.
Timber buildings have long been popular in Europe, in part because of their climate-friendly potential. The trees used to build them hold carbon, are cleaner to produce than concrete and steel, and are less carbon-heavy to transport, according to the United Nations. Timber buildings have been much less common in North America.
One reason is that government building regulation is slow to change and lags behind current building technology, which is actually experiencing quite a bit of innovation.
One such example comes from Adera Development, British Columbia's original wood builder. Last month, Adera announced a proprietary mass timber material known as SmartWood, which addresses the sustainability on a large scale. Eric Andreasen is the vice president of development for Adera and said that wood is the building material of the future.
"In the 1800s we were about steel, in the 1900s we were about concrete, then in the 21st century, which is the 2000s, we think that we're going to go full circle back to wood, but the difference is, instead of just using linear lumber, now we're using engineered wood," he said.
Andreasen says that SmartWood is thick, with the equivalent engineered strength of concrete but not nearly as heavy. It comes from sustainably harvested forest locally in British Columbia, or in Canada at the very least, and this wood is able to trap the carbon and to sequester it over the long haul thereby reducing their carbon footprint. Contrary to popular belief, he adds, the wood also isn't more likely to burn than other materials.
There are other innovations in lumber coming to market for both residential and commercial properties alike, and cities are going to have to move faster to keep up with that innovation.
"Climate change is . . . the number one topic that there is," Andreasen said. "We have cities and planning departments that are starting to mandate; for example in the greater Vancouver regional district, we've got a mandate towards a step program to take us into a higher level of sustainability as we roll on over the next couple of years because it actually is necessary. Climate change is going to affect everyone on the entire planet at some stage in the game and it's happening way more rapidly than anyone has a clue."
Sidewalk's project will be voted on by Waterfront Toronto's board for final approval on March 31, 2020.