Canada's housing starts were through the roof last month thanks to Toronto's condo market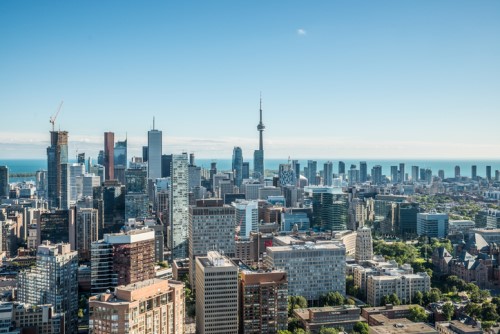 Canada's housing starts were through the roof last month thanks to Toronto's condo market.
Condo starts in the country's most populous city spiked 138% last month—a 30-year high—and, according to CanWise Financial's James Laird, that's because condominiums are the only option for the largest demographic of purchasers.
"It continues to be the only option for many first-time buyers trying to enter into the housing market," said Laird, CanWise's president and broker of record. "I believe it will keep going with the new stress test making it even harder to qualify for what you want to purchase, and it means, even more so than in the past, the only option for millennials, first-time homebuyers and people on a single income is condominiums. Demand this year has gotten even stronger for the most affordable type of housing, which is condominiums, and I don't expect that to change."
Just how popular have condos become? Well, expect to forego any conditions while engaged in a bidding war.
"Anything close to the downtown core is where we're seeing bidding wars," continued Laird. "You need to make a firm offer—you can't put a financing condition on it. We're seeing fewer bidding wars for housing than in years past. You can feel the condominium market heat up and the housing market has cooled down a bit."
Toronto's coveted waterfront can fetch a pretty penny for a listed condominium. Right At Home Realty's Manu Singh, a broker, says he sold a 1000 square foot, two-bedroom-plus-den with two washrooms well over asking.
"It sold in seven days, and we had a hold-back offer strategy" said Singh. "It was on the market for seven days and had 35 showings, which is crazy. We listed it for $799,000 and it sold for a firm three-week closing—which is unheard of—for $865,000."
In spite of the myriad stories about how the market has cooled down to a crisp chill in 2018, Singh says there are ways to elicit a response from the market.