Ron Swift is moving into the captain's chair of Pacific Mortgage Group, leaving lender MCAP.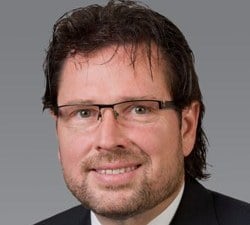 Ron Swift is moving into the captain's chair of Pacific Mortgage Group, leaving lender MCAP.

"The Board of Directors of Pacific Mortgage Group Inc. is delighted to announce the appointment of Ron Swift as CEO of overall group operations," reads a press statement, released Monday. "Mr. Swift, a Canadian mortgage hall of famer and one of the Canadian mortgage industry' s most recognized and respected leaders, will take over the helm at Pacific in the coming weeks."

That move could come as early as October 1, and would see the MCAP head effectively take responsibility for myNext, MortgageBrokers.com and Mortgage Architects, with their respective heads reporting to him.

"The appointment of Ron Swift to lead our continuing growth at Pacific signals the achievement of a great milestone for our company, our shareholders and for myself personally", said Alex Haditaghi, the company's founder and former CEO, who now moves to a key support role as Executive Vice Chair. "I have admired and respected Ron's accomplishments for many years and am extremely pleased that he has agreed to lead our company forward. This is a great day for me, and for all of our brokers, employees and shareholders."

Swift has held a variety of leadership roles at a leading mortgage industry company. In the last ten years, he has served as MCAP President, overseeing broker channel sales and mortgage originations and servicing and sub-servicing.

"I am pleased to take on this exciting challenge at Pacific at this point in its history," said Swift. "Our industry is going through another remarkable period of change, with a whole range of new opportunities presenting themselves. Pacific is the perfect platform for me to apply my company-building experience, with a real focus on expanding our market footprint and optimizing shareholder value."

"Ron Swift is an industry leader with vision and an unblemished reputation for integrity. We want to welcome him to Pacific as we work together to take the company to the next level," said Alfred Apps, chairman of the board of Pacific Mortgage, "The Board and shareholders also owe a great debt to Pacific founder, Alex Haditaghi. We greatly appreciate his hard work and dedication since the inception of the company. He successfully led the Company not only through the difficult transition of a merger and acquisition, but also through a period of tremendous growth."