Pot shops could benefit neighbourhoods by driving foot traffic to merchants and reducing crime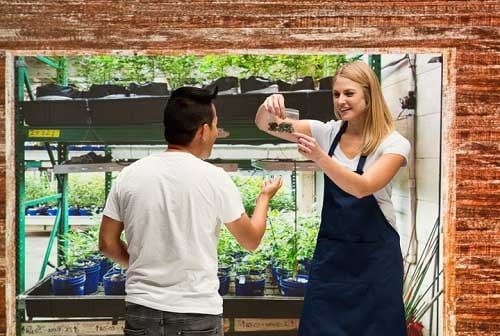 While Ontario landlords are looking to ban marijuana use in their rental units and several municipalities don't want legal cannabis stores in their neighbourhoods, a recent U.S.-based study suggested that recreational pot could lift property values.
Property prices for homes in Denver near shops which converted from medical marijuana to recreational pot in 2014 saw values increase by 8.4%, compared to those slightly further away, the study by professors based in Wisconsin, Georgia, and California found.
Experts said it's too early to tell if Canadian homeowners can expect a similar effect, but note that marijuana retail locations could benefit neighbourhoods by driving foot traffic to merchants, as well as reducing crime.
"If it goes into a retail area and that spurs traffic for stores in that block or two, and they increase in value, there could be spillover to the residential neighbourhood," Queen's University real estate professor John Andrew said in an interview with The Canadian Press.
"If you get excellent shopping and stores thriving in a particular area, people want to live near there."
Read more:
High times ahead for Canada's pot capital
However, as Canada moves towards the legalization of marijuana for recreational use this summer, landlords and municipalities have voiced concerns about the impact of legal marijuana shops in the area or cannabis consumption in homes.
The president of the Canadian Federation of Apartment Associations stated that landlords should be allowed to prohibit marijuana usage in their properties in Ontario, where proposed provincial law will limit pot consumption to private residences.
In December, the Ontario government appeared to backtrack on its earlier statement that municipalities could not opt out of hosting marijuana stores as a City of Richmond Hill committee unanimously endorsed a statement saying it was not willing to host one.
The Liquor Control Board of Ontario, which has been tasked with selling and distributing recreational weed once legal, plans to set up 150 stand-alone cannabis stores by 2020, with an initial 40 stores opening in 2018. Ontario consumers will also be able to purchase legal marijuana online, for home delivery.
Among the selected municipalities that have been announced so far are Toronto, Windsor, and Niagara Falls but not Richmond Hill. However, the City of Richmond Hill has said it was notified by the LCBO in late November that community had been identified as a potential location.
One of the key concerns reportedly raised by the municipality located north of Toronto is the associated cost of policing.
But Christopher Alexander, Re/Max's regional director for Ontario-Atlantic Canada region, argued that having a marijuana retail location in the area could potentially reduce criminal activity by providing a legal channel to buy pot.
"Crime should come down, which always has a positive impact on real estate prices," Alexander said.
Related stories:
Investment property owners group expresses concerns re: cannabis legalization
Commentary: Legal implications of cannabis in Canadian commercial real estate