A bevy of leading lenders made the trek to Whistler, B.C., to discuss upcoming plans for their respective broker offerings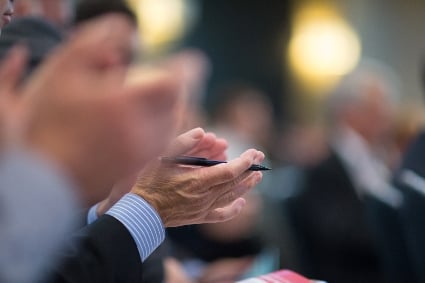 It may be raining in Whistler, but brokers attending the Dominion Lending Centres National Sales Conference didn't let that dampen their spirits at a tradeshow where Caesars flowed as well as product news from major lenders.
CMLS
CMLS has launched Aveo, a product that is targeted at clients who have recently experienced a major life-changing event such as shifting from employed to self-employed, a credit status hit, a divorce or a recent move to Canada.
It's a non-prime program for those with a minimum Beacon score of 550 and is currently only available in Ontario. However, Vince Agozzino, national manager of business development for residential mortgages, told MortgageBrokerNews.ca the lender has plans for an extended rollout.
Optimum Mortgage
Optimum has recently re-launched Opti-85 – a mortgage product that goes to 85% loan to value – across the country. It is for clients with a Beacon score of at least 580, according to Rejean Roberge, senior manager of marketing for Optimum Mortgage.
Manulife
Manulife Financial attended the event and spoke to MortgageBrokerNews.ca about its recently launched Manulife Term Plus, a term insurance product.
Brokers who want the product for their clients simply tick a box on Expert.
"It's as easy as a checkmark and it's a great opportunity for clients to be protected," Kyra Wong, national sales director for Manulife Financial, told MortgageBrokerNews.ca. "If they sign up for it the client gets 30 days free."

Brokers can use the same MPP application they always have, and can add the Term Plus product by simply checking a box on that application.
Peoples Trust
The B.C.-based lender recently launched a new, short-term, B-product that allows up to 70% loan-to-value for clients with a Beacon score of 520 and up.
It's a fully open mortgage at a rate of 4.35% and the lender doesn't charge a fee. Though Peoples Trust will a charge a fee on behalf of the broker if the broker so chooses, according to Brea Watson, business development manager for Peoples Trust.
Fisgard
Fisgard previously only offered lending in British Columbia and Alberta. However, it now operates from B.C to Ontario, as of a month-and-a-half ago, according to Hali Strandlund, SVP of residential mortgage investments and broker relations.
"What separates us is on our residential products we don't charge lender fees," Strandlund said. "We're offering full-spectrum lending and aim to be that C-plus lender in the marketplace."
Merix
Merix recently launched Explore for its Lendwise brand – a mortgage broker portal for brokers to track their status with files. It's something that had been available through the Merix brand for years.