Brennan Wood, a partner at Foundry Mortgage Capital, says he noticed the phone ringing non-stop after winning a Canadian Mortgage Award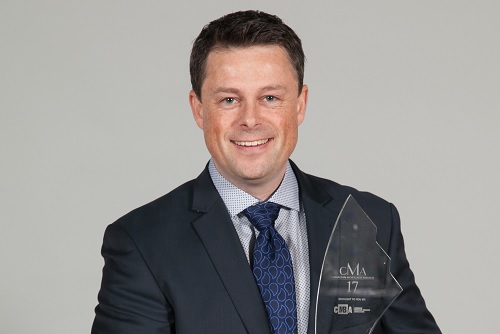 (Photo: Jason Henneberry)
Brennan Wood, a partner at Foundry Mortgage Capital, says he noticed the phone ringing non-stop after winning a Canadian Mortgage Award.
Winner of Best Commercial Mortgage Broker of the Year in 2016, Wood says the award was especially helpful for a new brand.
People started calling," he said. "We were a newer brand so it got the brand out there, which was great. I picked up three or four deals right away just based off the CMA win."
The CMA win didn't just help boost business, he says, it brought credibility. The CMAs are Canada's most recognised awards for the mortgage industry – and the only awards that are run independently of big mortgage companies that could be accused of having a vested interest in the results.
"It definitely helped with visibility, but it also helped with credibility in the market," said Wood. "I do a lot of work with other brokers, brokers who don't do commercial stuff, so the CMAs definitely carry a lot of weight with the residential community. It helped there for sure. With the lender relationships, it adds credibility to what we're doing. Lender relationships is how everything gets done. If you don't have lenders, you won't get anything done.
"It was a feather in my cap for sure."
DocAssist won Best Industry Service Provider last year and, according to Jason Henneberry, it was a major morale booster for the office.
"It was a big morale boost for the team because we've been working very hard to provide our service to the broker community, and it's a nice accolade to share with people who are enquiring about our service," said Henneberry, adding the CMAs boost morale industry-wide, too. "Having awards in our industry is important and allows us to celebrate our successes together."
The 12th annual Canadian Mortgage Awards will be held on April 20 in Toronto.
Key Media International, the Canadian Mortgage Award's parent company, has spent years perfecting the awards show format, and it's burgeoned into the mortgage industry's most anticipated event of the year. "We keep setting records for industry participation" said Tim Duce, Key Media' President/CEO. "This year's nominations process has already had a record number of participants, and we still have two more weeks until closing. It's a testament to how well respected the CMAs are by Canadian mortgage professionals."
"For 12 years now, we've provided the Canadian mortgage industry with an unbiased voice that recognizes its ambition, innovation, and accomplishments," he said. "I believe it is imperative, for sake of healthy competition within the industry, that a non-affiliated organization like KMI keeps doling out accolades every year."
To submit nominations for this year's Canadian Mortgage Awards, please click
here