M3's new interim president spoke to MBN about the company's plans for its people, products and processes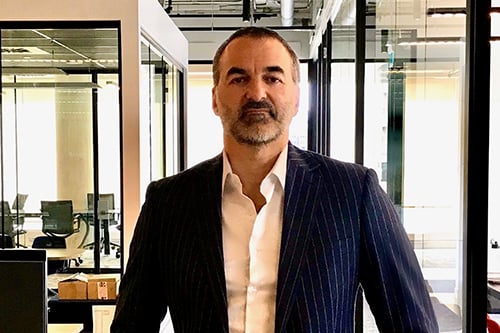 Taking on a new, high-profile job during a period of planet-wide turmoil isn't the kind of onboarding most Canadian mortgage professionals have in mind. But for M3's new interim president, Dino Di Pancrazio, who has already held senior positions with the Montreal Canadiens, Air Miles and Reader's Digest, stepping in to fill the shoes of the recently departed Albert Collu is not the first time he's had to guide a company through a rough patch in the market.
"I've gotten used to it in the past," he says. "I've had jobs that were way more stressful, though I've never had any job during a pandemic. It's been interesting to say the least."
MBN felt it was an opportune time to pick Di Pancrazio's brain about the effect COVID-19 has had on M3 and how the company is approaching the next several months of uncertainty. The following interview has been edited for length and clarity.
Mortgage Broker News: How has it been taking on a new high-profile job the middle of a deadly global pandemic? Fun?
Dino Di Pancrazio: The one thing you recognize very quickly during a change like this is how strong the team around you is. I'm happy to report that the team that we've got across all our brands, and here at M3 as well, is extremely solid. Pandemic or not, our people are going over and above.
We're not feeling the crunch, so to speak, in terms of the changes that have happened. It's been a pretty smooth transition. That said, there's still a lot to be done. We're looking forward to when this thing's over and we can hit the ground running.
MBN: M3 needing a new president in the middle of such a chaotic situation probably took a lot of people by surprise. Does it signal that the past leadership wasn't prepared for the next phase of the market or is it more a sign that M3 isn't viewing the next few months with too much anxiety?
DDP: It doesn't signal anything about the past leadership. In business, as in life, change is inevitable. You have to be able to roll with the punches and adapt, and that's what we've done. What we're looking at is building on what the past leadership was doing.
How do we view the next few months going forward? More change, but we believe that we're more ready than most for dealing with not just the tail end of the pandemic – let's hope it's the tail end – but afterward, too.
MBN: How would you rate the response of the government and lenders to the needs of homeowners, landlords and businesses during COVID-19? Are you satisfied with the deferral options that are on the table?
DDP: We feel that government, both federal and provincial, reacted very well. We're very happy with that reaction and how quickly they actually enabled the emergency programs. That's not easy to do. Governments, in general, are not in the habit of moving quickly, but I find that, across the board, our federal and provincial governments have done a great job of doing that.
Lenders, it's the same thing. Obviously there's a wide variety of them, but I would tell you most have moved very quickly to assuage the concerns of either their customers or consumers in terms of what they were willing to do and put in place programs and services that helped customers and consumers alike.
People need to keep in mind that this has never happened to us before, even if you look back to 2008. It's affecting every Canadian top to bottom. I think what [the government and lenders] have done is put together great programs that impact the largest number of people and businesses.
MBN: When the mortgage deferral option was first put forth by the banks and the feds, did people receive a good enough explanation of what deferrals meant for their bottom lines?
DDP: I think that could have been done better. The challenge with programs like this and the situation that we're in is speed-to-market versus the amount of information that needs to go with it. In the effort to get this out as quickly as possible, I believe that in some cases the information was not as evident as it could have been.
When I was vice president of marketing for the Canadiens, I found out that sports marketing is extremely reactive. You win a game, you lose a game, you've got to react very quickly. And in moving fast, you have to adjust as you go forward with it. But the most important thing in this case was that it got out there very quickly.
MBN: We've seen a lot of interest on the MBN site around reverse mortgages lately. Are consumers looking at alternatives like reverse mortgages more than they were before COVID-19?
DPP: I think there is more of an interest in them, but they really require a certain financial situation. I can't say right now that we're seeing a massive uptick, but I think the interest is there. I don't think we'll see an uptick for a few months.
MBN: With so many Canadians out of work right now, people will be leaning on credit even harder than they were before. Are you worried about a jump in Canadians' debt levels and how that might impact their ability to get financing?
DPP: Of course, when people lose their jobs it's always concerning for all aspects of the economy. That said, Canadians have traditionally been good at managing their credit. Will we see a spike? It's tough to say at this stage, because what we don't know yet is how many of these job losses are temporary. A lot of jobs are on furlough, there have been a lot of layoffs to allow people the opportunity to get on unemployment insurance. The numbers we're seeing right now in terms of unemployment will not stay at the level they're at. That I'm very confident of.
MBN: Let's talk about what the next few months are going to look like at M3. Which of the company's processes have been most disrupted by COVID-19? What's the long-term solution for either replacing or upgrading those processes?
DPP: We've got 8,300 brokers, so the biggest disruption has been to face-to-face contact. We have some brokers, and some consumers, who prefer doing business face-to-face. They want to go into an office, they want to sign papers. [COVID-19] has forced the digitizing of that consumer experience, at least during this period.
Will it all be digital coming out of COVID-19? I don't believe that to be the case. Consumer behaviour is very hard to change over the long term. It usually happens in increments.
MBN: Did COVID-19 impact or alter the design of any of the products M3 was working on prior to the outbreak? Did it expose any new needs in the market?
DPP: I think it brought more visibility to some alternative products – you mentioned reverse mortgages before – for the consumer. It definitely accelerated a number of products and services we offer to our brokers. For example, we created a smart view in BOSS, our main platform, that the broker can access and use to calculate when a client should refinance or renew their existing mortgage. That was on our runway, but we advanced that and basically got it done in record time to help our brokers focus on refinancing and renewing mortgages.
MBN: What are the company's plans for keeping its employees and clients safe as we gradually de-COVID?
DPP: The two things we didn't want to do were let anybody go or cut salaries. We're proud to say we didn't do either of those things. We're holding on as long as the business allows us to. At the executive level, we're managing our P&L in terms of tackling the expenses that are due to come.
We allowed working from home even before COVID-19, so we were in a good position to get 100% of our employees work from home enabled within a couple of days. We put in place a bunch of elements that we negotiated with our partners or lenders so our brokers can engage with their customers in a safe way. We've offered e-signature to our brokers free of charge until the end of this year and we negotiated a Zoom Pro pack for our brokers to get into if they need it.
MBN: What about social distancing?
DPP: In our corporate office spaces, we're following government guidelines. We're doing that province-by-province because each one is slightly different and we want to follow those guidelines to a T. We're in the process of building out a checklist for our brokers who have offices, too.
MBN: Did I hear that you have something in the pipeline with Rick Mercer?
DPP: We've secured Rick to come do a webinar for us on May 14. We're calling it #LessScaringMoreCaring. It's more about coping with COVID-19 than anything specific to mortgages. We wanted to do something more on the human side.
MBN: Cool. Is it a staff-only, job-well-done kind of thing?
DPP: No, the webinar is open to the whole industry, we're not just doing it for M3. Now's not the time to start drawing lines around brands.