Canada's central bank expected to continue adjusting to the pandemic's impact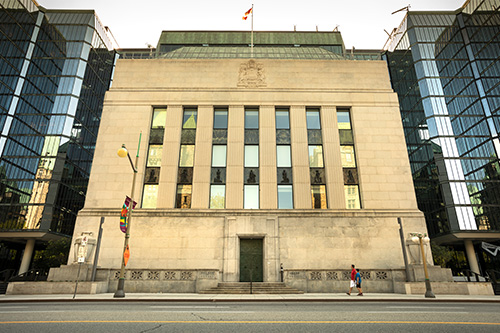 The Bank of Canada's surprise March 27 decision to slash its benchmark interest rate to 0.25% will not be the institution's only major move, economists polled by BNN Bloomberg said.
The "unscheduled rate decision brings the policy rate to its effective lower bound and is intended to provide support to the Canadian financial system and the economy during the COVID-19 pandemic," the central bank said during the announcement of the cut.
Manulife Investment Management chief economist Frances Donald is among those anticipating more BoC movements in the near future.
"There's certainly a lot of water being thrown at this fire, but I don't think this is the last we're going to see from the Bank of Canada," Donald told BNN Bloomberg.
"They are clearly targeting financial market plumbing here. This is not about preventing a recession. There's very little the Bank of Canada can do to prevent the job losses that are coming in the next couple of weeks and months. What they can do is make sure the financial markets are behaving properly."
CIBC Capital Markets senior economist Royce Mendes added that the BoC has joined the ranks of "central banks throwing the kitchen sink at the economy."
"There is room for the quantitative easing purchases to grow even larger. While central bank stimulus can't bring the economy back to life on its own, the Bank of Canada's actions will help alleviate some of the pain and support the recovery, whenever that begins."