The remote work setup has become a distant memory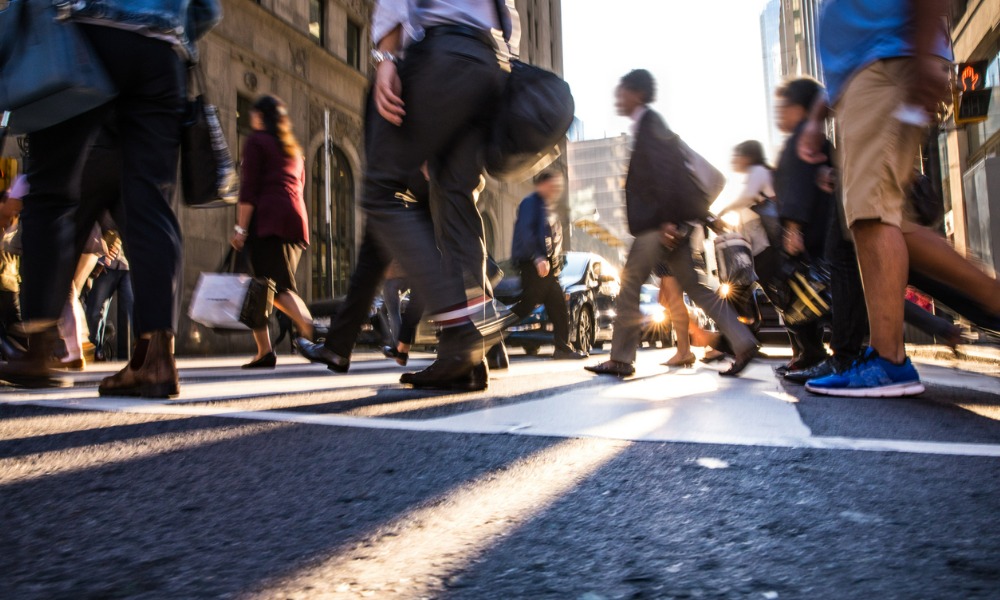 It's work-from-home no more for most employees, with foot traffic in all major Canadians cities experiencing a pandemic high in mid-June, according to Avison Young.
Avison Young measured daily foot traffic in a select number of large office buildings in downtown cores across North America using anonymized phone data. It found a sharp rise in foot traffic starting from April – the peaks reached during the middle of every week.
Read next: Hybrid work model likely to dominate: Avison Young executive
Following a lift in COVID-19 restrictions, foot traffic from March 28 to July 11 in Calgary and Vancouver soared by more than 50%. Montreal and Edmonton followed closely behind with a 46% and 43% increase in foot traffic, respectively.
No other city came close to Toronto, however, which saw an impressive 83% surge in its downtown core over the same period.
Thomas Forr, director of data, analytics and innovation at Avison Young, said the surge was the collective result of major employers asking workers to come into the office two to three times a week.
Aside from the peak found on Tuesdays, Wednesdays and Thursdays, Forr also noted some variations in foot traffic depending on the type of employment.
"Ottawa, for example, has a lot more public-sector workers and we have seen a slower back-to-office recovery there," Forr said. "Toronto, Montreal and Vancouver are seeing large increases in traffic this summer."
Read more: How will a return to the office impact the mortgage market?
However, Avison Young said the recent data is still far below pre-pandemic levels. Only 18% of workers continued to work from home in June 2022, Statistics Canada reported, compared to the 40% in April 2020.
Foot traffic in Toronto and Montreal is also 55% less than it was in March 2020.